Beyond Bergen: Piermont, NY
This pretty town is just a short drive away.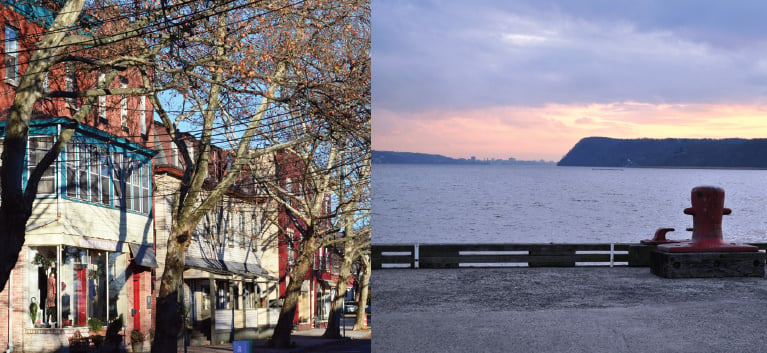 VITAL STATS
POPULATION 2,510
SIZE 0.7 sq. miles
MEDIAN HOUSEHOLD INCOME $92,045
YEAR INCORPORATED 1850
DRIVING TIME 30 minutes
What do you get when you cross a quaint Main Street, gorgeous views of the Hudson River, a plethora of hiking trails and a historic hand-cranked drawbridge? The village of Piermont, New York, a picturesque community of just over 2,500 residents nestled into the hillside along the west bank of the river south of the Tappan Zee Bridge.
In the 1830s, the village was designated as the eastern terminus for the New York and Erie Railroad, and a 4,000-foot pier was constructed so that freight and passengers could be loaded onto ships (hence the name Piermont, derived from the landmark and a nearby mountain). The pier was a major area of embarkation for soldiers heading to Europe during World World II.
Today, Piermont is a popular place for day-trippers looking to shop and dine—and a destination for cyclists coming up Route 9W from the George Washington Bridge.
EAT
FREELANCE CAFÉ. The more casual sibling of lauded Peter Kelly restaurant Xaviars, located next door, Freelance Café & Wine Bar offers top-notch contemporary American cuisine in an intimate art deco setting. 506 Piermont Ave., 845.365.3250, xaviars.com.
SIDEWALK BISTRO. Hit this hopping French bistro for mussels, duck and thin-crust pizzettes. The back garden is popular for outdoor dining in warmer months. 482 Piermont Ave., 845.680.6460, sidewalkbistro.com
FLYWHEEL CREAMERY. Kids will enjoy a sweet treat in this old-fashioned ice cream parlor located right on Flywheel Park. 210 Ash St., 845.398.2433
SHOP
PAWS BY THE RIVER. Take Fido for a walk on the pier, then stop in this adorable pet boutique to buy him a cozy sweater or a new leash. 10 Round House Rd., 845.680.6147, pawsbytheriver.com
AUBREY FLOWERS. Owner Lynne Aubrey does gorgeous floral arrangments, and great gifts can be found among the fragrant soaps, candles, ceramics and pillows in her charming shop. 510 Piermont Ave., 845.359.1411, aubreyfl owers.com
ABIGAIL ROSE AND LILY TOO. This women's clothing store emphasizes natural fibers and comfort, offering lines like Flax, Lilith and C.P. Shades. 500 Piermont Ave., 845.359.4649, abigailroseny.com
DO
PERUSE THE ART GALLERIES. Piermont is an art lover's dream, so don your walking shoes and check out Happy Dog, Piermont Fine Arts, Piermont Flywheel and The Outside In, among other galleries.
HIT THE TRAILS. Hikers have several options in Piermont: Tallman Mountain State Park offers two north-south trails—the Long Path and the Tallman Bike Path. The trails may be combined to make loop hikes from 2.5 to 5 miles. The 3-mile Rail Trail takes you along the old Erie Railroad line past interesting homes and provides a great view of the Hudson. Or walk the almost 1-mile-long Piermont Pier for a flat, easy journey out over the water.
CATCH A SHOW AT THE TURNING POINT CAFE. This local club has hosted such notable musicans as Arlo Guthrie, Robert Cray and Bela Fleck. 468 Piermont Ave., 845.359.1089, turningpointcafe.com
Related Read: Visit Olana, a Painter's Paradise