Birthday Bash, Circus Style
To give her 1-year-old a Korean celebration no one would forget, Hannah Choi went all out. And why not? Parties are her business.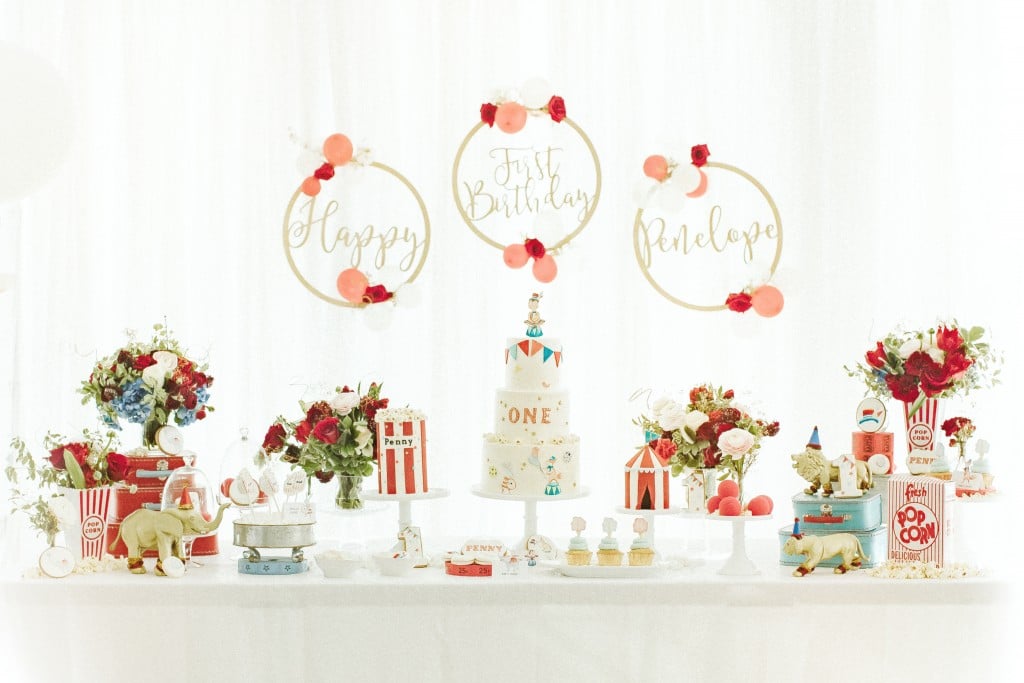 Most 1-year-olds cry, but not Penelope Chan. In the traditional Korean Doljabi ceremony, a baby sits in the middle of a circle with an array of objects placed in front of him or her, and the first item the baby touches supposedly foretells his or her future. It's too much for most babies—all those grown-ups crowding around, screaming, clapping and snapping photos. But Hannah Choi's daughter Penelope took it all in stride.
"She didn't cry at all, which is very rare," Choi boasts. "I was waiting for her to cry, but she just looked up and looked around. She was loving it!"
Maybe it's because Penny knew that her mom, owner of Waldwick-based Little Confetti Events, who specializes in Korean birthday parties, was both party host and planner that day in January. Perhaps Penny realized that Choi felt "a personal pressure" to throw an amazing fête for their 110 guests and needed her to behave so that the kid-friendly, elegant circus-themed party could go off without a hitch.
Penny's party, held at Waterside Catering in North Bergen, incorporated many elements of a traditional circus act. There were two clowns from clowns.com to entertain the 40+ kids with balloon animals, face painting and a magic show; giveaways with trinkets and stuffed circus animals; a "concession stand" and candy buffet; and popcorn kernels interspersed throughout the spreads as if it were confetti.
The theme melded with the traditions too. Next to the three-tiered cake by Sugarsuckle, Choi set up two tables, one for the traditional Korean bean towers, and one for the Doljabi items and raffle station. "Guests got to guess which object Penny was going to pick during her ceremony by grabbing a popcorn kernel raffle ticket and dropping their guesses into the popcorn boxes," Choi says. (The birthday girl chose money, suggesting a "rich life.")
Though she'd only planned a circus-themed party once or twice in the past, Choi wanted to ensure that Penny's celebration felt different from her other events. That meant ordering a custom-made ringmaster dress from Etsy for the baby to wear during the cake smash portion of the afternoon, where the toddler made a mess of the frosting for a cute photo op, and hand-painting animal figurines as centerpieces instead of the floral arrangements Choi usually uses for her clients.
Choi enlisted friends on party day to help her balance being both ringmaster and mom. "I asked two good friends to come with me on the day-of and designated each person to work on one aspect of the space, such as the centerpieces or the candy buffet, while I did the main tables," Choi says. "If I needed to finish my hair or makeup I asked a friend to finish what I was doing. Then, afterward, family members stayed to help clean up. And during the party, I still had fun!"
So much fun, in fact, that she doesn't shrink from the thought of hosting (and executing) more large parties to celebrate her well-behaved daughter's future birthdays—just maybe not this large.
"I don't plan to do anything this big again, but I'm a party planner, so you never know," Choi says with a laugh. Maybe I'll do a big second birthday party but not at a wedding hall, and not for 110 people. Maybe for, like, 50."
After all, you're only 1 once.