Blue Christmas
A Ridgewood family's not-so-traditional home is the perfect setting in which to make new holiday memories.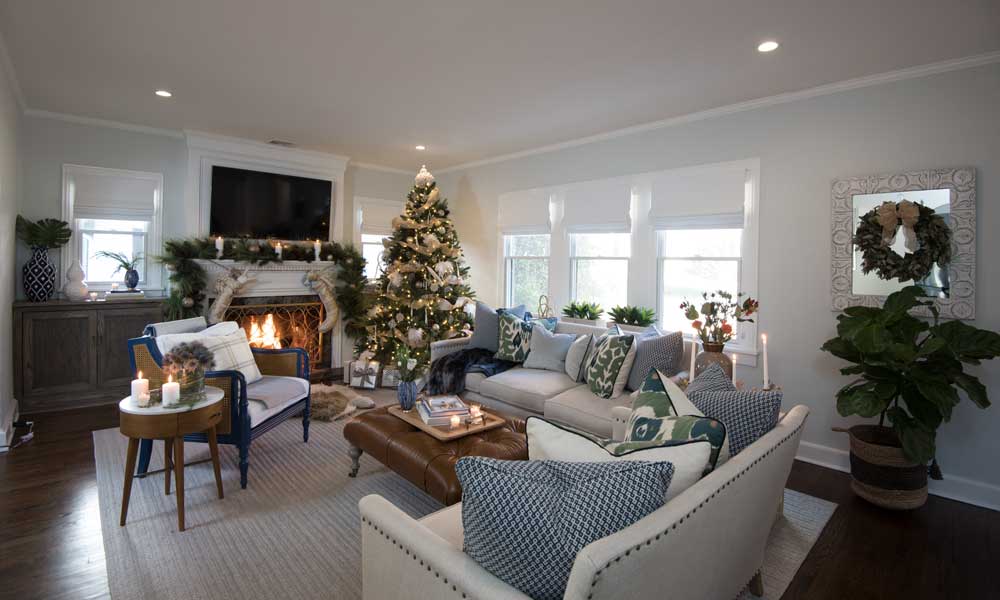 Their kids may be too young to run downstairs on Christmas morning and tear into their holiday stockings by themselves, but Ridgewood homeowners Katie and Scott love the idea of keeping their childhood holiday traditions going now that they have a home and family of their own.

Designer Julie Kantrowitz accented the home's neutral decor with pops of green, blue, gold and silver. The result is a warm seasonal look that fits in with the family's relaxed style of living.
"We were always allowed to go through our stockings before our parents got up, and I want my kids to be able to do that too," says Katie. She and her husband bought their circa 1927 Ridgewood Tudor just over a year ago and are spending their first Christmas with two little ones at home: son Luke is almost 3, and daughter Penelope is 10 months. The kids factored heavily into their choosing designer Julie Kantrowitz of JK Interior Living in Ridgewood to decorate their home.
Designer Julie Kantrowitz with homeowner Katie.
A tiered crystal chandelier and clusters of white hydrangeas stand out against a rustic dining table accented with fabrics of different textures. The apple pie comes from Pretty Baked and pastries from Sook, both in Ridgewood.
"Julie really listens to what you want and understood what I was looking for with two young children—a home that was beautiful yet accessible and livable," explains Katie. Having recently moved from Hoboken, Katie found Kantrowitz when sifting through recommendations on a Facebook page for Hoboken moms and dads, not even realizing until she contacted her that Kantrowitz was also in Ridgewood.
"She came over when Penny was 2 weeks old, so it was mayhem, and we hit it off immediately," remembers Katie. "She seemed to know exactly what I wanted. My son was doing cartwheels, and she realized that instead of a coffee table with sharp corners, we needed an ottoman. We needed things that worked with kids but also had that beautiful feel to them."
When it came time to decorate for the holidays, Katie told Kantrowitz she wanted a cozy, classic and elegant look that was also family-friendly. Kantrowitz decided to build on the navy blue, Kelly green and ivory color scheme that was already in the living room, adding more blue and lots of greenery, plus silver and gold.
"You want holiday décor to be subtle and beautiful and to enhance the space, rather than detract," Kantrowitz explains. "I took the same approach as when we were designing the home, mixing casual elements with more sophisticated and elegant touches. For instance for the tree, we combined the casual burlap ribbon and wooden snowflakes with elegant pearl drops and feathered swan ornaments to give it balance."
Kantrowitz artfully combined artificial and real greenery too. The garlands on the stairs and the mantel are faux, as is the tree, but the wreath is made of dried leaves, and vases of fresh flowers from Beers Flower Shop in Ridgewood dot end tables, the ottoman and the dining table. "Everything is going to look real if you mix the fake in with the real," she explains.
Kantrowitz's go-to stores for holiday décor include Anthropologie, Englewood's Collections by id 810 Design Group, Frontgate, Home Goods, Restoration Hardware and Jo-Ann Fabric and Craft.
"I'm a big DIYer, so Jo-Ann's is my haven," she says. "I made the bow on the wreath and the tree garland from ribbon I got there. Plus all of the candles and some smaller accents like the pinecones were from Jo-Ann's."
And the homeowners are thrilled with the final result. "It's absolutely gorgeous, and what I love about it is that it's not the traditional red and green," says Katie. "She brought in colors and fabrics that I wouldn't have chosen myself, giving the house a cozy, gracious feel."

Doily-covered plates sit atop white check napkins, while a small candelabra with tapers serves as a festive centerpiece.
On Christmas, Katie and Scott will relax with coffee and watch the kids open gifts before hosting both of their families for brunch. Being home that morning is another tradition that Katie hopes to continue.
"Growing up in Wayne, I would always have to leave after opening presents and go to Long Island where my mom's family was from," she recalls. "But I want my kids to be able to be home on Christmas morning. If everyone can come to us, I'll be happy."