Books Are Only The Beginning
The country's abundant free libraries offer texts in many forms, but one thing remains hard to read: the future.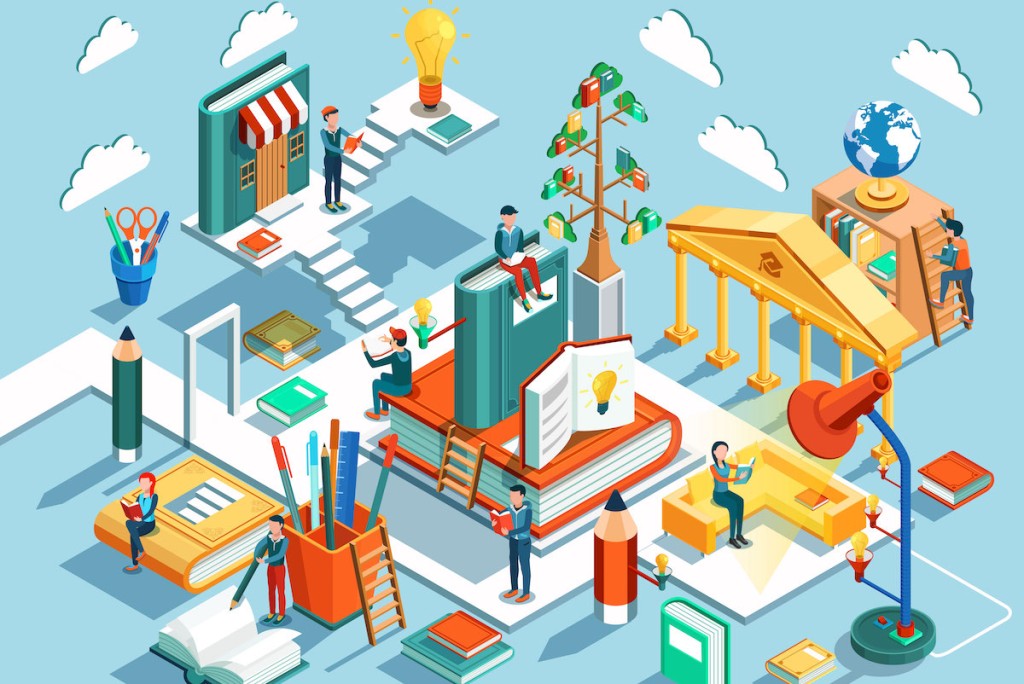 On a Tuesday morning, the Fair Lawn library is mostly empty of patrons, with the exception of Jane Kirschenbaum, who's come, as she often does, to look for something to read—specifically, a book, a real book, with heft, and a cover and pages you can flip through. The Fair Lawn resident isn't a fan of e-books. Asked if she ever reads them, she says, "Oh, no," as if someone has casually inquired whether she enjoys eating dirt. "I like real books," she says. "I like the smell of books and the feel of books."
Kirschenbaum is what you might call a traditional library patron, a reader who enjoys, in her words, "moseying around" the library, waiting for a potential good read to ignite her imagination. She's one of nearly one million users of the county's library system, BCCLS, short for Bergen County Cooperative Library System (and pronounced "BUCKLES" by those in the know). BCCLS comprises 77 free public libraries in Bergen, Essex, Hudson and Passaic counties, which share a variety of resources, including e-books, e-audio books, e-magazines and yes, physical books. If your town's library doesn't own a hard copy of, say, Mastering the Art of French Cooking (or if it does, but someone else has taken it out), you can order the book from another library in the system. In the past, you might have had to wait a week or more for that copy to arrive at your local library. But in 2018, BCCLS opted out of the state library's balky inter-library delivery system and formed one of its own, which has proven far faster and more reliable. Now you can order that copy of Mastering on a Thursday afternoon and likely be serving up a perfect pot au feu come Friday night.
As always, every library in the system provides reference services, and all have access to the state's online reference system, Jersey Clicks. Individual libraries may also subscribe to additional reference services, such as the genealogical service Ancestry Library.
If you haven't visited the library recently, this is only one of many changes that may surprise you. But not all the changes happening at BCCLS are under the system's direct control. For example, annual circulation—the number of items the library system lends out in a single year—is down. From 2013 to 2018, circulation of traditional library materials (that is, hard copies) declined from roughly 11,000,000 to just under 10,000,000 (though in 2019 circulation actually increased by about a half percent). It fell precipitously from 2019 to 2020, by more than 35 percent—a decline BCCLS President Adele Puccio ascribes to the pandemic, specifically those early days of 2020, when libraries in the system were physically closed. But in 2021, as libraries began to open up again, circulation jumped by 30 percent, to more than 8,000,000.
Puccio admits that some of that lost circulation may be attributable to the pull of Amazon, which sells most books at a discount and can deliver them overnight. It's also possible that, with so many forms of entertainment, from streaming series to online gaming, a mere click away, former library users may be spending less time reading. (The jury or, better put, the National Endowment for the Arts, is out on that: While many of NEA's annual surveys of the nation's reading habits revealed a steep decline in the number of people reading for pleasure, more recent surveys indicate that the trend may currently be reversing.)
It's also possible that some former library patrons have simply fallen out of the habit of using the library. Richard Kaufman, for example, is a passionate consumer of physical books, audio books and e-books, often juggling a dozen at a time. Growing up in Lyndhurst, he was a regular library user, but he stopped patronizing it as he got older, and he's not entirely sure why—though his 10-year-old daughter, he says, continues to borrow from their local library in North Arlington.
Circulation numbers for e-books may not explain declining library usage, but they do confirm that library patrons are increasingly embracing electronic borrowing. From 2013 to 2021, the number of e-books in circulation at BCCLS jumped from 110,733 to over 1.2 million, with the sharpest increase in 2020, when libraries were physically shuttered. David Hanson, BCCLS's executive director, urges caution about drawing any conclusions from recent circulation numbers. "We're in a really odd world at the moment," he says, referring to the pandemic, which may (or may not) be winding down, and other global upheavals, "and I don't think things will settle down at least until the fall."
Whatever happens in the months to come, it's clear that e-books will remain popular among many BCCLS patrons, and that represents a financial challenge to the system. "The pricing model for e-books is horrendous," says Puccio. Acquiring e-books is also a far more complicated process than buying standard books. Libraries can choose among several options: They can buy an e-book license that allows for a certain number of uses—26 is standard—and then expires and has to be renewed, or buy a so-called timed license that expires in either 12 or 24 months. Or—the most expensive option—they can buy a license in perpetuity. In all cases, though, each license covers only a single e-book, which, in terms of circulation, functions just like a hard copy: That is, it can only be loaned out to one patron at a time. The pricing model puts libraries in a quandary: The more they spend on pricey e-books, the less they can spend on physical books and other materials. "You have to be very careful about what you buy," says Hanson, "because with e-books, you have a fraction of the buying power you have for a standard book."
Library budgets, of course, are fixed. In New Jersey, libraries are funded by the state, and the amount of money each library receives annually is determined by the population of the municipality it serves. Individual municipalities can contribute additional monies to their local library's budget, which Mahwah did in 2019 via a town referendum. With the bottom line of individual libraries in mind, BCCLS joined a 2019 boycott of the publisher Macmillan, which had recently introduced an e-pricing model that most libraries believed was prohibitive. Macmillan backed down later that year—but the price of e-books continues to be a problem for BCCLS and other systems.
In this time of flux, BCCLS is looking to do whatever it can to please current patrons and attract new ones. As part of a five-year plan, whose stated mission is "to support the evolving public library as it strives to meet the current and future needs of the communities we serve," it just finished surveying library staff, directors and users to determine what they like about the library, what they think it could do better and whether patrons understand and appreciate the BCCLS brand. Specifically, it asked if respondents understand that their local library is a part of a larger system, and do they believe that system benefits them? Although the survey results were still being tabulated as of this writing, it was clear, says Susan Meeske, chair of the branding committee task force, "that people love the delivery system." They also appear to appreciate the fact that 29 libraries in the system have abolished all fines and 11 others are partially fine-free—an attempt on the part of those libraries, says Hanson, "to reduce barriers to use." Whatever else users may love about the new and improved system, it's doubtful that most are aware how far BCCLS has gone to broaden its offerings beyond books.
Online, patrons can check out e-magazines (everything from The New Yorker to Popular Mechanics), and some libraries offer streaming of movies and other audiovisual materials. Users can also borrow DVDs, games and software. In addition, individual libraries loan out some very nontraditional materials, such as museum passes, mobile Wi-Fi hotspots, the action video cameras known as GoPros and DVD players that can accommodate international materials. Are you thinking of buying a board game but don't know if it's something you'll want to play more than once? Many libraries have board-game collections that allow you to test-drive a game (or take it out multiple times if you do like it but don't want to invest in a copy of your own). And if you'd like to make your 1-year-old a teddy bear[1]shaped cake, your library may just have a cake pan collection. "You use those pans once," says Puccio, "and then what are you going to do with them—sell them at a garage sale?"
Libraries also offer a variety of programs to please and attract patrons, from book clubs and readings by local authors to art exhibits, jewelry-making classes and knitting clubs. Children's programming tends to be especially robust. Earlier in the spring, for instance, the Fair Lawn Library hosted a Penguin Party, featuring a live penguin courtesy of Jenkinson's Aquarium.
While some library users, like Kirschenbaum, come for the books, others visit their local library for less traditional reasons. On a recent Friday afternoon, for instance, Donna Mazza was in the reference section of the Lyndhurst Library to use its printer—she has a laptop but no printer of her own. But more often than not, she says, she comes to the library to buy the materials it sells for ten cents apiece, including books, DVDs and videos, which she uses to fill little free library boxes—those mini[1]libraries that people install on their front lawns in order to share books with the community. She frequently drives down to Asbury Park, which has a plethora of little free library boxes, to distribute her bounty, which she does through her foundation Real Heroes Aren't Bullies.
If you don't use your local library, you may not fully grasp its value to those who do. Libraries support literacy as part of their mission, especially early childhood literacy, with programs like "100 Books Before Kindergarten" (preschoolers who check out 100 books get to attend a party honoring their accomplishment) and "Read to a Dog," through which kids can hone their reading confidence by reading aloud to ever-patient canine listeners. Many libraries also offer English as a Second Language (ESL) classes.
In fact, libraries may represent the last great bastion of egalitarianism. "It doesn't matter who you are, how much money is in your pocket, what you drove or rode (or whether you walked) to get here, you're welcome; you can borrow, you can sit, you can use the facilities, you can join our programs," notes Puccio. In the end, she says, "libraries are a great space for equality."
By Leslie Garisto Pfaff