Bowls of Goodness
Move over acai and poké. These delicious vegetarian recipes offer a fresh take on the food bowl trend.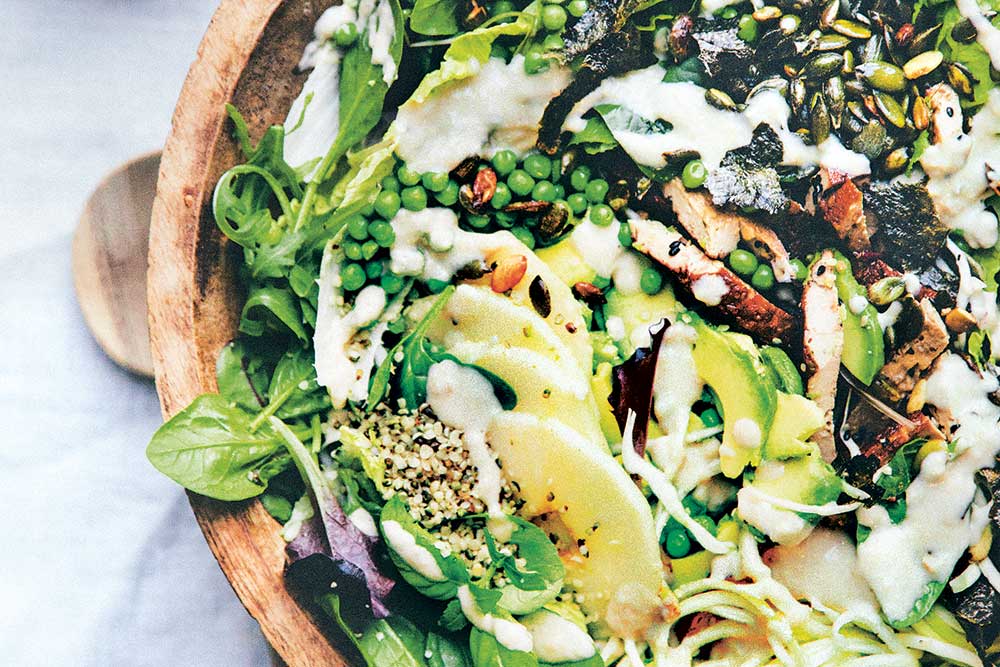 Smoked Tofu and Green Pea Salad
Serves: 2 to 3
Ingredients
¾ lb. spinach
¾ lb. white cabbage leaves, finely shredded
1 head romaine lettuce, leaves separated
2 handfuls of arugula
1 apple, quartered, cored, and sliced
2 avocados, pitted, peeled, and sliced
1 zucchini, spiralized
¼ lb. green peas, fresh or frozen (defrost at room temperature for 15 minutes)
1–2 Tbs. vegetable oil
2 handfuls of pumpkin seeds
1 sheet nori (seaweed), torn or cut into smaller flakes
7 oz. smoked firm tofu, cut into small cubes
sesame seeds
pinch of ground black pepper
1 Tbs. toasted sesame oil
soy sauce
handful of hemp seeds
juice of 1 lemon
pinch of salt
Horseradish Cream
¾ cup vegan crème fraîche or dairy crème fraîche
¾ Tbs. horseradish (or 1 Tbs. wasabi or 1 Tbs. Dijon mustard)
good pinch of salt
There are many ways to use tofu—you can smoke, bake or stir-fry it in oils like extra virgin olive, coconut and hemp. Hemp oil and hemp hearts are a great source of omega-3s, an easier option than taking omega-3 supplements." —Azi Ahmadi, registered dietitian, Ridgewood
Directions
Toss the spinach, cabbage, lettuce, and arugula in a large bowl. Add the apple, avocado, zucchini and peas.
Heat a small skillet over medium-low heat. Add a little of the oil and toast the pumpkin seeds and nori flakes for two minutes, stirring to make sure they don't stick. Sprinkle with salt, remove from the pan, and set aside.
Mix the horseradish cream ingredients in a small bowl. Combine in a blender or work it to a smooth consistency with a fork, then set aside.
Return the skillet to medium heat and add a little oil. Cook the tofu cubes with the sesame seeds and ground pepper, stirring constantly, for two to three minutes. Remove from heat and drizzle with sesame oil and soy sauce.
Add the tofu, pumpkin seeds, and nori flakes to the salad bowl. Top with the hemp seeds. Drizzle with lemon juice and sprinkle with salt. Serve with the horseradish cream.
More Recipes