Bowls of Goodness
Move over acai and poké. These delicious vegetarian recipes offer a fresh take on the food bowl trend.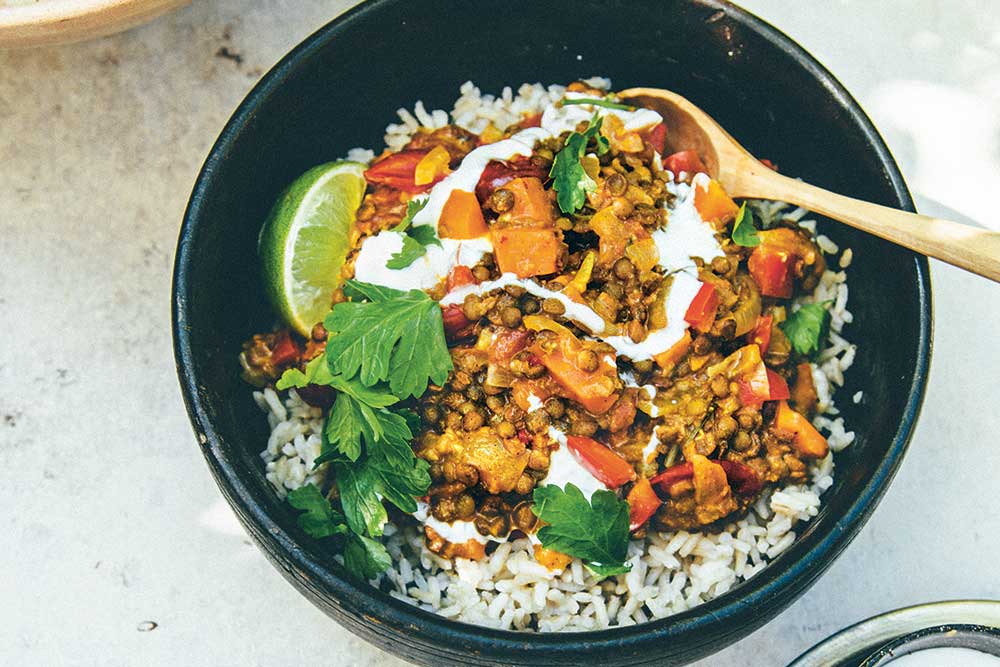 The Loyal Lentil Chili
Serves: 4
Ingredients
1 cup Le Puy or black lentils
1 Tbs. coconut or olive oil
5–7 shallots, finely chopped
4 garlic cloves, finely chopped to a paste with 1 Tbs. salt
½ Tbs. ground cumin
1 tsp. ground turmeric
1 tsp. ground cinnamon
1 tsp. paprika
1 tsp. ground coriander
1 red bell pepper, halved, seeded and finely chopped
1–2 red chile peppers, seeded and finely chopped
2 tomatoes, finely chopped
1 lbs. butternut squash, cooked and diced
1 Tbs. tahini
1 Tbs. honey or agave syrup
14 oz. can coconut milk
juice of 1 lime
3 Tbs. soy sauce
salt and pepper
Simple Yogurt sauce
1 cup yogurt or vegan yogurt (soygurt or coconut yogurt)
1 tsp. honey or agave syrup
drizzle of extra-virgin olive oil
Quickest Cucumber Salad
½ cucumber, shaved into ribbons
¼ cup rice vinegar
To Serve
extra-virgin olive oil
fresh cilantro
cooked brown rice or other whole grain
lime wedges
Sriracha or similar hot sauce
Use honey in moderation but avoid it if weight loss is a goal—it can cause bloating. If you opt for sugar, try Sugar in the Raw, which has a higher mineral content and is not as highly refined as white sugar." —Ralph Bysiek, D.C., nutritionist/dietitian, Vital Nutrition Clinic, Ramsey
Directions
Cook the lentils according to the package instructions. Rinse, drain and set aside. Heat a skillet over medium-high heat. Add the oil and gently cook the shallots until translucent. Add the garlic, spices, bell pepper, chile peppers and tomatoes. Cook for a few minutes over medium-low heat.
Stir in the lentils, squash, tahini and honey. Pour in the coconut milk and stir, then simmer over medium-low heat for five minutes, adding a little water if needed and stirring regularly. Add the lime juice and soy sauce, then continue simmering for a few minutes while stirring. Taste and adjust the seasoning with salt and pepper. Remove from the heat.
Mix the ingredients for the yogurt sauce. Make the cucumber salad by combining the shaved cucumber and rice vinegar. Drizzle the chili with extra virgin olive oil, top with freshly chopped cilantro. Serve with the cool yogurt sauce, cucumber salad, brown rice, lime wedges and hot sauce.
More Recipes