Bowls of Goodness
Move over acai and poké. These delicious vegetarian recipes offer a fresh take on the food bowl trend.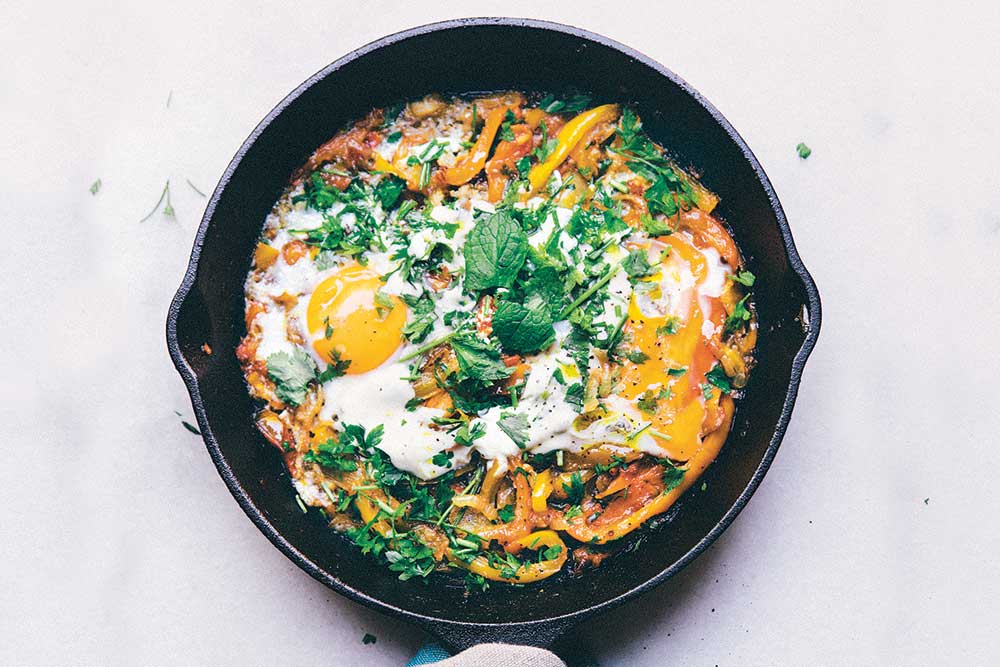 Golden Shakshuka
Serves: 2
Ingredients
​ 2 onions, thinly sliced
2 yellow bell peppers, thinly sliced
½ tsp. ground cumin
½ tsp. freshly grated or ground turmeric
½ tsp. thyme (dried or fresh)
½ tsp. ground coriander
pinch of cayenne pepper or ½ tsp. spicy harissa
2 cups yellow cherry tomatoes, chopped
2 garlic cloves, finely chopped to a paste with ½ tsp. salt
2 free-range eggs
Yogurt Sauce
½ cup Greek yogurt
1 tsp. honey
juice of ½ lemon
To Serve
handful of fresh herbs (cilantro, mint, parsley), chopped
dusting of za'atar
fresh bread
"Vegans can get their protein in this dish by substituting the eggs with nuts or beans like kidney and garbanzo. You can blend the nuts into a paste and add a creamy top to the bowl."
Directions
Prepare the yogurt sauce by mixing the ingredients in a bowl, then set aside. Add a drizzle of olive oil to a skillet and place over medium-low heat. Stirfry the onion until translucent, about five to 10 minutes.
Add the peppers, cumin, turmeric, thyme, ground coriander, and cayenne to the skillet. Stir to coat the onions and peppers with the spices. Add the cherry tomatoes and garlic-salt mixture and cook over low heat for 15 minutes, stirring frequently. If the sauce begins to dry out, add a little oil and water, but add sparingly as the shakshuka should not be watery.
Use the back of a spoon to make two shallow indentations in the surface of the shakshuka and crack an egg into each. Leave the shakshuka to slowly bake the eggs for 10 minutes, keeping the heat low. The result should be a dry sauce with the eggs just set. Remove from the heat.
Serve in bowls with the yogurt sauce drizzled over, and top with fresh herbs and za'atar. Enjoy with bread to scoop up the shakshuka sauce.
—Dan Wernikoff, certified sports nutritionist and co-founder of Champion Athletes, Kenilworth
More Recipes
Smoked Tofu and Green Pea Salad »