Breakthrough Robotic Arm Technology
Breakthrough Robotic Arm Technology at Monmouth Medical Center Offers New Level of Accuracy and Reproducibility for Partial Knee and Total Hip Replacement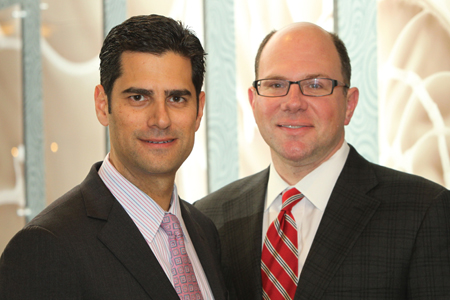 Monmouth Medical Center is the first
hospital in central and southern New
Jersey to introduce robotic-assisted
partial knee resurfacing and total hip
replacement procedures.
The robotic-assisted surgeries
are performed using the RIO Robotic
Arm Interactive Orthopedic System
marketed by MAKO Surgical Corp.
RIO is a surgeon-controlled robotic
arm system that enables accurate
alignment and placement of implants.
"Accuracy is key in planning and
performing both partial knee and total
hip procedures," said David Chalnick,
M.D., medical director of the Joint
Replacement Center at Monmouth
Medical Center. "For a good outcome
you need to align and position the
implants just right. RIO enables
surgeons to personalize partial knee
and total hip arthroplasties to achieve optimal results at a level of accuracy
and reproducibility previously
unattainable with conventional
instrumentation."
The RIO System features a
patient-specific visualization system
and proprietary tactile robotic arm
technology that is integrated with
intelligent surgical instruments. It
assists surgeons in pre-planning and
in treating each patient uniquely
and with consistently reproducible
procedure.
Monmouth Medical Center
announced in October that it had
reached another robotic surgery
milestone by performing the region's
first robotic partial knee replacement
surgery to treat osteoarthritis
of the knee. This latest example
of pioneering robotic surgery at
Monmouth Medical Center follows the hospital's recent milestone of
performing more than 2,000 robotic
surgeries.
Partial knee resurfacing is a
minimally invasive treatment option
for adults living with early to midstage
osteoarthritis that has not yet
progressed to all three compartments
of the knee. The first procedures
were performed by Dr. Chalnick and
Mark W. Gesell, M.D., an orthopaedic
surgeon and joint replacement
specialist with Monmouth.
A pre-surgical plan is created
based on a CT scan of the patient's
own knee, and the surgeon uses
the robotic arm during surgery to
resurface the diseased portion of
the knee, sparing healthy bone and
surrounding tissue for a more natural
feeling knee. An implant is then
secured in the joint to allow the knee
to move smoothly again.
"Robotic partial knee surgery can
facilitate optimal implant positioning
to result in a more natural feeling
knee following surgery and result in
a more rapid recovery and shorter
hospital stay than traditional knee
replacement surgery," Dr. Gesell
says. "We are proud to be the first in
the region to offer this innovative
treatment option to our patients."
In November, orthopaedic
surgeon Arthur K Mark, M.D.,
performed the first robotic-assisted
total hip replacement surgery,
which utilizes the RIO system
for visualization of the joint and
biomechanical data to guide the bone
preparation and implant positioning
to match the pre-surgical plan. After
first preparing the femur or thighbone,
the surgeon uses the robotic arm
to accurately ream and shape the
acetabulum socket in the hip, and
then implant the cup at the correct
depth and orientation. The surgeon
then implants the femoral implant.