Bugging Out Over Spotted Lanternflies?
Bergenites are reporting more and more sightings of the invasive species. Here's what to do if you see one.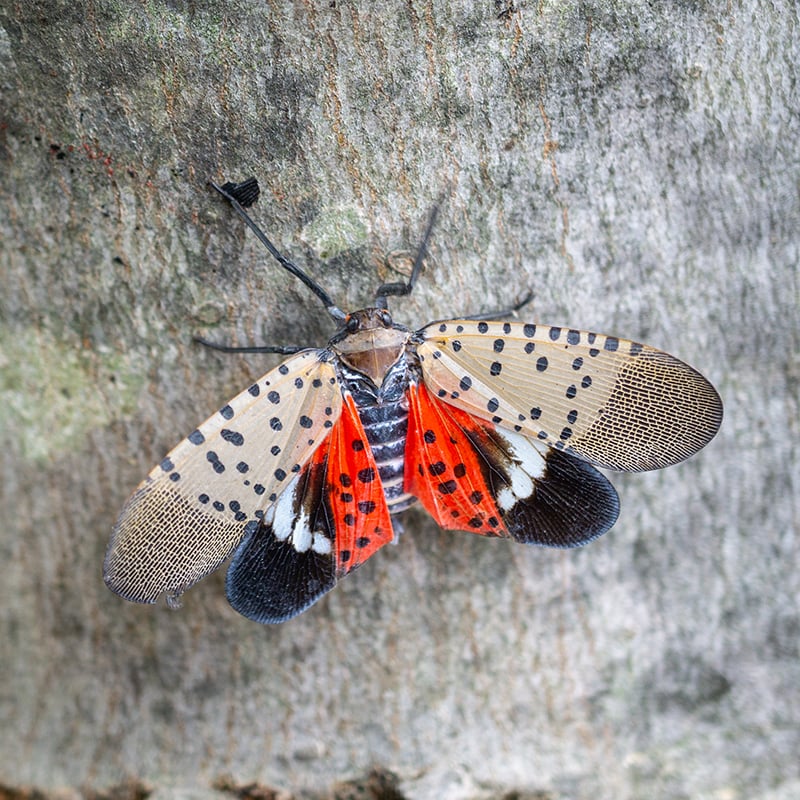 If you thought you heard the last of that dreaded "Q" word, Bergenites aren't out of the woods just yet—and this time it's not because of the coronavirus. The state has placed parts of New Jersey under quarantine for environmental reasons, namely to protect against the spread of spotted lanternflies (SLF). At first glance, these bugs resemble a pesky stinkbug or a moth—particularly when they spread their spotted, sometimes red-splashed wings—but they're in fact Asian plant hoppers.
So, what's so bad about them? They're an invasive species that feeds and in turn destroys more than 70 species of crops and hardwood trees in the Garden State, according to the New Jersey Agricultural Experiment Station at Rutgers University. SLFs, which feed in large masses from August through October, were first detected in our state in 2018, and their reported numbers have been growing ever since, particularly in Burlington, Camden, Gloucester, Hunterdon, Mercer, Salem, Somerset and Warren counties—the eight areas placed under quarantine.
While Bergen County isn't on the watch list, we're not necessarily in the clear. Bergenites travel to many of the impacted counties for seasonal activities such as apple picking, hayrides, fall festivals, camping, hiking and kayaking. The SLF is not a species known to fly very far, but they're adept to "hitchhiking" and are known to attach to out-of-area travelers and deposit eggs (which look like white-brown mud) on items like packing bins, firewood and camping gear.
Just this week, municipalities like Lyndhurst and Wood-Ridge posted links on their websites with information about what to do if a SLF is spotted in the neighborhood. It's a necessary precaution, as residents are seeing the bugs throughout the county. Waldwick's Amy Mazzarella, for instance, took to a private Facebook group and noted an SLF sighting in her hometown this past weekend.
"I had no idea what it was until after I did research," Mazzarella wrote, later telling BERGEN that her 7-year-old son, Logan, was the first one to spot it in their backyard.
"My son realized it was a bug we have never seen before," she says, suggesting that he wanted to squish it. "To be honest, we did not kill it because I try to teach him that it is not nice to hurt animals, even bugs. Little did I know I was supposed to kill it! I told him and he said, 'See, you should have listened to me!'"
Though she didn't immediately kill the bug, Mazzarella said she reported it to the state—killing the SLF and notifying the state are the recommended actions upon sighting. A mix of household dish soap and water is an eco-friendly way to kill SLF—as is stomping on them with your foot. NJ Pest Control, which provides service in Bergen County, says residents who believe they have SLF or SLF egg masses on their property can try any home treatment option to eliminate the pests.
Those who encounter SLF should report them to the NJ Department of Agriculture or call 833.422.3284.