Buzz
Our guide to new ideas, tips, trends and things we love in our county.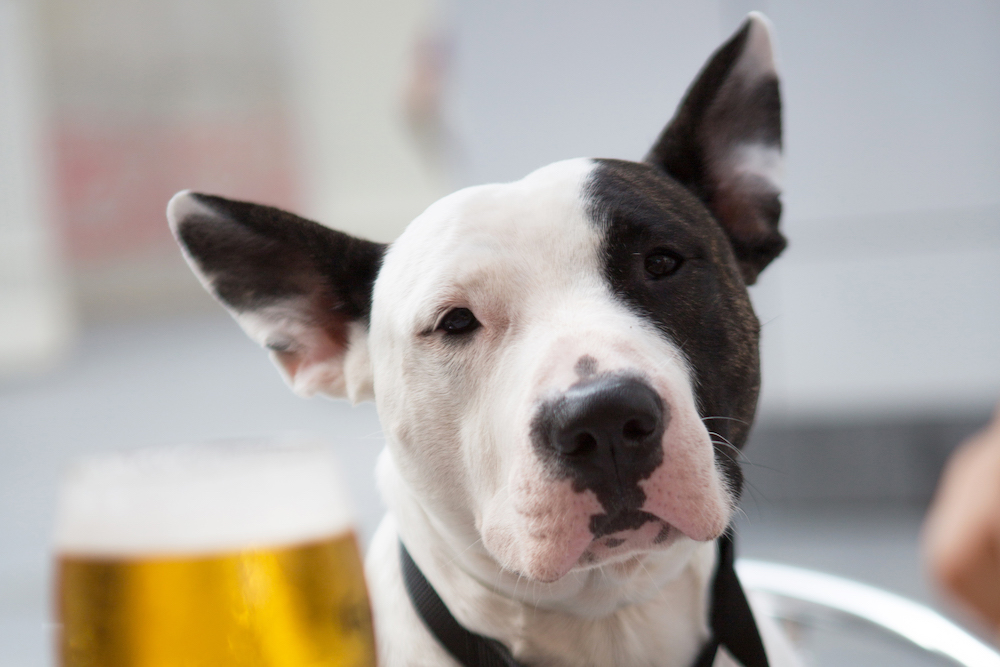 MUTT-FRIENDLY MEALS
Monmouth County is booming with dog parks, pet stores and, of course, boardwalks (check with individual towns) where Fido can get in some exercise. But did you know you can enjoy a meal at some of the area's finest eateries with your BFF (best furry friend) too? In honor of National Love Your Pet Day on Feb. 20, chow down with your hound at one of these local restaurants, each of which has more than just dog-friendly outdoor seating, but also caters to patrons of the two-legged and four-legged kinds.
Wonder Bar is basically begging for patrons to bring along their puppies, as the outdoor seating area features a fenced-in space with a puppy pool where dogs can run freely as their owners enjoy a drink. There's even a "Yappy Hour" seven days a week from noon until 7pm, weather permitting.
Wonder Bar, 1213 Ocean Ave., Asbury Park, 732.502.8886
Riverside Café has two things pet-owners love. First, it's convenient: This hangout is located just around the corner from popular spot Doggy Beach. Second, its menu features a "puppy meal," which includes kibble, wet food, treats and even a tennis ball and poop bag for when nature calls.
Riverside Café, 425 Riverside Dr., Manasquan, 732.223.2233
SurfTaco's outdoor patio is brimming with leashed doggies duringwarm-weather months, and when you bring yours, make sure Fido's ready for his closeup—the restaurant has its own Instagram account (@dogsofsurftaco) that showcases some of the cutest and fluffi est customers at each of its Shore locations.
SurfTaco, multiple locations including Manasquan, Long Branch and Belmar
​Labrador Lounge has more than just a name that's enticing to canines—the Labrador décor throughout the indoor/outdoor dining area will make your best friend feel right at home. Plus, human customers will love the island-inspired cuisine.
Labrador Lounge, 3581 Rte. 35, Normandy Beach, 732.830.5770
Doughboys loves when diners come with their pets, and the staff offers them treats and water. This pizza spot even has six dog-friendly tables.

AN AXE-CITING AXE-PERIENCE
If you're looking for a fun indoor activity, Bury The Hatchet has just the thing. The popular hatchet-throwing spot has opened in Freehold, its 17th location in the
tri-state area but fi rst facility in Monmouth County. Rookies and skeptics need not worry: Before guests start tossing axes at wooden targets, each two-hour session begins with a tutorial on proper techniques. Then the fun begins. Hatchet throwing is perfect for a unique date night, corporate get-together or birthday party idea for anyone over the age of 14—plus you're learning a new skill! Oh, and did we mention there's wine and beer if you're 21 or over?
Bury The Hatchet, 916 Park Ave., Freehold, 732.683.0213, burythehatchet.com/axe-throwing-freehold-nj/

FLOAT YOUR BOAT
If you dock your boat at The Atlantic Highlands Yacht Club, you've made a good choice. The club has earned marina.com's Boater's Choice Award for the second consecutive year, Club Commodore Jack Glass revealed at an event in January. The Jersey Shore marina won the title for a bevy of reasons, among them: its friendly staff, convenient location between Sandy Hook and New York harbors and proximity to downtown shops and restaurants. Summer can't come soon enough!
Atlantic Highlands Yacht Club, 6 Simon Lake Dr., Atlantic Highlands, 848.300.8160

RESTAURANT REVAMPS BY RAMSAY
Last fall, celebrity chef Gordon Ramsay filmed two episodes of his restaurant rehab show 24 Hours to Hell and Back at the Jersey Shore. The episodes featuring Blend on Main in Manasquan and Caneda's White Rooster in Ocean County's Toms River (pictured) aired consecutively (and respectively) on Jan. 14 and 21 on Fox. In just 24 hours, the sharp-shooter chef gave both of the eateries makeovers and offered the staffs a lesson or two in preparing and serving food. White Rooster even got a new interior design, an updated Cuban-centric menu, friendlier price points, a new bar and an eye-catching bright blue exterior.
Blend on Main, 152 Main St., Manasquan, 732.223.0030; Caneda's White Rooster, 781 Fischer Blvd., Toms River, 732.929.2822

HISTORY IN THE MAKING
About a year ago, Governor Phil Murphy signed into law a new measure that requires boards of education to broaden middle and high school social studies classes to include LGBTQ-inclusive curriculum. And 12 public schools in New Jersey will be among the first to do so in a special pilot program during the 2020-2021 academic year, including two here in Monmouth County: Dr. Martin Luther King Jr. Middle School in Asbury Park and Forrestdale School in Rumson. More than 50 schools statewide applied to be a part of this initiative; teachers at the 12 selected ones will provide 45 lessons from September to June to students in grades 5, 6, 8, 10 and 12. These dozen schools will also be given curriculum coaches and professional development training, along with other resources to ensure all goes well.

CULINARY CORNER
YOU'VE TRIED THE REST…
Admit it—you were one of the thousands of patrons who mourned the demise of 75-year-old Freddie's Pizzeria in Long Branch. Are we right? If so, you'll be happy to know that the pizzeria that has taken its place is just as good… if not better. Enter Lezama's, another casual Italian spot boasting everything from salads to pastas to cheesesteaks to wraps. But its thin-crust pizza is out-of-this-world, and the folks there even claim to have "the best pizza in Long Branch." Well, there's only one way to find out…
Lezama's Restaurant, 563 Broadway, Long Branch, 732.443.4201, lezamasrestaurant.com
LADY WHO LUNCHES
A vegan Turkish bakery and café might sound like a super niche market, but one taste of the tasty creations at recently-opened The Baklava Lady in Englishtown and it's clear anybody can (and will) enjoy this food. Whether you order the Turkish "meatballs," lentil soup, scrambled tofu, chickpea salad, avocado toast or, of course, sweet baklava, vegans and non-vegans alike will find something to love on this quaint and homey place's unique menu.
The Baklava Lady, 34 Main St., Englishtown, 732.851.5445, thebaklavalady.com
A DAILY TREAT
There's a weird dichotomy at The Daily Gourmet in Millstone—it serves traditional breakfast dishes that turn customers into regulars. But also on the menu are daily specials that often include a soup, a pasta, a sandwich or a burger, plus extra fresh seafood and fish specials on weekends. Basically what we're saying is this place has pretty much everything, so stop on by when you don't know what you're in the mood for until you see it.
The Daily Gourmet, 353 Sweetmans Ln., Millstone, 732.851.5580

MAKING US PROUD
Add Craig Mazin to the long-running list of award-winning New Jerseyans. The Marlboro native and Freehold High School alum is now officially a Golden Globe winner, as Chernobyl, the HBO series which he created and executive produced, won the statue for Best Limited Series during the Jan. 5 NBC telecast. The five-episode drama, which examines the 1986 nuclear disaster that occurred in the Soviet Union, also won 10 Emmy awards back in September, two of which the 48-year-old accepted for Best Limited Series and Writing for a Limited Series. Congrats, Craig!​