Buzz Worthy News
Here's what's buzzin' in Bergen.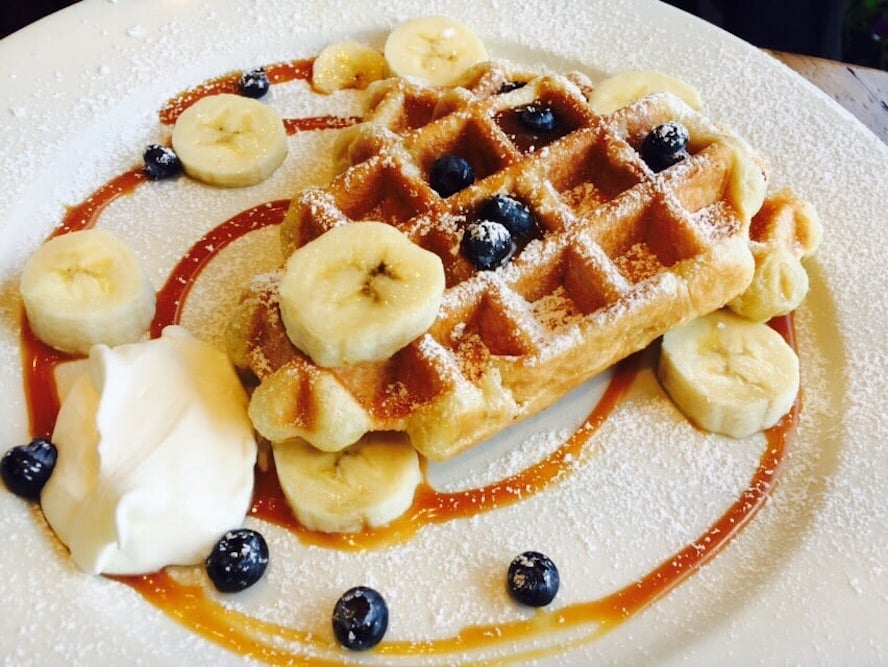 Did someone say brunch? National Waffle Day on Aug. 24 is cause for celebration, and we've got some suggestions on where to chow down on the sticky sweet breakfast treat. Oh, and don't forget to order a round of mimosas!
BROWNSTONE PANCAKE FACTORY, EDGEWATER
Try this: SWEET APPLE PIE WAFFLE baked with raisins and walnuts, then topped with an apple cinnamon compote.
COUNTRY PANCAKE HOUSE, RIDGEWOOD
Try this: THE BERRIES WAFFLE smothered in loads of strawberries, cranberries and blueberries.
PATISSERIE FLORENTINE, ENGLEWOOD AND CLOSTER
Try this: LIÈGE STYLE BELGIAN WAFFLE with sliced bananas and drizzled caramel sauce.
CITY PERCH, FORT LEE
Try this: CRISPY CHICKEN & WAFFLES drenched in maple syrup, with a side of spicy bacon.
CHIT CHAT DINER, HACKENSACK
Try this: WHACADAMIA WAFFLE topped with white chocolate chips and crunchy macadamia nuts.
Kudos THE WRITE STUFF
Edbert Aquino, a third grader at Academy of Our Lady of Grace in Fairview, won a national penmanship contest for his cursive lettering and received a trophy and certificate for his work. Every year, the school has students fill out a penmanship sample for the Zaner-Bloser handwriting competition. Each student writes, "The quick brown fox jumps over the lazy dog", and teachers select the best from the grade. Winners move to the state and then national levels. More than 250,000 entries were received this year from students in kindergarten through eighth grade.
RELAY FOR LIFE LEADER
Ramsey resident and eighth grader Foxx Murphy, right, raised over $15,000 for the borough's Relay for Life, and he was presented with a check that matched his fundraising efforts! His father, Joe, is battling stage 4 cancer, and as a result, Foxx has become heavily involved in Relay for Life. This year, he assembled a team of 80 people—"Murph's Fighting Irish"—to help raise funds and walk in support of those affected by cancer.
BUZZ-WORTHY NEWS
Ridgewood has "bee-come" the first "Bee City" in New Jersey! The village signed a resolution stating that it is fully committed to sustaining these pollinators by providing diverse and abundant nectar throughout the floral growing season, undisturbed spaces for hive-making and humane bee removal when necessary. The nation's bee population has been declining in recent years, but with help from non-profit group Bee City USA, more cities are becoming pollinatorfriendly.
TRADING SPACES
Duluth Trading Company, known as the "working man's" retailer, is opening its first New Jersey location: in Ramsey Square, a space formerly occupied by Sports Authority. Although Duluth built its brand around supplying goods to plumbers, carpenters and the everyday handyman, it now offers clothes for women and office workers. During its inception in 1989, the only product Duluth sold was a canvas tool bag for contractors—but times have certainly changed. Shoppers can purchase cheekily-named items like "buck naked underwear" and "ballroom jeans." Functional clothing items with fun names? Count us in! For updates, visit duluthtrading.com.
SLEEP WELL
Few things are more important than a good night's sleep, so forget online shopping and visit Fortunoff Mattress, where you can feel a bed before buying. The shop has opened its first showroom in Paramus, and rest assured, the experts there will help you find the perfect mattress. Don't have a truck to bring your new bed home? No worries: The company will take care of the transportation and setup of your new bed. Now that's a dream! Fortunoff Mattress, 141 Rte. 17 North, Paramus, 201.875.3240, fortunoffmattress.com