Buzz Worthy
Here's what's buzzin' in Bergen.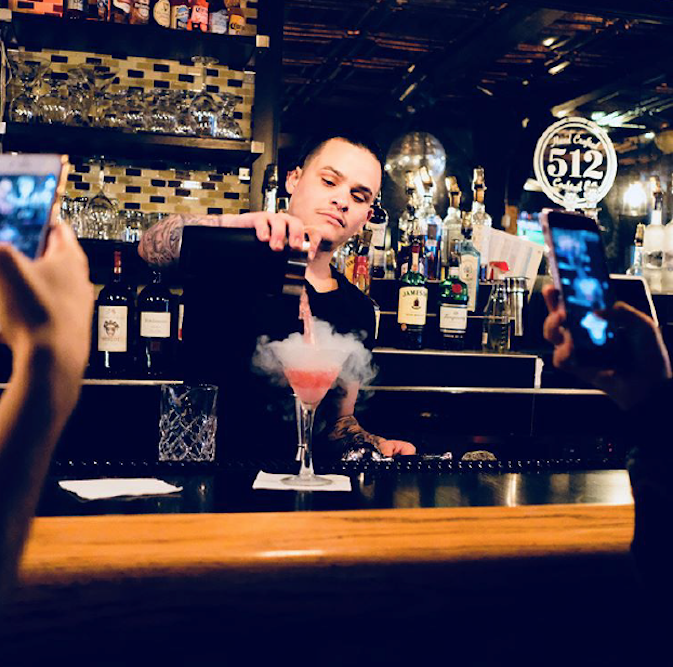 DRINK UP!
Cheers to Eli Abiskaroon and Frankie Medina (pictured), who recently opened Five Twelve, a cocktail bar, in Cliffside Park. The hip new spot takes over the former OzBar location, and the space is described as having a "speak-easy style" with a "light nightlife atmosphere," (since there will be a live DJ and percussionist playing most nights). Medina has been busy building Five Twelve's cocktail menu, which includes house-made infusions containing fresh local ingredients. The bar also hosts "Paint Nites," where partakers can sip crafted cocktails and paint on canvases. Five Twelve, 512 Anderson Ave., Cliffside Park, 201.366.4106
A ROUND OF APPLAUSE
Congrats, Dr. Maz! The Police Benevolent Association 197 recently presented the Silver Life Award to Dr. Ali Mazandarani of MedWell Spine, Osteoarthritis & Neuropathy Center. This is the highest honor to be bestowed upon a citizen, and is given to a select few individuals each year who have demonstrated their continued support of the law enforcement community. Dr. Maz has been treating law-enforcement patients for more than 20 years at his Midland Park practice, which specializes in nonsurgical orthopedic care, testosterone therapy, weight loss and alternative therapies for chronic ailments.
New to the Neighborhood
If you've been looking for ways to spruce up your garden or want to do things differently next year, The Women Gardeners of Ridgewood can help. And members not only give helpful hints to make your garden grow, they host many community programs. For instance, The Secret Gardens tour is a beloved tradition for nature lovers all around the county. The afternoon tour included the viewing of nine gardens (seven private and two public) in Ridgewood and the Cheelcroft section of Ho-Ho-Kus, including the James Rose Center. Find out more about the group at womengardenersofridgewood.
DISCOVER A SECRET GARDEN
Thinking about the farmhouse chic look for your next interior redesign? White Oak Home, which opened this summer in Westwood, offers one-of-a-kind pieces—big and small—that embrace the rustic style. We're talking custom-designed furniture for the bedroom, living area, kitchen and more as well as accent pieces, tabletop decor, textiles and other items that will be perfect for you (or to give as a gift). The store's product selection is seasonal, meaning you'll find the best trending items here throughout the year. "It's a store everyone needs to visit," says Claudette Michel Ashman after a recent visit to Westwood. "It's full of 'must-haves', 'I wants' and 'just what I was looking fors'." White Oak Home, 135 Westwood Ave., Westwood, 201.383.9635, thewhiteoakhome.com
PET PEEVES AT THE GROCERY STORE
Grocery stores: Can't live with 'em…can't live without them. Here are some issues our fellow Bergenites could definitely live without:
"It bothers me when people leave items they don't want piled by the register instead of either returning them or giving them to the cashier."
—Laura Dosch, Ramsey
"People who enter the store with a shopping cart and feel the need to push through the busiest checkout line to get inside the store."
—Michael Murphy, River Edge
"Barely anyone uses reusable bags to carry out groceries, and people put produce like bananas and avocados into plastic bags—they have their own protective casings."
—Abby O'Connell, Wyckoff
"Displays installed right in the middle of the aisle are often hard to get around without knocking something over."
—John Jones, Allendale
"I hate when people leave their carts in the middle of parking spots—there are cart corrals for a reason!"
—Emily Simpson, Ramsey