Can lung cancer sometimes be detected early?
A new program tracks growths in the lung for a greater chance of cure.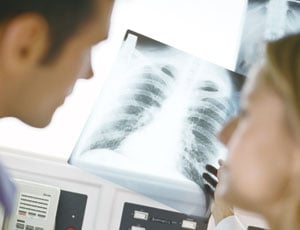 Lung cancer is the deadliest of diseases, killing more men and women in the United States than any other form of cancer. And unlike breast, colon or prostate cancers, it has no recommended screening test that can identify lesions early enough to improve survival and reduce mortality. Lung tumors sometimes show up on CT [computed tomography] scans that are taken for other reasons, but so do so many other irregularities that it isn't practical to screen everyone regularly for the disease.
There is, however, the next best thing: helping doctors keep close tabs on small lesions or nodules when they are identified by CT scans. These nodules are typically discovered as small shadows, 90 percent of which result from non-cancer-related causes such as infections, pneumonia, pulmonary abscesses, lung cysts or vascular abnormalities. To ease patients' anxiety about such incidental findings—and to treat potential lung cancers at an early stage—Monmouth Medical Center has just started a Lung Nodule Program to follow patients with these growths.
"We are the first hospital in New Jersey that has formalized a multidisciplinary program to follow up on patients who present with lung nodules," says Shirley Hwang, administrative director of the medical center's Leon Hess Cancer Center. "We follow the lung nodule guidelines of the American College of Radiology, and we've formalized and developed software to follow the patients, provide education and help them understand the importance of continued surveillance." Launched in June, the program is under the medical direction of board-certified pulmonologist Douglas Livornese, M.D. Portia Lagmay-Fuentes, a nurse practitioner, helped develop the protocols and runs the day-today operations.
"When a patient is referred into the program, we monitor him or her closely, making it our responsibility to track these nodules," says Lagmay-Fuentes. "And we keep the patient's primary care physician informed with updated reports and verbal communication." If necessary, follow-up CT scans are performed. Usually, close surveillance is required for up to two years. In some cases, based on the size of the nodule and the patient's medical history, a multidisciplinary team of radiologists, pulmonologists, thoracic surgeons and oncologists meets to decide what to do for a particular patient. "These meetings get all the important groups in one room to look at these unique cases," says Dr. Livornese. "It's like a think tank for making decisions on what's best for that patient."
None of this is drastically new, Lagmay-Fuentes says. What is new is the use of a systematic approach to closely monitoring patients and ordering follow-up CT scans as national guidelines suggest they're needed. Says Hwang: "By providing individual clinical visits and follow-up surveillance CT scans, we avoid unnecessary CT exposure, eliminate unnecessary surgeries and identify lung-cancer lesions at an early stage for a greater chance of cure."
"We will be relentless in getting patients to follow up on these screenings," says Dr. Livornese. "Private practices aren't geared up to do that. We are."
For more information on the Lung Nodule Program at Monmouth Medical Center, please call 888-724-7123