Can you make your baby smarter?
Videos and DVDs aimed at helping you enhance your child's intellect are a big industry today- but do they really work?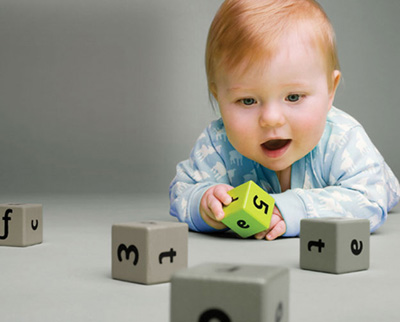 Bergen Health & LIfe celebrates Bergen County's cutest babies, with pictures that make parents proud.
But most of us don't get by on looks alone; moms and dads also yearn for their tykes to earn a place in Harvard's class of 2032-or at least get the best possible start on smarts.
For businesses, that's become a big-time sales opportunity. In the 1990s, entrepreneurs began marketing lines of videos and DVDs aimed at the youngest set. They feature lively, quick-changing images of shapes and colors, letters and numbers, animals and natural settings.
And their very brand names- "Baby Einstein," "Brainy Baby" and "Baby Genius," for example-hint that they'll send your infant's IQ soaring. But local child-development experts tell Bergen Health & Life it isn't so. If there's a key to fostering your tot's intellectual development, they say, it isn't something you buy at the store.
"I've had concerns about infant videos for a long time," says Punam Kashyap, M.D., senior developmental pediatrician at the Institute for Child Development, a division of the Joseph M. Sanzari Children's Hospital at Hackensack University Medical Center in Hackensack.
"I think they mislead parents and cause inappropriate expectations. I had a parent just today who told me, 'I thought I was making my 2-month-old smarter by putting her in front of Baby Einstein.'"
Dr. Kashyap stresses, however, that there is no known scientific evidence that these videos-or any other products you can buy-actually enhance a baby's brainpower. "Learning happens with playing, face-to-face engagement and exposure to sights and sounds," she says. "We know that children learn by interacting and doing," not just watching and listening, agrees Lisa Nalvin, M.D., director of developmental pediatrics at the Kireker Center for Child Development at Ridgewood's Valley Hospital.
Indeed, some research has suggested that these baby videos may actually slow the development of language skills. A 2007 study by investigators at the University of Washington in Seattle found that with every hour per day spent watching baby DVDs and videos, infants learned six to eight fewer new vocabulary words than babies who never watched the videos. This effect was strongest on babies 8 to 16 months old-just when language skills are starting to form.
Researchers noted that the baby videos may be worse for tots than educational shows like Sesame Street, because they feature "little dialogue, short scenes" and "disconnected pictures." They may overstimulate babies, one participating scientist has argued-and Dr. Kashyap agrees.
"I've been saying that to parents forever," she says. So how does a well-meaning parent help a baby's brain develop? Play, talk and sing with your baby, say child-development specialists. And while educational books, toys and shows may be helpful later on, you needn't purchase anything more at the baby stage than perhaps a colorful rattle or a plastic cup. "Engage the baby with a brightly colored object he or she can follow visually," Dr. Kashyap suggests.
"We know that intelligence is a function of both nature and nurture," Dr. Nalvin says. "It's a product of genetics and what you're exposed to." The baby's genes, then, determine how smart he or she can be. A nurturing environment helps out with proper nutrition and a safe and comforting home. Dr. Kashyap says she knows of no studies demonstrating that one kind of plaything is superior to another for fostering intelligence.
But she does know that human interaction is the most important contributor to a baby's learning. "When you read and sing and dance and play with your baby, you aren't just having fun," she says. "You really are stimulating development."
No TV till age 2, says Pediatricians' Group
Studies show that by 3 months of age, 40 percent of babies regularly watch DVDs, videos or TV; by their second birthday, almost 90 percent watch two to three hours daily.
Still, the American Academy of Pediatrics recommends children under 2 watch no TV. "Many of the families with babies I care for have switched off their televisions," notes developmental pediatrician Punam Kashyap, M.D., of Hackensack University Medical Center.
Other pediatricians give more leeway. "I think a half-hour to an hour of a show like Sesame Street is OK as long as it's not serving as a babysitter," says Harry Banschick, M.D., chair of the Department of Pediatrics at Holy Name Hospital in Teaneck.
Baby Einstein, meanwhile, says it doubts that AAP's recommendation "reflects the reality of today's parents, families and households."
The view from Baby Einstein
Child-development experts say talking to and playing with your baby is the best way to foster his or her intellectual potential, and the Baby Einstein company doesn't disagree.
Owned by Disney since 2001, it's the industry giant- a 2003 study estimated that one-third of all American babies from 6 months to 2 years old had at least one Baby Einstein video, and the brand has also featured toys, books, flash cards and clothing.
The company's website points out that parents can enjoy its DVDs and videos along with their babies, leaving "their hands free to clap, point to objects and interact with their baby."
Baby Einstein removed the word "educational" from its marketing materials in 2006 after the Campaign for a Commercial-Free Childhood complained to the Federal Trade Commission. And last fall and this winter it offered an "enhanced consumer satisfaction guarantee" in which it promised to refund $15.99 for up to four DVDs per household bought between 2004 and 2009 if purchasers weren't satisfied.
Baby Einstein now insists that its products "are not designed to make babies smarter." Asked if that isn't what its name implicitly suggests, the company's outside public relations representative says famously brainy theoretical physicist Albert Einstein was also "a true lover of the arts, regularly playing classical music on the violin to inspire his work. It was Einstein's embodiment of imagination and curiosity that inspired the name Baby Einstein."