Cape Cod Cozy
Smart design choices turn a Franklin Lakes couple's vision into a sophisticated space for the entire family.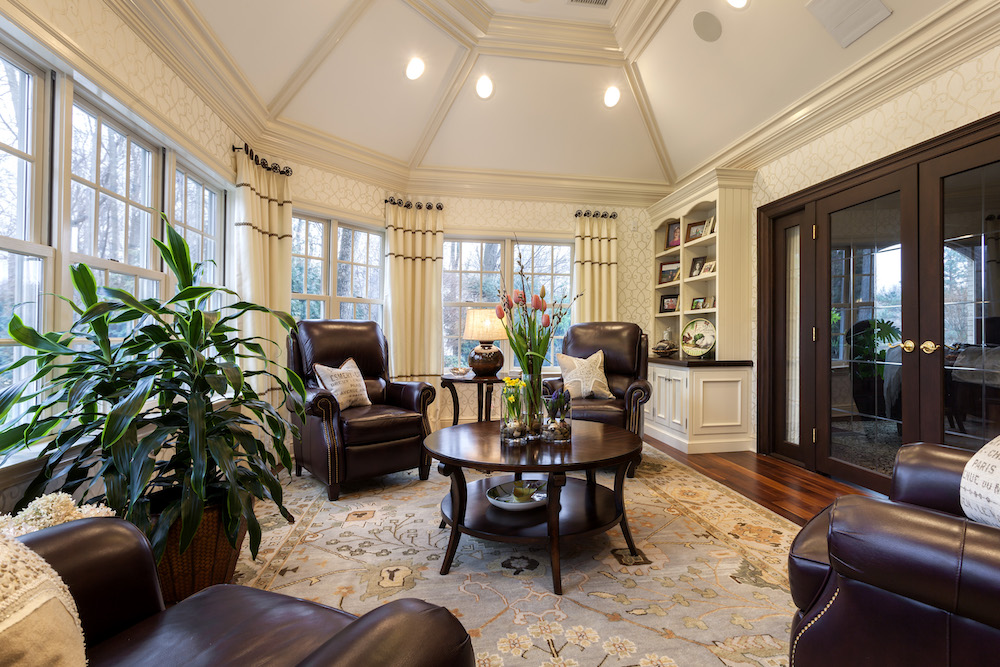 There are pros and cons of knowing a client on a personal level, as interior designer Andrea Volter of Wyckoff's Designed Concepts Associates discovered. She had been working with a Franklin Lakes couple since they purchased their home about 15 years ago, guiding them through multiple design projects: a finished basement, a new master bedroom, dining room and laundry room, among other renovations.
"They've been like family," Volter says, "so there's added pressure to please. But it's also easier to get into their minds and see a project through their eyes. I bring my expertise, but the end result has to be what they like."
When the couple came to the final stage of the years-long redo—a Cape Cod-inspired kitchen and sunroom—Volter was happy to step up to the plate again. She teamed with Scott Lurie of Scott F. Lurie Architects and Hawthorne's Kitchen Kaboodle to design and install custom cabinetry in the kitchen. East Rutherford-based Stone Surfaces supplied the granite for the counters, including an elegantly curved island top. The kitchen table and chairs with leather seats, all by Woodbridge Furniture, match the sophisticated style of the island's seating area.
Volter created the New England feel in the sunroom using Benjamin Moore white on the vaulted ceiling and the company's Navajo white for the trim. "We selected wallpaper with just a bit of interest so it wouldn't overwhelm the design," she says. Instead of a sofa, which "would've closed the space," Volter chose four leather chairs from Hancock and Moore for seating. "They're recliners because while the husband is in his mancave, the wife likes to relax and knit or read, and their daughter does her homework."
"They absolutely loved the space," she adds. "This was their vision at first, but I was able to see it too."
Above: The designer selected dark walnut floors and furniture to complement the white wallpaper and cabinets in the eat-in kitchen. A chandelier from Wyckoff Lighting Center and hydrangeas—on the table and in the custom wall painting—are the homeowners' favorites. Opposite: Details, such as the curve of the island counter, pendant lights and sconces and backsplash tile from Artistic Tile in Paramus, create a comfortable vibe in the kitchen.