Care That Works
To help you keep well, your doctor must survive in a changing industry. Many physicians now find that teaming up with a hospital can be a big help.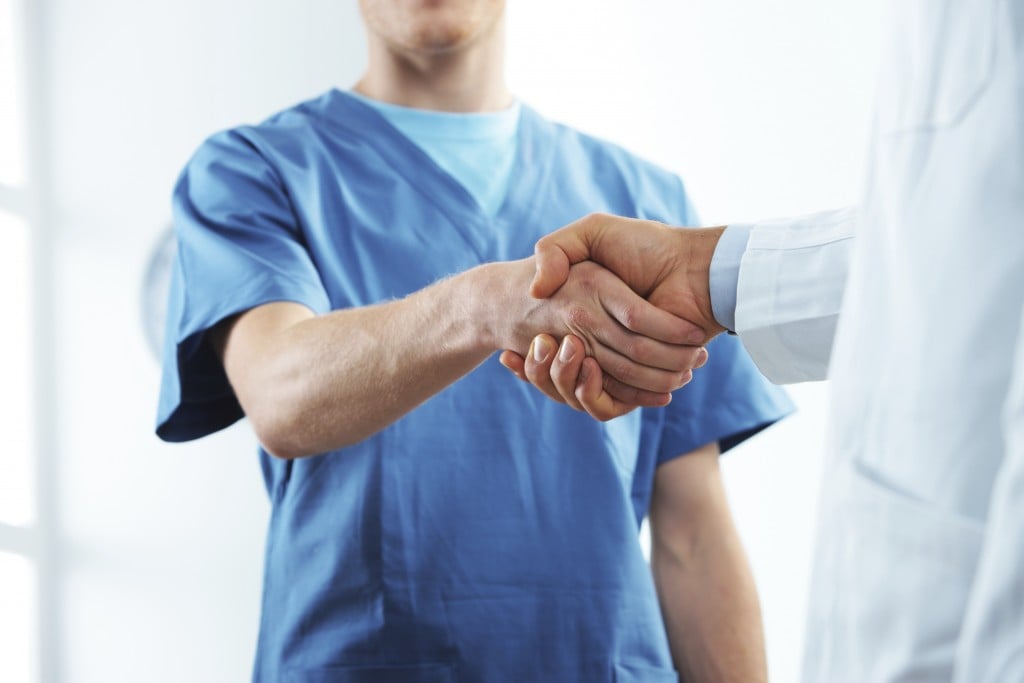 "Will the medical care I depend on today still be here for me tomorrow?" That's a question Americans can't help but ask themselves as they read and listen to the news these days about the challenges faced by the health care industry.
It's definitely a time of great change, agrees Anthony J. Passannante Jr., M.D., chief medical officer of Saint Peter's Healthcare System. But much of that change will actually be good for patients, he says, and new business arrangements will protect the quality of clinical care.
"Community physicians have faced many financial pressures in the last few years, and that was true even before the Affordable Care Act [ACA ]," says Dr. Passannante. "Their reimbursements are down, their fixed costs are rising and they face new mandates for things like electronic medical records." In the face of these challenges, some physician practices have been finding it harder and harder to make ends meet. Meanwhile, hospitals are looking to ensure a steady stream of income to preserve a healthy bottom line.
Partly in response to these conditions, many physician practices are now forming business partnerships with hospitals. Such a partnership can be a win-win that helps both parties become stronger than they were before.
"It allows physicians to get back to what they want to do: take care of patients," says Dr. Passannante.
Saint Peter's Healthcare System has engaged in several of these formal relationships. Their structures vary, but in each case these agreements provide local physicians and the hospital with a mutually beneficial business connection that protects the excellent care residents of central New Jersey have come to expect.
There are basically three types of physician- hospital partnerships, says Dinesh Singal, M.D., a cardiologist who directs the Cardio Metabolic Institute in Somerset. "One is the outright purchase of a practice, in which all practice staff members become hospital employees," he explains. "The second is a professional service agreement, which is what we have. My entity still exists legally, and everyone works for that entity, and we lease our services with the hospital. The third is a hybrid approach, where hospitals employ the physicians, but the practice continues to work as its own entity."
"Our combined strength gives us the potential to do things better than either party could alone." —Dinesh Singal, M.D.
Dr. Singal's practice has been a partner of Saint Peter's for a year. "Though we were doing OK financially, many practices were hurting," he says. "This was a way to stabilize them by means of a relationship with someone with greater financial assets. For me, it was a quest for a different way of doing things. My hope was that by coming together, we could garner some of the advantages of a larger organization, with all of that organization's marketing potential."
Saint Peter's benefits by, among other things, having Dr. Singal establish a cardiac rehabilitation program at the hospital, which it didn't have before. "Our combined strength gives us the potential to do things better than either party could alone," says the doctor.
"The reality is that the changes in health care are occurring because there is not enough money in the system," he continues. His partnership has been positive so far, he says. He has some added responsibilities to report billing and other administrative information back to the hospital, but he still runs his practice much as he always did. "This change is seamless as far as patients are concerned," he says.
That has not always been the case with partnerships in other parts of the country, which Dr. Singal says have been "a mixed bag. Many private practices that had been autonomous found the bureaucracy heavy. Some hospitals are more heavy-handed; they come in and take over. Saint Peter's is not like that. It has taken a mature and flexible approach to these arrangements and we have the potential to do better because of that."
For pulmonologist Edward Fein, M.D., and internist Michael Carlucci, M.D., who direct the Central Jersey Lung Center in Jamesburg, the burdens of running their business threatened to detract from their ability to care for patients. "Administering a practice is becoming much more complex, health care is much more complex, and business concerns make it harder to concentrate on providing care," Dr. Fein says. "You can't focus on all the directives, quality issues and insurance company requirements and on taking care of patients. It's too much. You really need some assistance in administering the practice. That's where Saint Peter's helps."
The hospital purchased his practice on Jan. 1, 2014. "We are now all employees of Saint Peter's," he says. Which is fine with him. "A lot of doctors don't want to work in private practice anymore," he adds. "Before this change, I was working every weekend. Now I can take a weekend off now and then to spend time with my family." Like Dr. Singal, Dr. Fein says the hospital has not interfered with his clinical approach or his relationship with patients. "We are the same as ever actually better, because the hospital took over a lot of the worries of running a small business, so I can focus on being a doctor. Two days after we sold the practice it dawned on me: 'I don't have to buy new lightbulbs anymore! I can focus on medical issues now.'"
Dr. Fein is still able to admit patients to other hospitals if that is more convenient for them or more appropriate for their medical needs, but most are admitted to Saint Peter's. "The hospital needs me to have a large volume of patients because it affects how they are rated according to the ACA ," he says. "The ACA is pushing more of the responsibility of health care to hospitals. Private practices have to retain their private feel but need help from bigger organizations. Small practices without the support of larger organizations will have more difficulty complying with government and insurance-company expectations. That's just how health care is evolving, and more changes are coming." Two months into his new arrangement, Dr. Fein says, "I am very happy about the whole thing."
How about patients—should they be happy? Dr. Passannante—who also serves as president of Saint Peter's Healthcare System Physician Associates, the hospital's affiliated physician practice with about 30 doctors—doesn't blame anyone for being concerned about the changes under way.
"When you see a new hospital logo on your doctor's office door, it's only natural to have questions—about whether you will have access to all the services you need, for example," says Dr. Passannante. "As a patient, I'd want to understand that myself. But I think the answers are usually pretty comforting to patients. No matter what you need, we're going to make sure you get to the right place at the right time."
In fact, he says, at least one thing may dramatically improve: communication between a patient's different doctors and the hospitals or clinics he or she goes to. "Frankly, that has been a weakness in our healthcare system in the past," says Dr. Passannante. "But the integration of physician practices with hospitals allows for better communication because it provides an easier conduit for sharing clinical information. For example, we're now looking at a new ambulatory electronic medical record that will allow us to have all of our physician practices on one platform with the ability to communicate easily with our hospital system."
Health care, like any business, must be concerned with the bottom line. But unlike other businesses, it also has the well-being of its customers as a constant responsibility. So far, the evidence suggests that partnerships between doctors and hospitals can be a good way for this special industry to meet that double challenge. —David Levine