Caring for head & neck cancers
Advanced technology comes to the rescue.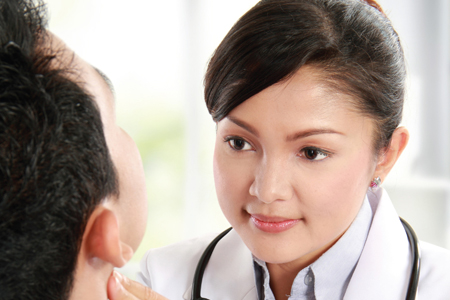 Getting any cancer diagnosis is scary; learning that you have cancer in the sensitive areas of the head and neck is especially troubling. Yet each year 50,000 Americans are diagnosed with malignancies of the tongue, mouth lining, tonsils, larynx, pharynx, salivary glands, sinuses and thyroid. These difficult diseases make a patient's choice of a treatment facility especially vital, because they require both clinicians' highest professional skills and the most advanced equipment. Fortunately, both are available at the Thyroid, Head and Neck Cancer Institute at Saint Barnabas Medical Center.
"These cancers are complicated because of the area involved," says Miguel Conde, M.D., a specialist in medical oncology and hematology at Saint Barnabas Medical Center. "There are a lot of critical structures in the neck. The treatments involve multiple doctors simultaneously; with most other types of cancer, patients only have one treatment at a time, but in this area they frequently need radiation and chemotherapy concurrently, sometimes before surgery, sometimes after surgery and sometimes without surgery at all." Dr. Conde explains that the Thyroid, Head and Neck Cancer Institute was established so that all physicians who treat patients in this complex clinical area can coordinate the care of their patients.
Bryant Lee, M.D., an otolaryngologist (ear, nose and throat specialist), says that until recently, nearly all of these cancers were linked to smokers, drinkers and those with a family history of cancer.
"We now recognize there is another type of patient, one who doesn't necessarily smoke or drink," says Dr. Lee. "We have seen an increase in head and neck cancers linked to the HPV virus." The human papillomavirus is a primary cause of cervical cancer and can be spread by oral sex to the mouth. The National Cancer Institute reports that the incidence of head and neck cancers caused by HPV infection is indeed increasing.
With other cancers, surgery is often a first-line treatment. Not so with head and neck cancers. "Because of the anatomy, you don't want to do surgery," says the doctor. "It could be disfiguring— patients could lose their voice box, have swallowing problems and suffer other effects that greatly affect quality of life. We want to choose the most effective treatments while preserving functioning."
Raquel Wagman, M.D., a radiation oncologist, often provides that treatment first in hopes of killing the tumor or reducing it to a size more amenable to surgery without lost function.
"This is the most challenging type of cancer to treat," Dr. Wagman says. She has many high-tech radiation delivery systems at her disposal, including TomoTherapy. This technology combines precise 3-D imaging from CT (computed tomography) scans with highly targeted radiation beams to deliver a very sophisticated form of intensitymodulated radiation therapy (IMRT).
IMRT uses multiple, small radiation beams of varying intensities to precisely radiate a tumor. The radiation intensity of each beam is controlled, and the beam shape changes throughout each treatment. IMRT shapes the radiation dose to conform to the contours of a tumor and avoid or reduce exposure of healthy tissue. This limits the side effects of treatment, because less damage to surrounding tissue means fewer complications for patients. The treatment can be customized each day to deliver the precise radiation dosage to the exact location of the tumor.
The center also links patients to support services such as smoking cessation, nutrition counseling, dentists and others who may need to provide care for these patients. "This is a dedicated group that works together closely to streamline care, treat patients expeditiously and manage the side effects of treatment," Dr. Wagman says. The group holds regular meetings to coordinate each patient's treatment. And each patient is helped through the process by a patient navigator—Margaret Correale, R.N., Nurse Navigator for the program. "She is really the linchpin of the institute," says Dr. Wagman
The center is starting outreach programs to the community to publicize the growth of HPV -related cancers. It also wants patients to know that Saint Barnabas can provide treatment equal to that available at any larger cancer center in the region. "Everyone on our team has been trained at the finest hospitals in the country," Dr. Lee says. "You can be treated right here in New Jersey, without having to go into the city." —d.l.