Catch Comet Neowise This Week
The brightest comet we've seen since '97 won't return for another 6,800 years—so get a glimpse of it while you can!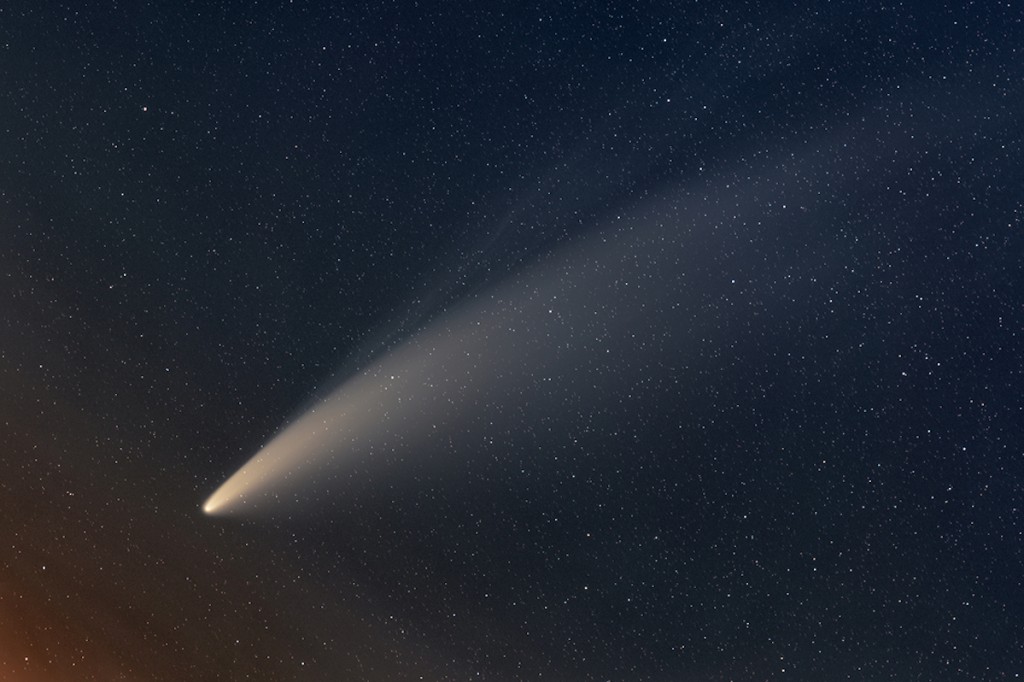 Whether you're a budding astronomer who can spot Cassiopeia in an instant or a casual stargazer who simply sees a cluster of bright dots in the distance, everyone can catch a glimpse of the latest celestial phenomenon to streak across the sky. No, it's not a UFO—NASA knew exactly what it saw when it discovered Comet Neowise in late March. The twin-tailed comet has been wowing sky watchers ever since it became visible to the naked eye earlier this month, and the show is about to get even better. Already the brightest comet Earthlings in the northern hemisphere have seen since Hale-Bopp shuttled past us in '97, Neowise (an acronym, actually, short for Near-Earth Object Wide-field Infrared Survey Explorer) will appear brighter to us in Bergen next week when it hurtles even closer to our planet. The comet will come closest to us on July 22, two days after the 51st anniversary of the Apollo 11 moon landing. Just don't miss it: When relatively slow moving Neowise finally fades from view, it'll take about 6,800 years for it to orbit the sun and return. (For comparison, Halley's Comet visits us roughly every 75 years.) To be certain you make the most of this once-in-our-lifetime sighting, here are a few tips to consider.
Right Place, Right Time: Bergen County typically isn't the ideal location for sky watching because of light pollution—unless you have a powerful telescope or go to the William D. McDowell Observatory in Lyndhurst (which is closed because of the pandemic). Not true in the case of Neowise. The comet is bright enough to outshine New York City's glow and will be visible in the evening sky close to the northern horizon.

Know Where to Look: You can stare at the starry night for hours and never see the comet, so it's best to know where to direct your eyes. By July 17, Neowise will have moved into the constellation Ursa Major (aka the Great Bear), whose tail and end are made of the Big Dipper's seven stars. Find the Big Dipper in the northern sky and you're not far—the comet will likely be near the bear's front paws. Still lost? Stellarium Web's online star map can help (be sure to switch to real-time).

Aid Your Eyes: Yes, you can see the comet just by looking into the sky—it'll look like a fuzzy star with a faint streak of light emanating from it. But for a clearer view and to truly see the magnificent comet tail, use a pair of binoculars. Bergen County Camera in Westwood has an assortment of binoculars at various strengths and price points, according to store manager Paul Carretta, any of which would be suitable for viewing Neowise. If you plan to photograph the comet using a telephoto lens, shoot with a long-duration shutter speed to create the ideal "moving" effect.