Celebrating Comebacks
A rehab facility marks two decades of helping heart patients reclaim their lives.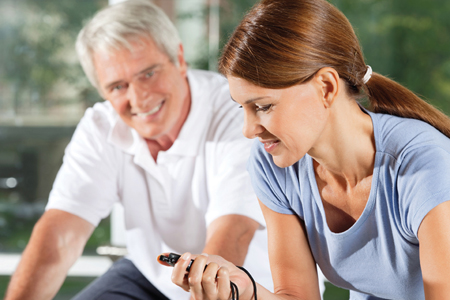 There were a few doubters back in 1993, when Saint Barnabas Medical Center launched its new Cardiopulmonary Rehabilitation Unit, recalls Maureen Smith, the nurse manager for the unit, who was there at the time. "But I knew," she says, "that the new facility would have a very positive impact."
Smith was right. "As a nurse, I see the most improvement in patients' health from cardiac rehab," she says. "It's really encouraging to see how they get better."
The program is for anyone who has had a cardiac event: a heart attack, heart surgery or another cardiac intervention. Covered by insurance, rehabilitation is a critical component in returning patients to full health and helping them change lifestyle habits that contributed to their illness, such as smoking, poor diet and lack of exercise.
The unit is staffed by six full-time nurses and exercise specialists who supervise up to 16 patients at a time on three treadmills, wall-mounted arm pulleys, stationary bikes and arm bikes. "Ours is one of the premier centers of its kind in the state," says Smith. It is certified by major national health commissions, she says, "and we earn high patient-satisfaction scores and achieve great outcomes."
"Exercise is one of the most potent interventions we have," says Gary Rogal, M.D., Chief of Cardiology for Barnabas Health. "Large studies show that even minimal, low-intensity exercise just 15 minutes a day reduces cardiac events and increases longevity."
There is an important psychological component with rehab as well, he explains. "When people have a cardiac event, particularly bypass surgery, their inclination often is to say, 'I can't do this.' We teach them that their heart is now healthier than it has been in years," Dr. Rogal says. "They have new equipment that works very well. They also learn that with exercise they are doing something for themselves, so they have less of the feeling that fate has taken something away. They now have control and can do something to have a positive impact on their health going forward."
Along with physical exercise, patients learn risk-factor modification through medication, nutrition and stress management counseling. "We teach them why they got heart disease, and what they can change or modify to get healthier," says Smith. A typical patient is covered for 36 visits and comes to rehab three times a week for 60- to 90-minute sessions. "When patients first come here they are often very scared and don't know what to do," Smith says. "We are here to support and educate them to get them on the right track."
Rehab is a powerful track to be on. Those who stick with it see a 25 to 30 percent decreased risk of death one year after their cardiac event, Smith explains.
"If this were a pill," she adds with a smile, "every doctor would order it." —D.L.