Channeling a Pitcher
River Vale's Jack Curry, a writer turned-TV host, put in extra innings to pen a book with the unusually candid ex-Yankee David Cone.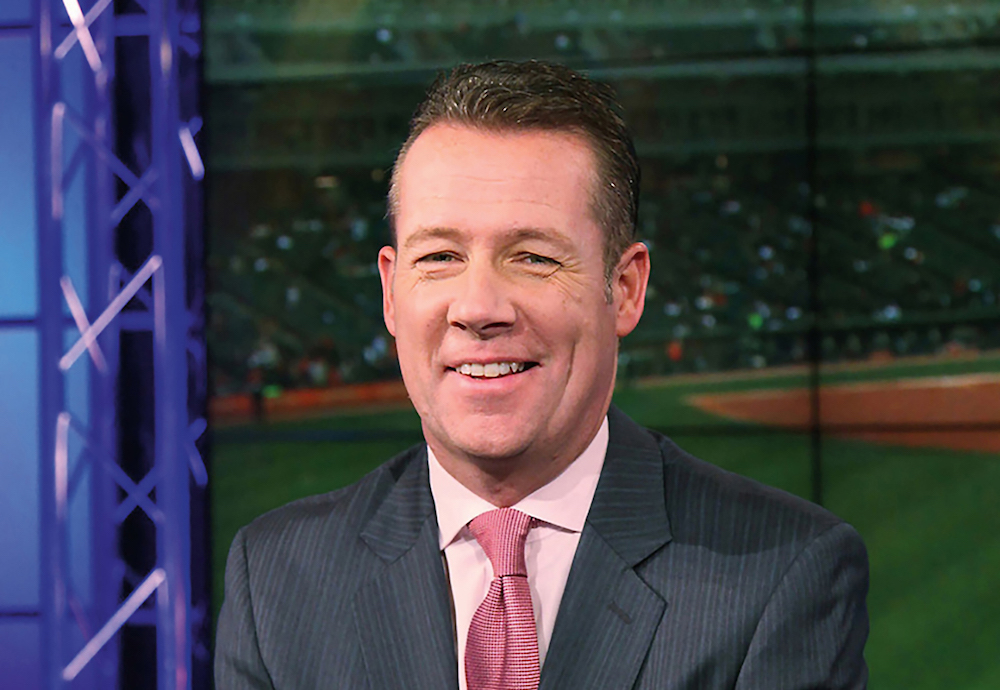 Jack Curry knows about making the perfect pitch. The 54-year-old River Vale resident spent a good portion of his professional career tossing story ideas to editors at The New York Times—along with serving as the newspaper's New York Yankees beat reporter. These days he delivers everything a Bronx Bombers fan needs to know on the Yankees pre- and post-game shows on the YES network. And on top of the full broadcast schedule, Curry just released his second book, Full Count: The Education of a Pitcher, a memoir he co-wrote with former Yankee and current YES colleague David Cone. Curry spoke with BERGEN about the new book, his own long-ago baseball dreams and what it's like to cover the Yanks.
How did you and David Cone get together for the book?
I always wanted to write a book that crawls inside the head of a pitcher. But to do that, I needed to pick a guy who was willing to share his thoughts—and we're talking more than the X's and O's of the game. I've known David for about 25 years, going back to my days at the Times. When you watched him pitch, you almost saw the wheels turning in his head. We had a strong relationship then and have one now at YES, so when I made my pitch to him he was totally on board.
Did your prior relationship with Cone help?
If you told me to write another book tomorrow, it would be a long process. But for this one, when David started to tell a story, I knew many of the people involved and in many cases already knew some of the background. If it takes 100 steps to write a book, David and I were starting at No. 50. Having that familiarity made life easier.
How long did it take to write the book?
Three to four years total, but there were a couple of down periods. I liked the pace, though; I would work 135 games a year from our Connecticut studio, some ending in the wee hours of the morning, then go home to River Vale and try to write. Sometimes your brain is mush, other times you're on a roll. We did a lot of interviews with players—I even did interviews with David and other guys while my wife, Pamela, and I were on vacation in the Caribbean. [Laughs.] That didn't go so well with her at the time, but when I look back there's actually some comfort and reward seeing how we got here.
What was Cone's reaction when the book was completed?
We collaborated along the way, so he would always say things such as, "I like the way things are going." He eventually did the audio for the book, and after reading it he sent me a text congratulating me on a good job. That's what any co-author wants to hear.
How did this one differ from the book you wrote with Derek Jeter?
Derek was 25 when we did his book [The Life You Imagine], and David is 56. They were at different points in their lives. David's been retired and has already reflected on his career. Essentially, he had more material to mine. Not that Derek wasn't good, but he was far from done with his career when we did his book.
What's next?
I was an avid runner. I completed the New York City Marathon in 2004 and the New Jersey Marathon in 2008. I always said my gift to myself when I finished this book was to train for another marathon; however, my knees probably won't allow it. I still love running along Rivervale Road, so I have something shorter—a half-marathon—in the back of my mind.
Speaking of River Vale, how'd you end up in Bergen County?
My wife is originally from Pearl River, N.Y., and I was from Jersey City, so we wanted to find some place in the middle. Well, "middle" is relative because we fell in love with River Vale, which is much closer to her family. It's a comfortable, safe town that's quiet and in close proximity to work. We've been here for 27 years. I admit, however, that I don't take advantage
of all the golf courses here, and I go to Ronnie's in Hillsdale for bagels.
And the area's a hotbed for sports journalists.
Mike Vaccaro [of the New York Post] lives in Hillsdale and Bob Klapisch [of The New York Times] is in Westwood. And it's interesting because [ESPN's] Ian O'Connor and I started at the Star-Ledger on the same day. He also lives in River Vale and he's my brother-in-law. It's neat to have friends in the business who have commonalities and who you can go have a beer with.
Speaking of family, what team did the Curry household root for when you were growing up?
My brother and I were actually Mets fans, but I had an appreciation for all baseball players. When we played stickball, I would go through different teams' lineups and pretend to be all of the players. I knew all their stats and I'd even announce their names and positions.
Did you want to be a pro baseball player?
It was my dream to reach the majors. I played at Hudson Catholic High School in Jersey City, but reality set in after just four-and-a-half hours at Fordham University. That's when I realized putting in all the time for practice wasn't worth it because I would've only been a back-up player. So I started looking at other options, including journalism.
Tell us about your most glorious moment at Hudson Catholic.
I actually had a game-winning hit, a two-out single over third base in the bottom of the seventh, against our biggest rival, St. Peter's Prep, during my senior year in a game at Pershing Field. We didn't have a great season, but I will always remember that game, which we won 6-5.
After graduation, you eventually landed the job covering the Yankees for the Times. How did it feel going into the team's club-house for the first time?
There was a lot of excitement and nervousness. I got a little star-struck, then quickly re-membered I had a job to do. Your feelings of being a fan have to vanish immediately.
Then you joined YES in 2010. What's the difference between reporting for print and TV?
I thought it was going to be a tricky transition to television, but I found the feeling that I used to get writing on deadline has been replaced with the rush I get realizing that we're the first ones Yankees fans turn to after a game. There is no "delete" or "backspace" here, and we all know how demanding Yankees fans can get. Writing was a unique feeling, but the world of TV is more of a rush.
Do you think you'll go back to writing?
I don't know what it'll be, but I will write another book. I have time. I did, after all, go almost 20 years between Derek's book and the new one.