Cheer For Your Team At These 6 Sports Bars
Root, root, root for the home team—and nosh on great eats—at one of Bergen County's spirited sports bars.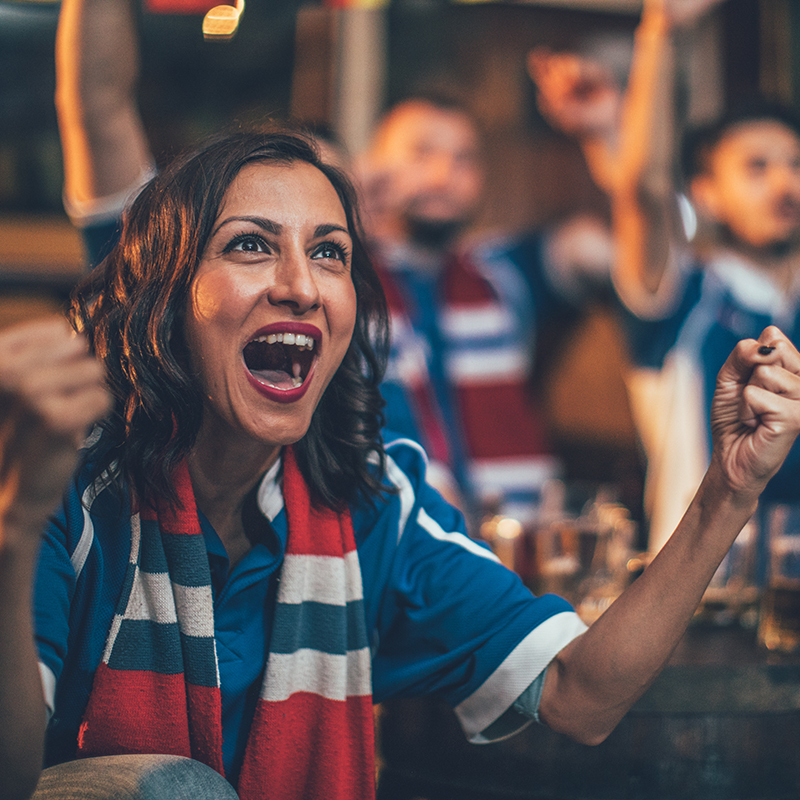 While thousands of New York Giants fans are off to Minnesota this weekend to cheer on Big Blue, the rest of us will be watching the first round of the NFL playoffs here in New Jersey. Sure, we'd rather be rooting for our squad in person, but hootin' and hollerin' in our home state is the next best thing.
And what's better than watching all the games (there are six total taking place on Saturday and Sunday) with friends at a Bergen County sports bar? You'll not only have the chance to watch all the playoff action on multiple TVs, but you'll also have access to amazing eats and beverages. Now that's an easy win in our book.
So where are you headed to catch the game? You can't go wrong at the any of the county's big boys—Biggie's in Carlstadt, The Cornerstone Restaurant & Bar in Hillsdale and Miller's Ale House in Paramus—each of which are finalists in our 2023 Readers' Choice Poll. But we have other favorites too: There's no shortage of sports, snacks and spirit at the half-dozen spots below. (Note: You can write-in any of the following bars or your favorite hangout in the Readers' Choice Poll.)
Blue 42, Elmwood Park. A haven for Green Bay Packers fans, this 9-year-old bar has plenty of screens so you won't miss a snap, and a lengthy menu so you'll always have a snack. If you're into wings, Blue can prepare them in more than 120 ways (mango habanero, anyone?).
*158 Market St., Elmwood Park, 201.773.0970
Mickey's Bar and Grill, Lyndhurst. Locals love this Irish pub for traditional game-day grub and other tasty finger foods like pierogies and potstickers. Enjoy it all while watching sports on one of the 52 screens.
*601 Riverside Ave., Lyndhurst, 201.935.3337
Midland Brew House, Saddle Brook. This multi-level restaurant and bar does date night well, but showcasing sports is its specialty. Look for Sunday specials during the Giants game, or order cocktails, craft beers, burgers, sandwiches and steaks from their regular menu.
*374 N. Midland Ave., Saddle Brook, 201.797.0070
Redd's Restaurant & Biergarten, Carlstadt. Fans know this hot spot in the shadow of MetLife Stadium all too well. Besides providing parking for Giants' and Jets' home games, they also have dozens of TVs and an assortment of pizzas, sandwiches, craft brews and more.
*317 Washington Ave., Carlstadt, 201.933.0015
River & Henley, New Milford. This neighborhood restaurant is less than a year old but is already a go-to spot for game day. Dozens of large screen TVs are mounted on perimeter walls, making it easy to watch while downing burgers, wraps, pizza and pasta.
*704 River Rd., New Milford, 201.262.0391
Rockafella's Sports Bar, East Rutherford. Grab a locally brewed beer—they have selections from Bolero Snort, Brix City, Hackensack Brewing Company and others—and nosh on pub grub classics. The cheesesteak and disco fries here are must-tries!
*443 Paterson Ave., East Rutherford, 201.842.0777
Which is your favorite sports bar in Bergen County? Vote for yours in the Bergen Readers' Choice Poll.