Chef's Special
We posed a tough question to four of Bergen's top chefs: "What's your favorite signature dish?" They each had at least a dozen but settled on one. Now you can dazzle your friends and family at home.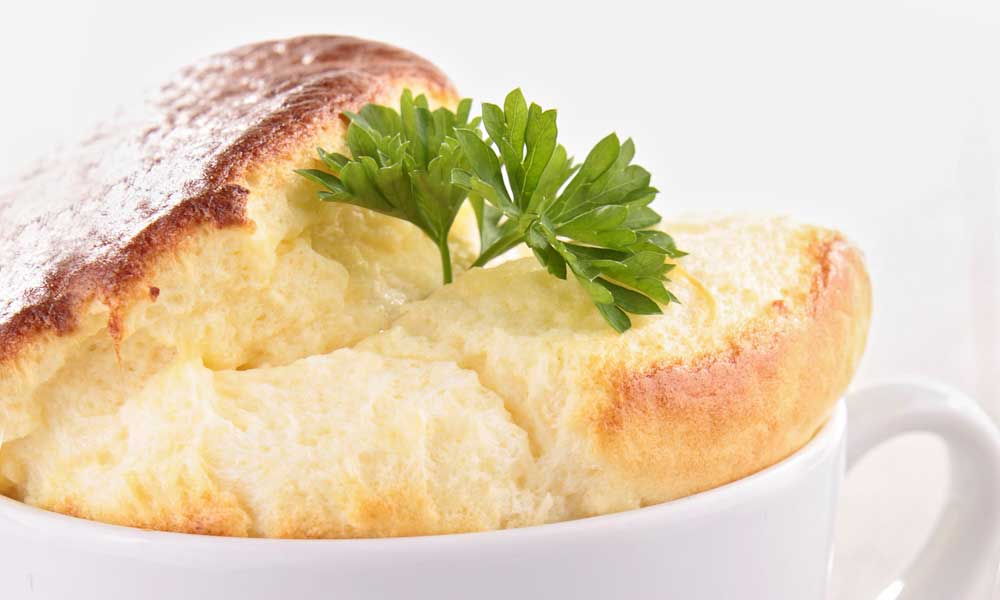 Warm cheese soufflé (serves 4)
Chef-Owner Michael Latour of Latour in Ridgewood
Ingredients:
4 oz. cream cheese (softened)
4 oz. ricotta cheese
4 oz. brie cheese (small cubes)
3 egg yolks
2 oz. heavy cream
salt and pepper to taste
3 egg whites
4 ramekins brushed with butter, fresh herbs and panko (Japanese-style bread crumbs)
8 oz. raspberry preserves and 1 pint fresh, sliced strawberries (combined)
½ cup toasted pecans
Directions:
Combine cheeses with egg yolks, heavy cream, salt and pepper.
Whip egg whites to soft peaks.
Gently fold cheese mixture into egg whites.
Fill prepared ramekins two-thirds of the way to the top.
Bake in a water bath at 375° F until the soufflés rise, 15 to 20 minutes.
Let rest until firm and warm.
Garnish with strawberry mixture and toasted pecans.
Almond-Crusted Chilean Sea Bass
Executive Chef Thomas Glavan of Savini Restaurant in Allendale
Ingredients:
2 Chilean sea bass fillets
½ cup ground almonds
panko (Japanese-style bread crumbs)
salt and pepper
1 egg, beaten
4 Tbs. unsalted butter, divided
2 Tbs. canola oil
1 fresh peach or pear, sliced and skinned
splash of dry white wine
Directions:
Mix the almonds with a little panko and the salt and pepper.
Place fish in egg wash, then roll in almond/panko mixture.
Melt 2 tablespoons butter and 2 tablespoons canola oil in a pan over medium-low heat. Add fish and sauté 3–4 minutes per side (depending on thickness).
Remove the fish and place on paper towels, turn heat to medium-high and add the sliced fruit. Stir for a minute, then add remaining butter to sauce and cook until the butter browns. Add wine and reduce.
Place fish fillet on plate, surrounded by fruit and drizzled with sauce.
Radiatori primavera (serves 4)
Executive Chef-Owner Thomas Ciszak of Chakra in Paramus
Ingredients:
1 lb. fresh radiatori pasta
1 shallot, diced
2 cups fresh English peas
2 oz. butter, divided
2 twigs mint
2 twigs parsley
1 cup vegetable stock
8 oz. red beets
1 oz. olive oil
4 oz. goat cheese
5 twigs sorrel
2 oz. bread crumbs
½ lemon
salt and pepper to taste
Directions:
Sautee the diced shallots and English peas with 1 ounce butter on medium heat. Pick mint and parsley, and add to the peas. Cook peas until soft, about 5 minutes. Transfer pea mixture to a blender, and add the remaining butter. Season with salt and pepper, and blend until smooth. Set peas aside.
Rub beets with a little bit of olive oil, and season with salt and pepper. Wrap beets with aluminum foil and bake in a 350° F oven until fork tender, about 40 minutes. Peel the beets and cut into half-inch dice.
Toast the bread crumbs in a pan on medium heat. Add zest of half a lemon and sorrel. Place in a blender or a spice mill and blend for about 20 seconds.
To finish the dish, boil salted water in a large pot. Add the fresh pasta and cook until al dente. Drain the water, but keep the pasta in the pot. Add the pea puree and heat for about 1 minute.
Plate the pasta and top with the warm, diced red beets. Spoon small pieces of goat cheese on top of the dish. Top it off with the sorrel gremolata.
To finish, squeeze a little lemon juice over each plate of pasta.
Seafood risotto (serves 4–6)
Executive Chef Ibrahim Sanz of Haven Riverfront Restaurant and Bar in Edgewater
Ingredients:
1 medium yellow onion, finely chopped
4 Tbs. butter
5 cups lobster broth
½ cup heavy cream
2 cups black rice
2 oz. sea beans
Salt and pepper to taste
¾ cup freshly grated Parmesan cheese
2 oz. chives, chopped
7 oz. sweet Jersey corn
1 lb. shrimp (16/20)
1 lb. scallops (U-10)
Directions:
Melt the butter in a large saucepan over medium heat. Add the onion and cook, stirring frequently, until it softens. Set aside.
Meanwhile, pour the lobster broth into a separate saucepan, set over medium heat and bring to a gentle simmer.
Add the rice to the onions and cook over medium heat, stirring constantly, for about 3 minutes. Using a ladle, pour ½ to ¾ cup of broth in the pan with the rice, stirring constantly with a spoon. When most of the liquid is absorbed and the rice begins to look a bit dry, add another ladle of broth and stir constantly. Continue to add ladles of broth and stir the rice until you have used most of the broth. When the rice is tender and the risotto has a creamy consistency, almost like thick oatmeal, it is done. Add salt and pepper to taste. Stir in heavy cream. Add the grated Parmesan cheese, chopped chives and corn; stir well.
Pan-sear the scallops and shrimp with salt and pepper, about 1 minute each side.
Serve the risotto immediately in warm bowls. Top with scallops, shrimp and sea beans for garnish.