Cinar
Discover this Turkish delight, newly opened in the heart of Emerson.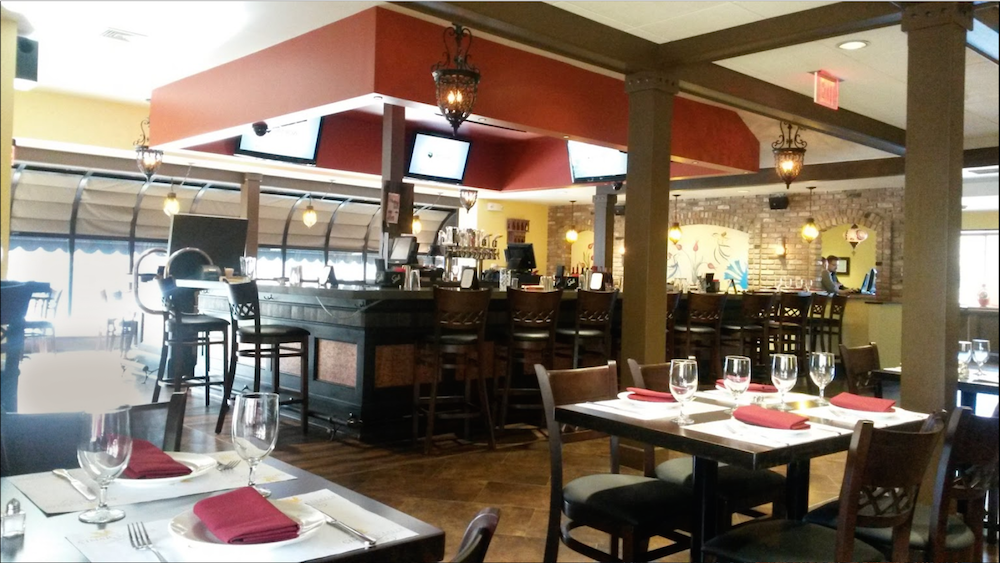 From better roads to a business district improvement plan, there's a lot happening in downtown Emerson. And Turkish restaurant Cinar is the town's new "happening" spot for dining and drinking.
The decor of the expansive dining room is fairly simple, with the exception of the Turkish mosaic light fixtures that hang from the ceiling above each table. On the same floor is a large bar area, where my companion for the night ordered an Elderflower Collins for an evening sip.
To start, I upped my iron intake with an order of calf's liver. The breaded liver was chopped into morsels, each piece fried to a perfect crisp and delightful with or without the accompanying veggies. Of course, liver is an acquired taste, and I had the plate all to myself when my friend, much to my pleasure, opted against a second bite.
She started with kibbeh, fried wheat balls stuffed with sauteed beef and herbs. The accompanying yogurt sauce added the right amount of zest to the app. "It's like a Turkish comfort food," she remarked.
I typically order kebab when I dine at a Turkish or Persian restaurant, but on this night I opted to try Cinar's stuffed eggplant. It's a traditional Turkish dish, and Cinar fills the fried baby eggplant with ground lamb, tomatoes, bell peppers and other vegetables. Their version is easily one of the best that I've tried. A ring of yogurt sauce surrounded the eggplant, giving the dish high marks for presentation and overall flavor.
Continuing her desire for comfort food, my friend ordered baby okra with chicken for her main course. The piping hot stew came in a large bowl overflowing with a broth containing cherry tomatoes, onions, peppers and bulgur. (You can choose either the wheat-based bulgur or rice.) It's comfort food at its finest, she said.
With enough room saved in our tummies, we each excitedly picked a sweet from the dessert menu. I couldn't pass up the kazandibi, a popular Turkish milk pudding. The housemade treat came with a golden brown caramelized topping. Its presentation made the grade, but the highlight of the pudding was definitely its sweet but not overpowering flavor.
My companion went with the poached pear, which she graciously shared with me. Like the kazandibi, her dessert was pleasing to all the senses. The fruit was covered in a sweet red wine sauce and paired with vanilla ice cream and a heaping portion of pismaniye, Turkish pulled sugar that melts in your mouth like cotton candy.
We capped the meal with thick Turkish coffee. Following Turkish tradition, we used the excess coffee grounds at the bottom of the cup to read our fortunes. (We asked our server for fortune-telling assistance.) My companion's fortune stated something about a nice trip or vacation on the horizon. Mine was about good health.
For Cinar, their future is crystal clear—there's plenty of good food and busy nights on the way.
Cinar, 214 Kinderkamack Rd., Emerson, 201.523.9284; cinarnj.com