Civic Benefactors
A generous couple has helped bring about a renaissance in New Brunswick.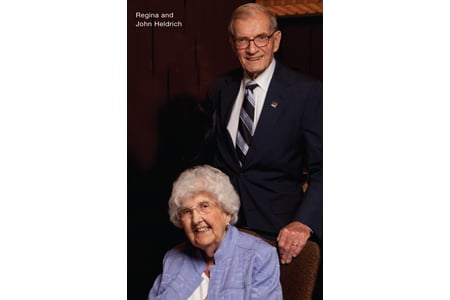 When TV newscaster Tom Brokaw coined the term "the Greatest Generation," he wasn't thinking specifically of John and Regina Heldrich of Middlesex Borough—but he could have been. He meant the men and women who came of age during World War II , struggled at home and abroad to preserve America's freedom, and then helped achieve new prosperity and distinction in the 20th century's second half. And there is no better local example than the Heldriches.
Now 87 and 92, respectively, John and Regina Heldrich were integral to the postwar revitalization of greater New Brunswick. Their recent donation of $250,000 toward construction of the new emergency department (ED ) at Saint Peter's University Hospital is just the latest entry in a decades-long CV of support for their community and its key institutions.
John, a self-described "poor kid born at Saint Peter's in 1925," was "one of many 18-year-olds pushed into battle fresh out of basic training"—he saw combat in the infamous Battle of the Bulge. After the war he took advantage of the GI Bill to attend Rutgers University at night while helping his mother care for his large family. (His father had died when he was an infant.)
After college, Heldrich was recruited by Johnson & Johnson, and in a 41-year career there he rose to the executive suite, helping to develop "our worldwide service culture," he recalls. He married Regina, a J&J chemist, in 1957. They have three children, 12 grandchildren and four great-grandchildren.
The couple also became civic leaders. "It was a very personal thing," John says. "Because we came out of the Depression—the big Depression—we had a very strong sense of commitment to communities."
With that commitment—"I never considered it philanthropy," he says—the Heldriches have dedicated their lives to enrich the Hub City. John is an emeritus member of the Rutgers University Board of Trustees and Rutgers University Foundation Board of Overseers. He and Regina have supported Rutgers and greater New Brunswick through the John J. and Regina Heldrich Center for Workforce Development at the Edward J. Bloustein School of Planning and Public Policy. And Regina's support for Douglass College includes the renovation of the Regina B. Heldrich Science Building and major fundraising for women in science and math. She is also a major benefactor of the Zimmerli Art Museum and Mason Gross School of the Arts. They are also both committed supporters of the Roman Catholic Diocese of Metuchen, the sponsor of Saint Peter's University Hospital.
"My generation just tended to be involved, to use what talents we may have had to help," says John. "We'd say, 'Here's a problem—what's the solution? Let's put it into place.'" He recognized the latest problem, an ED in need of an update, because "I have been in the ED myself with family situations, and I see its importance."
Though the couple has helped Saint Peter's indirectly through their support of the Diocese, this is their first major gift directly to the hospital, says Jim Choma, chief development officer and executive director of the Saint Peter's Foundation. "We are honored that Mr. and Mrs. Heldrich deemed Saint Peter's a charity of their choice," Choma says. "Their name is so respected in the community, it helps establish our mission as a credible community institution, especially for the less fortunate." The hospital will honor the Heldriches by dedicating the main lounge of the new ED in honor of their late son, Karl Heldrich.
"New Brunswick has an excellent new generation now, and they're working wonders," says John Heldrich. "But it's nice to look back and say our generation got things started."
—D.L.