Clothes minded
Earth friendly clothing in Monmouth is closer than you think.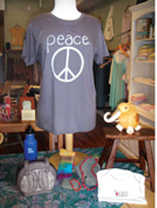 As a 20-year vegetarian, Nancy Erlich wanted her first foray into retail to be an earth-friendly venture. And indeed, ORGANIC STYLE in Asbury Park (732-775-1051, www.organicstyleshop.com) is an eco-oasis, featuring organic clothing, baby clothes and accessories, animal friendly cosmetics and lots of other earth-conscious items.
"I'm trying increase awareness that everything we touch affects the planet," says Erlich. "Besides using organic fibers and vegetable–based dyes, most of our goods are fair-trade certified, which means manufacturers we work with provide a living wage for workers in developing countries." Going green doesn't cost a lot of green either. You can slip on a natural cotton T-shirt for just $14, add some dazzle with a chic $14 fair-trade glass bead bracelet or swaddle your wee one in an organic cotton hooded towel for $25.
Suzanne Fix of Point Pleasant, who loves the Beads for Life paper bead jewelry from Uganda, sums up Organic Style succinctly: "It's a great place to shop responsibly and still have fun with fashion and style."