Colorful Appliances that will WOW your Next Dinner Party
SPONSORED CONTENT: As fall cooking takes center stage, the Appliance Experts at AjMadison are here to help! Learn more about the hottest custom color cooking appliances.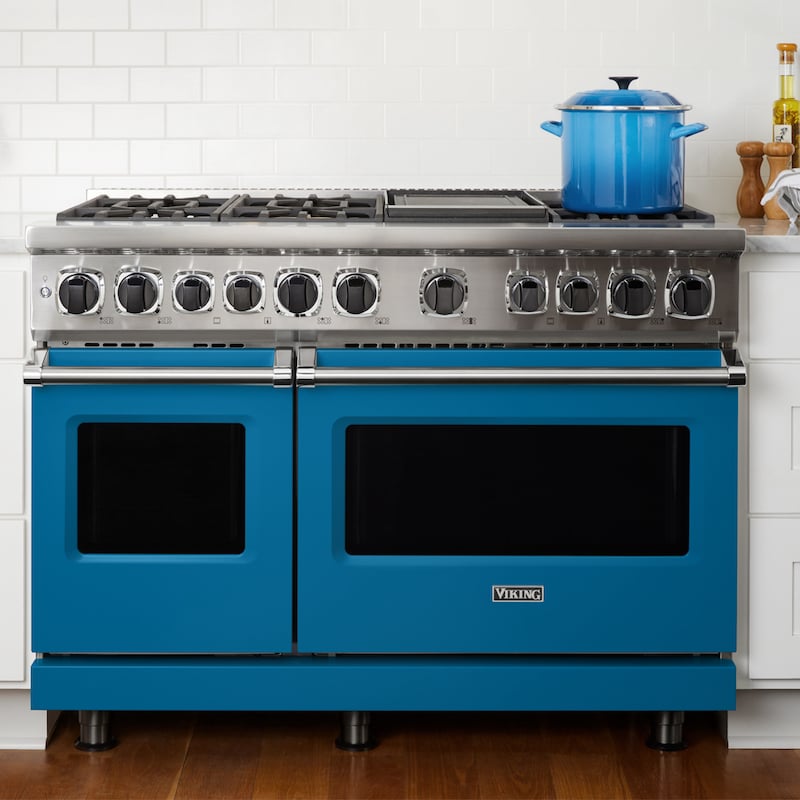 The most coveted designs reflect a home that enhances the whole you: your energy, your peace, your happiness. Style counts. Adding color to your design can be as subtle or bold as you like.
Appliance brands offer products with a few different design options with customizable colors and finishes. While stainless steel is still the most sought-after finish, alternatives like black stainless steel, matte neutrals, and bold statement colors are also on-trend. While some brands offer a completely bespoke experience, others narrow their selection to a curated palette of top-selling hues.
AjMadison offers an extensive assortment of appliances covering every size and feature imaginable. If you are designing your dream kitchen, you will find the best selection. The Appliance Experts at AjMadison make choosing your appliances easy and fun!
Viking Contemporary Color Collection
Crafted in partnership with Sherwin Williams, Viking contemporary color appliances have the potential to infuse beauty and originality into your home. This globally inspired palette makes it easy to select a color that is fresh yet timeless. Plus, Viking ranges deliver extraordinary performance built with commercial grade parts for extra durability.
Dacor Custom Color Appliances
With Dacor, the possibilities are limitless! The DacorMatch Color System allows you to personalize your appliances with any color imaginable – simply by providing a swatch of your desired color. Currently available on Professional Series wall ovens and ranges, all DacorMatch products are hand-painted in California, using high-performance acrylic urethane for ultra-vibrant colors that won't fade over time.
Bertazzoni Professional Series Ranges
Today's kitchens are the latest symbols of aspiration and self-expression. Because of this, there's a greater shift away from "cookie-cutter" homes and towards experience-driven spaces that reflect personal design tastes and lifestyle. Stylish kitchens aren't generic; they're the imaginations of designers and homeowners, brought to life through colors, materials, textures, finishes, and more. Bertazzoni Professional Series Ranges offer a blend of fashion, culinary ambition, and elevated design.
Fisher and Paykel Classic Series
Fisher and Paykel makes choosing a colorful range easy. The brand does not overcomplicate your decision with four color options in red, white, black, or stainless steel. Fisher and Paykel Classic Series ranges come equipped with features equipped to cook for a crowd. A large capacity oven, intuitive control knobs, and an included warming drawer are a few of the many features this collection has to offer.
Bluestar Ranges the Ultimate in Customization
With Bluestar, the sky is the limit. Bluestar ranges offer an incredible 1000+ colors, textures, knobs, and hardware combinations. Plus, Bluestar ranges offer a wide range of cooktop configurations, oven door styles (including French door). This brand originated in the commercial cooking space and offers high-caliber construction and craftsmanship.