Congrats, Grads!
Many of Bergen's private schools are getting creative to honor their grads ahead of the governor's July 6 outdoor ceremony order.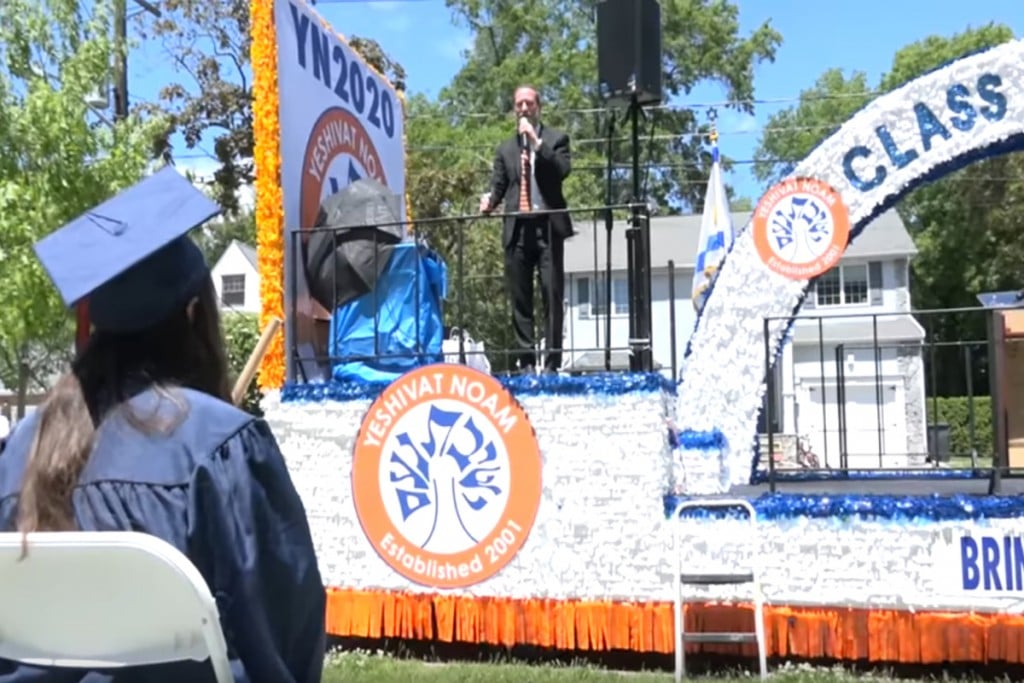 Of the many things we've learned during the quarantine, one that stands out is our ability to get imaginative when the going gets tough. That's exactly what several Bergen County schools have done to honor the Class of 2020 and give their kids the sendoff they deserve. Administrators, parents and students breathed a sigh of relief when Gov. Phil Murphy declared in late May that outdoor graduations would be permitted statewide beginning July 6, and many school districts are planning summer ceremonies. But several private schools aren't waiting and have started the party already, holding non-traditional events to celebrate their new grads. Here's a snapshot of how some of those schools have praised the eighth- and 12th-grade graduates.
The pandemic didn't slow down the folks at Yeshivat Noam, a Jewish pre-K–8 school in Paramus. Their staff and parent volunteers put together a mobile graduation float that paraded throughout the area over the course of two days, bringing diplomas as well as music, confetti and plenty of pomp and circumstance to the homes of all 86 eighth grade grads. The students also received a personal speech from Rabbi Chaim Hagler, head of the school, who—keeping social distancing in mind—brought a life-size cardboard cutout of himself to "pose" with each kid. Take a look at the festivities in the video below.
With more than 160 graduates, Immaculate Heart Academy's end-of-year exercise took place on the grounds of its Washington Township facility: a drive-thru diploma distribution. On June 7, members of the senior class, many joined by their families, drove around a course on the IHA campus and stopped to accept their high school diplomas—through car windows and sunroofs—from school president Patricia Molloy and principal Jason Schlereth. IHA officials say a more conventional ceremony will take place in late July.
IHA's brother institution, the all-boys Saint Joseph Regional High School in Montvale, held a similar exercise on June 11. Senior class members attended Drive-By Night, riding around the school parking lot in cars, convertibles, pickup trucks and even in the passenger seat of an ambulance to receive their diplomas. The guys will have their opportunity to celebrate with a traditional graduation on July 19.
Most of the county's public school districts held their last days of school this week; graduation events and ceremonies are scheduled for the next few days and after Gov. Murphy's July 6 order.