Cool Kohlrabi
This unassuming green crucifer could be the next big thing in healthy veggies.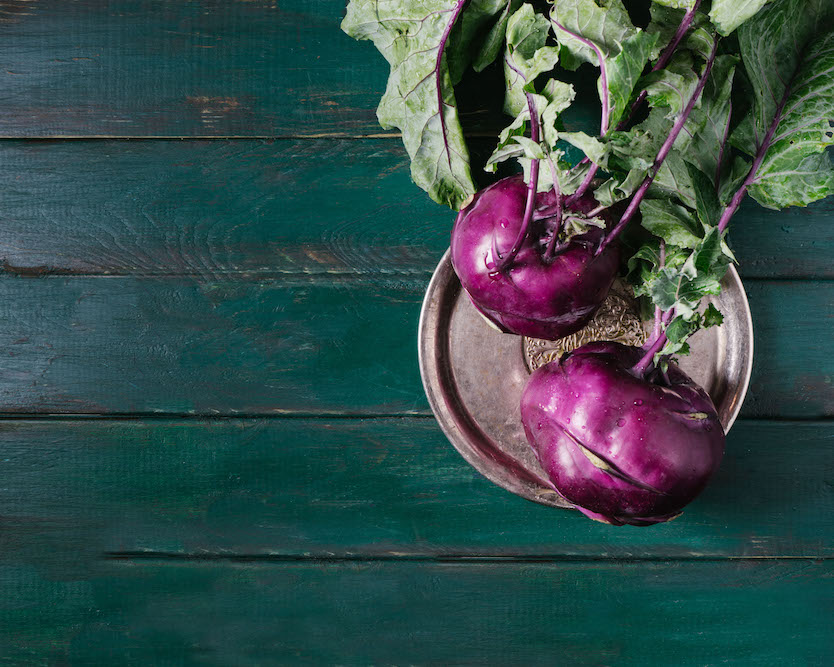 Kohlrabi is easy to miss. Often grouped at the grocery store with more recognizable leafy green–topped, bulb-tipped vegetables, it looks turnip-like, leading some people to mistake it for a root vegetable. But it's actually cruciferous, similar to broccoli and cabbage. And kohlrabi (pronounced "coal Robbie") has an array of health benefits—so many that last summer the Wall Street Journal predicted it would become one of the next big food fads. This year, a community garden program in Duluth, Minn., named it the vegetable of the year and distributed seeds to local elementary school children.
Power Up
Why the hype? First of all, kohlrabi is a weight watcher's dream: One cup of this fat-free, low-sugar veggie has only 36 calories and offers 5 grams of fiber. That's about one-fifth of the recommended daily value (DV) for helping to keep the digestive tract healthy and ward off certain diseases, including diabetes and colon cancer. It also delivers about 84 milligrams (150 percent DV) of vitamin C, which not only benefits the immune system, but also regulates blood pressure and boosts skin and hair health as well as overall mood. A cup of kohlrabi has more potassium (475 milligrams, 14 percent DV) than a small banana (362 milligrams), which also has about four times as much sugar. Other nutrients in this "special K" vegetable include 0.2 milligrams of each of the following: vitamin B6 (10 percent DV), which supports the nervous system; copper (9 percent DV), which helps the body absorb iron and promotes thyroid health; and manganese (9 percent DV), which fights bone disease.
Buy/Store/Serve
After buying (or better yet, picking) kohlrabi, it's best to eat it as soon as possible, as its flavor and texture become woody with age, according to Blooming Hill Farm, a regular vendor at the Ramsey Farmers Market. If you must wait to use it, keep it in the refrigerator, loosely wrapped, or in the freezer, sealed. When preparing kohlrabi, it's necessary to slice off the outer layer of the bulb, which is fibrous and not ideal for consumption. (Note: You'll need a sharp paring knife for this—a vegetable peeler won't do the job.) The bulb can then be sliced, diced or—a popular preparation—shaved and mixed into a slaw. Its crunchy, sturdy texture makes it a great choice to slice thin. (Martha Stewart even recommends baking it into "healthier" chips.) Kohlrabi's mildly sweet and nutty flavor blends well with most veggies, especially foods similar in flavor, like broccoli, or texture, such as apple. And as with beets, don't overlook the leaves. These hearty, dark leafy greens are similar to kale and collards and can be served in a similar fashion—for example, steamed or sautéed with loads of garlic.
—Liz Donovan
DID YOU KNOW? The name kohlrabi comes from the combination of the German words for cabbage (kohl) and turnip (rübe).