Craft Bourbon
Quench your thirst for something new with artisanal brands.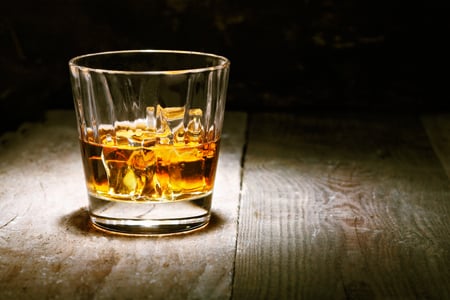 Flavored vodkas have had their day and scotch maintains its devoted fan base, but there's another liquor taking a turn in the spotlight. Bourbon. Yes, this often overlooked, uniquely American spirit isn't just for Grandpa anymore.
It certainly helps that American distillers are turning out remarkable bourbons that rival some of the world's greatest spirits. "Our sales of small-batch craft bourbon have grown significantly," says Travis Helmka, owner of Spirits Unlimited of Tinton Falls. "Everyone is buying it, although it's generally more men than women."
Last year, bourbon sales surged 11.9 percent—the second year in a row for doubledigit gains, according to the Distilled Spirits Council of the United States. "A lot more care is put into craft bourbon, and they're typically aged longer," Helmka notes. "Anyone can pour a glass of Jack Daniel's, but to treat your friends to a smoother, sometimes smokier craft bourbon is pretty special."
Woodford Reserve and Blanton's are Helmka's top craft bourbon sellers, but he can sometimes get Pappy Van Winkle's on special order. "They only release Pappy's once a year, and it's pretty hard to get," he adds.
Bourbon was first distilled in Bourbon County, Kentucky, in the late 1700s by English, Irish and Scottish settlers. In 1964, Congress established federal regulations for its production. Legally speaking, bourbon is a whiskey made from at least 51 percent corn and aged for at least two years in new, charred oak barrels. (The original purpose of the charring was to make the wood clean and smooth, but the process imparts a unique smoky taste and rich color.)
Kentucky remains the center of the bourbon universe, producing 95 percent of the world's supply. But there is fresh competition, with new micro-distilleries opening around the country— from Colorado to New York's Hudson Valley. Here are some of the more popular craft bourbons to sample, ranging in price from about $35 to upwards of $200 a bottle:
Angel's Envy is aged up to six years in charred white oak barrels and finished in ruby port wine casks. The result? An easy-drinking, fruity bourbon.
Blanton's Single Barrel, considered the first real single-barrel bourbon, is known as much for its attractive packaging as for its corn and nutmeg notes. (The round bottle sports Blanton's signature horse-and-jockey stopper.)
Elmer T. Lee Single Barrel. Its flavors balance fruit, honey and vanilla with some spice.
Hudson Baby Bourbon, a relative newcomer on the scene, is the first bourbon to be officially distilled in the state of New York. It's made from 100 percent New York corn, harvested less than 10 miles from the distillery in Gardiner.
Jefferson's Presidential Select 18 Year. If you haven't had the pleasure of tasting Pappy Van Winkle, this may be your closest bet. It's the premium bourbon in the Jefferson line.
Pappy Van Winkle's Family Reserve, which is aged from 15 to 23 years—considerably longer than most bourbons—is so hard to find that it has attained Holy Grail–like status. Connoisseurs often find themselves waiting outside their local liquor store for a shipment to arrive.
Woodford Reserve claims to add a little more rye to its recipe to give it a "feisty spice."
In order to try to stay on top of the craft bourbon trend, many large producers have released new versions of their established brands, such as Maker's Mark Maker's 46, Jim Beam Devil's Cut, Woodford Reserve Double Oaked and Four Roses 125th Anniversary Limited Edition Small Batch.
—DESTON NOKES