Create a Water Garden
Adding a soothing aquatic feature can take your backyard from ordinary to 'oasis'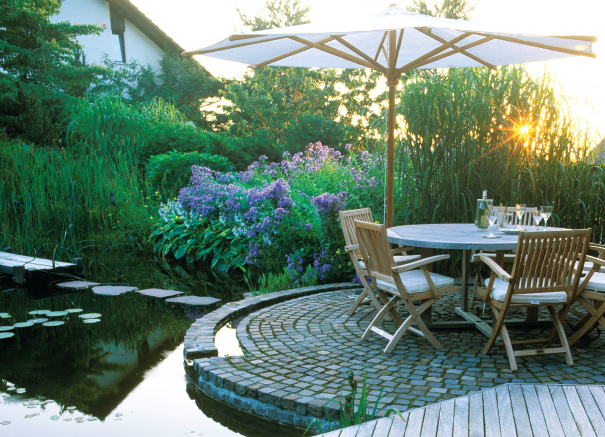 Whether it's a dramatic waterfall cascading into a king-sized koi pond or a decorative fountain contained in a corner of your patio, there is something very relaxing about a backyard water feature. In fact, research shows spending time in a water garden can lower blood pressure and reduce stress. Plus, the sound of rushing water can help filter out neighborhood noise. And creating a water garden is not hard to do. Experts say you can amp up the tranquility at home in about three days. Here's how:
Plot your placement
"When planning a water feature, focus on the patio or area where people gather for the greatest visual and auditory impact," says Terry McMahon, landscape designer at Borst Landscape & Design in Allendale, NJ. You should also avoid large overhanging trees, which will shed leaves and other debris. Keep in mind that most water plants need at least six hours of sun a day.
Consider the upkeep
Thanks to recent advances in pumps and filtration systems, you won't have to spend Saturdays slaving over your water garden. "Install a bottom drain to keep water circulating through the filter," suggests David Meeks, general manager of Waterford Gardens in Saddle River, NJ. "The right-sized pump and filter will keep maintenance to a minimum."
Get started.
"If it is not a large project, you can probably do it yourself in the span of a long weekend," Meeks says. All it takes is a little planning, some sweat equity and the right equipment: a pump and filtration system, decorative rocks and plants, and a shovel. You'll find everything you need plus expert DIY advice at Waterford Gardens.
Call in the pros.
For grander projects, like floating patios, deep ponds or multi-tiered cascading waterfalls, professional installation may be required to ensure safety, stability and sustainability.
IDEAS for YOUR WATER GARDEN:
1 Reflecting Pool
A traditional Dutch garden—a style characterized by a rectangular shape often enclosed by hedges—provides classic elegance fit for a castle. A rectangular reflecting pool offset by well-manicured greenery is reminiscent of the gardens at Antrim Castle in Northern Ireland and Westbury Court in Gloucestershire, England.
2 Waterfall
A dramatic waterfall is a beauty to behold and its babble can drown out the sounds of modern living. Add deep-water, sun-loving waterlilies, which come in both hardy and tropical varieties. The perennial hardy blooms from May until October, while the showier tropicals are annuals and bloom for a shorter period.
3 Stepping Stones
Rough hewn stones create a scenic pathway that's both functional and feng shui. For larger ponds stocked with koi and goldfish, stepping stones can allow you to keep closer watch on your fish and to test water samples from different locations to ensure the pond's ecosystem is healthy.
4 Rill Retreat
Add ambiance by winding narrow canals called rills through a garden of waterloving plants. For elegant simplicity, stick with single varieties of grassy foliage with small blooms. Good choices: dwarf iris, Himalayan windflower, cardinal flower or daylily. Rill gardens are an ideal option for smaller backyards.
5 Container Water Garden
An urn brimming with lilypads and submerged ornamental grasses is a great option for patios or balconies. To make, use a 15- to 25-gallon container; plants potted in heavy clay garden soil topped with pea gravel; bricks or rocks to set submerged plants on; and a small fountain kit (found at home improvement stores).
Related Read: Putting the Garden into Garden State