Culinary Adventure
These delicious Moroccan dishes will tempt your taste buds with fresh, seasonal ingredients—and are simple enough to make at home.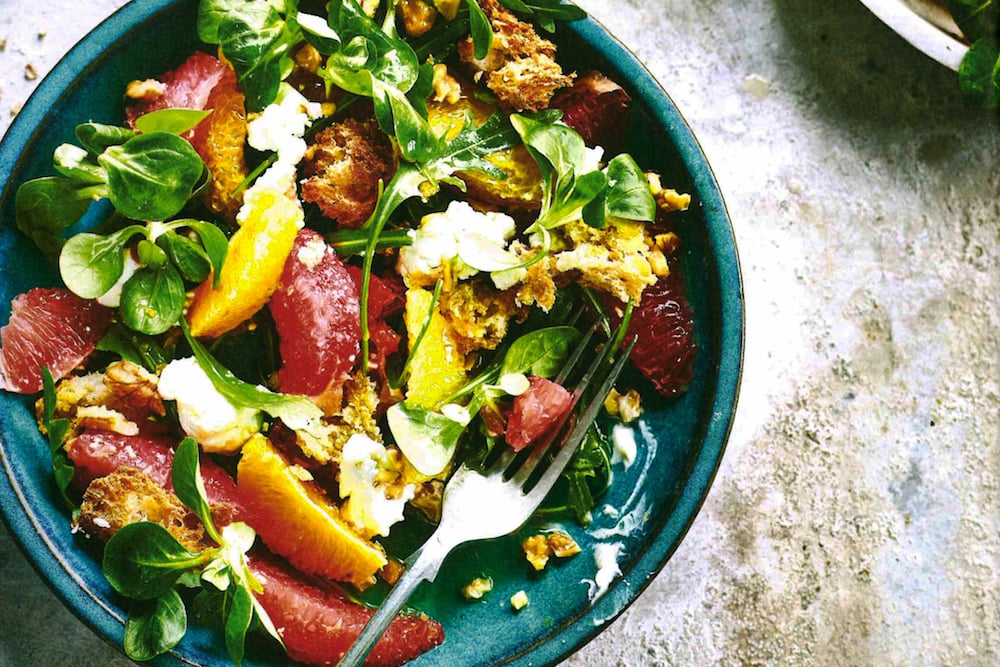 GOAT CHEESE & GRAPEFRUIT SALAD
Yields: 2 servings
INGREDIENTS
3. oz. ciabatta or sourdough bread (slightly stale is best)
2 Tbs. olive oil
2 oranges
2 pink grapefruits
juice of ½ a lemon
3. oz. arugula leaves
2 oz. mâche
¼ cup walnuts, smashed
4 oz. soft goat cheese
1 Tbs. argan oil
sea salt and freshly ground black pepper to taste
DIRECTIONS
Preheat oven to 350 °F. Rip the bread into bite-sized pieces and put into a roasting pan. Drizzle with the olive oil and bake for 5-6 minutes, until golden brown. Set aside to cool. Segment the oranges and grapefruits over a mixing bowl to catch the juices as you go. Add the lemon juice and a pinch of salt. Put the arugula and m.che leaves into the bowl and toss together. Arrange on a serving plate and spoon over the juices. Scatter the bread and walnuts over the top, and dollop over the soft cheese. Drizzle over the argan oil and add a pinch of pepper to the goat cheese. Serve immediately.
Walnuts are a great addition to this salad because they are high in fiber, polyphenols and polyunsaturated fats. Walnuts also have been shown to help prevent breast, prostate and colon cancers, reduce the risk of cardiovascular disease and improve cognitive function."
—Nancy Cooper, registered dietitian, private practice in Teaneck and Ramsey
FRIED ATLANTIC SHRIMP WITH PRESERVED LEMON & OREGANO
Yields: 4 servings
INGREDIENTS
4 Tbs. olive oil
4 garlic cloves, roughly chopped
1 preserved lemon, pith discarded and the skin finely chopped
1¼ lbs. peeled jumbo shrimp
1 tsp. ground cumin
½ tsp. ground black pepper

½

tsp. paprika
¼ tsp. ground turmeric
¼ tsp. chile flakes
handful of finely chopped cilantro leaves
handful of finely chopped flat-leaf parsley leaves
1 lemon cut into wedges, to serve
sea salt
DIRECTIONS
Heat the oil in a large frying pan over medium-high heat. Add the garlic and preserved lemon and stir-fry for 10 seconds until fragrant. Add the shrimp and continue to stir-fry for 2-3 minutes or until just turning pink. Add the spices and dried oregano to the pan, season well, and continue to stir-fry for 1-2 minutes until the shrimp are cooked through. Stir through the chopped herbs and serve immediately with the lemon wedges.
Shrimp is a great source of lean protein, but don't be afraid to try other proteins that would work well in this recipe, like calamari, scallops or filets of white fish like sole, cod or dorado. To cut down on excess calories and bad fats, opt for grilling or roasting the protein instead of frying, as fried foods are higher in artery-clogging trans fats."
—Robin DeCicco, holistic nutritionist, The Power of Food Education, Ramsey
POMEGRANATE & CHOCOLATE CAKE
Yields: 8-10 servings
INGREDIENTS
FOR THE CAKE:
1 cup self-rising flour
1 tsp. baking powder
½ cup plus 2 Tbs. cocoa powder
¾ cup light brown sugar
3 free range eggs
2 sticks (. pound) butter, melted, plus extra for greasing
2 Tbsp. pomegranate molasses
2 Tbsp honey
1¼ cups Greek yogurt
sea salt
FOR THE TOPPING:
⅔ cup heavy cream
3. oz. dark chocolate
1 Tbs. honey
handful of pomegranate seeds
DIRECTIONS
Preheat the oven to 350ºF and grease and line a 9-inch springform cake pan with butter and parchment paper. Sift the flour into a mixing bowl. Add the baking powder, cocoa powder, sugar and a pinch of salt. Mix together gently to combine ingredients.
In a separate bowl, beat the eggs until really fluffy and light in color using a hand-held mixer. Pour the melted butter and pomegranate molasses into the flour and mix together. Fold in the honey and yogurt, and then add the beaten eggs, a little at a time, and fold together until completely combined.
Scrape the mix into the cake pan and roughly smooth over. Bake for around 25-30 minutes or until risen and the sides are just pulling away from the pan. The cake will still be a bit wobbly, but it will firm up as it cools. Remove from the oven and set aside to cool in the pan. Meanwhile, heat the cream in a pan over low heat. Break the chocolate into a small mixing bowl and add the honey. Pour the hot cream over the chocolate and gently stir together until velvety smooth. Leave for 10 minutes to cool and thicken.
Spoon the topping over the cake and spread out using the back of a spoon so that it drizzles down the sides. Scatter the pomegranate seeds over the top and leave to set before serving.
Swap out the butter for ½ cup of applesauce and ½ cup mashed avocado to reduce calories and fat content. Applesauce is low in calories, fat free and will help make the cake moist, while the avocado will infuse the cake with heart-healthy fats."
—Anna Khesin, registered dietitian, Riverfront Nutrition Associates, Oradell