Delhi Accent
New Indian eatery finds home, fans in Ridgewood.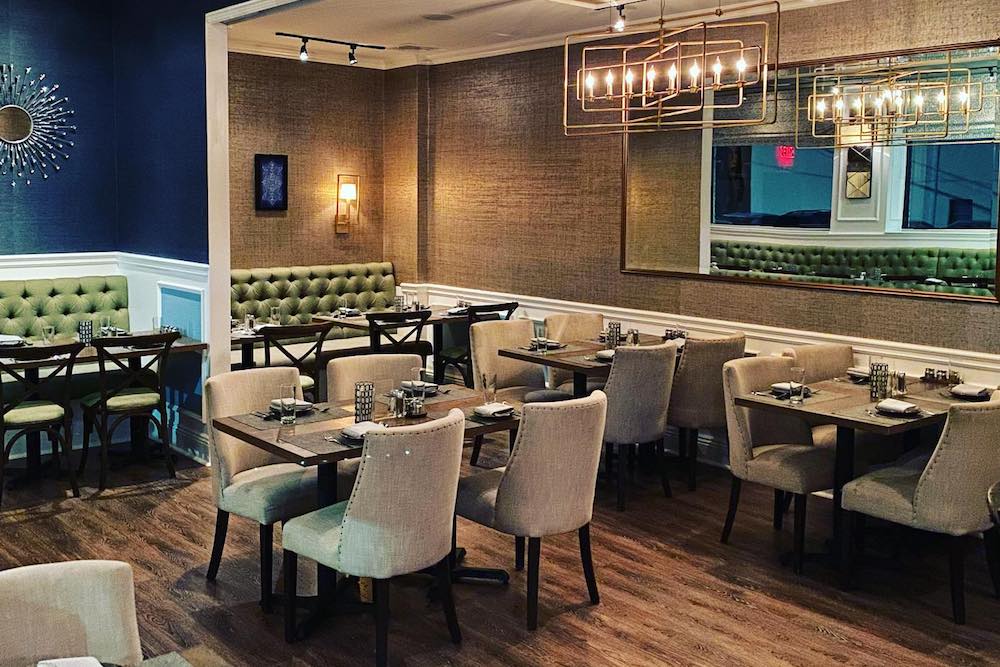 Most of us have proclaimed Jersey is home to the best of the best pizzerias and bagel shops, but we might have to add Indian restaurants to that list. In Bergen County alone, a number of wonderful establishments specializing in the South Asian cuisine have opened (or reopened) in the past 12 months, and I've been lucky to score a table at several of them. One of the newest, Delhi Accent in Ridgewood, debuted to much fanfare this fall and already is moving to the head of the class.
The restaurant takes over the space formerly occupied by Brasserie de Novo, boosting the number of Indian eateries in the village to three. So what separates Delhi Accent from the rest? For starters, everything inside is brand new. Owner Akshay Jhanjee tells BERGEN the entire kitchen was redone and modernized, which also can be said about the menu. Jhanjee is co-owner of Tashan, a popular traditional Indian restaurant in West Caldwell. About 60 percent of Delhi Accent's menu mirrors Tashan's offerings; the other 40 percent is comprised of tweaked recipes and other "innovative dishes," he says, adding that the Delhi Accent menu will likely change seasonally.
My friend and I quickly noticed the chef's spin on things, spotting appetizers like butter chicken lollipops and saffron butter garlic crab (other than shrimp, how often does shellfish end up in an Indian restaurant?) among usual suspects such as vegetable samosa and hara bhara kabab. We started with the aforementioned shrimp, mango Tulsi prawns, a colorful dish featuring five jumbo crustaceans. Foodies need not worry: Each piece of tandoori grilled shrimp is prepared perfectly—nothing over or undercooked—and the flavors of mango and fresh basil complement the taste of the seafood.
We passed on lighter veggie apps and split a barrah kebab as a second starter. Previous barrah kebabs that I've tried were made with mutton, the tougher and gamier meat of a mature sheep. At Delhi Accent, the dish is prepared with tender lamb that's marinated in yogurt, ginger and garlic then slow cooked in a clay tandoori oven—picking up a great charcoal flavor. The result is one of the tastiest and most filling dishes on the menu.
At the first sign we were done with appetizers, our friendly server brought a table-sized serving of hot garlic naan to our table. Unlike other restaurants, Delhi Accent serves its naan with entrées, unless you specify that the bread is brought as an appetizer. The naan was quickly followed by our shared main course, lamb madras. After going back and forth between something traditional like chicken vindaloo or goat curry (there are plenty of vegetarian and fish options too), we opted to split the madras. This offering appeared on the evening specials but it's destined to land on the regular menu. It's an amazing red curry with a level of heat that resembles vindaloo but will win you over every time, especially with the melt-in-your-mouth meat. The naan and side order of basmati rice were great accompaniments to sop up the curry sauce (and soothe hot tongues).
In lieu of ice cream, rice pudding and, my personal favorite, gulab jamun (next time!), my friend and I each enjoyed a glass of mango lassi. The sweet drink was the perfect way to cap our first of what's sure to be many visits to Delhi Accent, a restaurant that thus far is meeting all expectations.
Delhi Accent, 37 Chestnut St., Ridgewood, 201.444.4910, delhiaccentnj.com