Detroit-Style Pizza In Bergen County: Yay or Nay?
New Jersey rules the pizza landscape, but the Motor City's square pie is slowly catching on. You can get a taste of it at these three locales.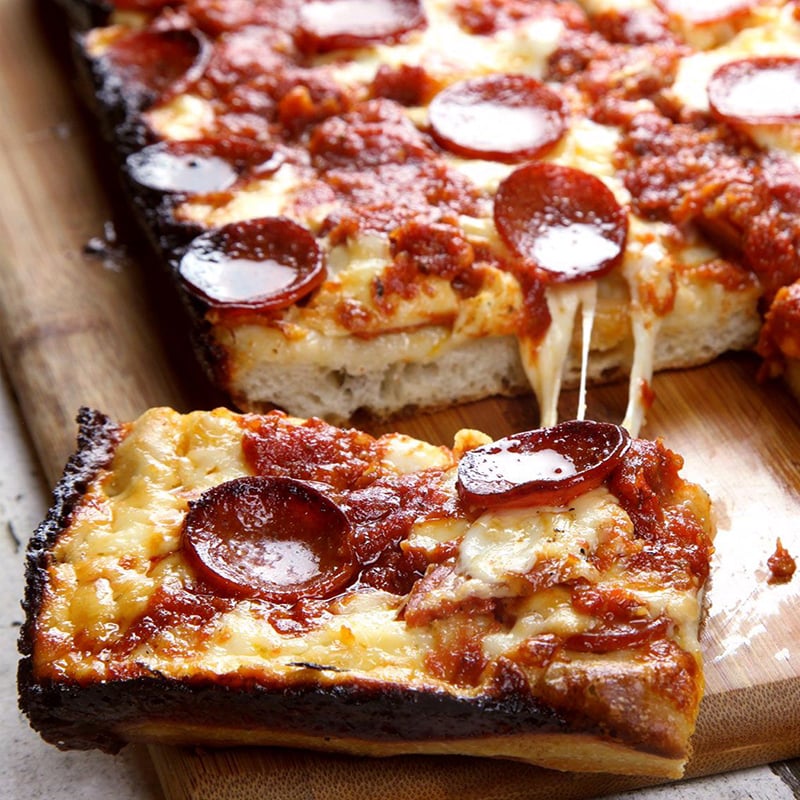 The king can afford to be magnanimous, and New Jersey is the king of pizza. Food & Wine magazine crowned it earlier this spring, naming the Garden State the Best Pizza State in America and applauding chefs for perfecting an upgraded version of the Neapolitan slice. But every once in a while, another state or city gets delusions of pizza grandeur, and it can't hurt to humor it. Take, for example, the folks who've declared June 23 National Detroit-Style Pizza Day.
Detroit-style? Not quite the Sicilian pie, it's reputedly a thick-crusted, rectangular, deep-dish pie topped with Wisconsin brick cheese. And while it may not be on the menu by name, three Bergen locations can offer a reasonable facsimile as, just for a change of pace, you tip your hat to Motown:
Mark's Pizza & Restaurant, Hackensack. This neighborhood favorite uses deep-dish pans to create special pies such as meat lover's and chicken parm pizzas.
*306 Main St. Hackensack, 201.298.3974
SQ Pizza Co., Mahwah. This spot's pan pies come eerily close to the Michigan-metropolis model without bearing its name. (Don't worry, it has familiar round pies for the traditionalist too.)
*380 Rte. 17 South, Mahwah, 201.642.4114
Soprano's Pizzeria and Restaurant, New Milford. Its special square deep-dish pizzas have a thick crust and can be dressed to the nines with a seemingly endless list of toppings.
*368 River Rd., New Milford, 201.261.9252
If you must order Detroit-style pizza by name, you can find it on menus near Bergen County. Here are two notables to try:
Blue Steel Pizza Co., Bloomfield. Their pies are made in blue steel pans and come in varieties such as classic, bacon & ranch and mushroom marsala.
*285 Glenwood Ave., Bloomfield, 973.678.1873
Low Fidelity, Jersey City. Their specialty pies include five Detroit-style servings, including the Motor City with pepperoni and hot honey and the toppings-loaded Thuper Thupreme.
*328 Palisade Ave., Jersey City, 201.795.3600
Know of any other Detroit-style pizza joints? Tag us on Instagram @bergenmagnj with your favorite pie!