Dine Out, Don't Pig Out
10 ways to enjoy restaurant meals without wrecking your weight-loss plan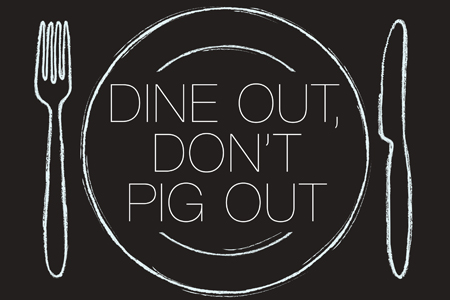 Huge portions, heavy sauces, bottomless bread baskets—with all that temptation, it's easy to understand why some of us are afraid to set foot in a restaurant when we're trying to shed a few pounds or stay trim. But don't deny yourself the pleasure of dining out. Registered dietitian Tina Marinaccio of Morristown, founder of Health Dynamics at tina marinaccio.com, offers these 10 tips:
1. Make reservations. That way, says Marinaccio, you'll decrease the amount of time you spend waiting for a table. "Having drinks at the bar can stimulate your appetite," she notes, as well as add lots of empty calories.
2. Review the menu in advance online, if it's available. You can make a sensible choice before you go so you won't be sidetracked by sumptuous menu descriptions. "Also, many chains have nutritional info posted online," says Marinaccio. "People often find surprises, like 1,000-calorie salads."
3. Don't arrive famished. Have a small snack, such as a piece of fruit or a handful of nuts, before you leave the house, so you don't demolish the bread basket.
4. Ask questions about the method of preparation. Dishes that sound healthful can actually be breaded or swimming in butter. If you want the dish without the downside, don't be afraid to ask for modifications.
5. Order appetizers rather than entrees. Just make sure that you don't over-order. Two or three appetizers—say, a green salad, a broth-based soup and a plate of grilled shrimp or steamed mussels— should be sufficient to please your palate and fill you up.
6. Split an appetizer. If you can't pass up that cornmeal-crusted calamari, share it with a companion or the whole table.
7. Substitute sides. "These days, fish is often paired with risotto or mashed potatoes," says Marinaccio. "If the side dish is too heavy, substitute something lighter like sautéed spinach or broccoli rabe or a side salad."
8. Ask for salad dressings and sauces on the side. Then fork the sauce or salad dressing onto the food, using only a portion of what you're served.
9. Skip dessert. If you must have something sweet, go for a light option, such as sorbet or fresh berries, or share one rich dessert with the whole table.
10. Opt out of the clean-plate club. Stop eating when you feel full. If necessary, take a restroom break halfway through your meal. When you stand up you may realize you've already eaten enough to be satisfied.
Order This, Not That:
Before you go to your favorite chain restaurant, do a little sleuthing online to find options you can live with and menu items you shouldn't even think about ordering. A few examples:
Applebee's steaks
Don't order: Chicken Fried Steak (1,200 calories; 58 grams of fat)
Better choice: Roasted Garlic Sirloin (460 calories; 17 grams of fat)
Wendy's entrée salads
Don't order: Baja Chili Salad (690 calories; 45 grams fat)
Better choice: Apple Pecan Chicken Salad with Roasted Pecans and Pomegranate Vinaigrette Dressing (570 calories; 26 grams fat)
Even better: Apple Pecan Chicken Salad Half-Size with Fat-Free Dressing (340 calories; 18 grams fat)
Subway sandwiches
Don't order: 6-inch Chicken & Bacon Ranch Melt (570 calories; 28 grams fat)
Better choice: 6-inch Oven Roasted Chicken (320 calories; 5 grams fat)
Olive Garden pastas
Don't order: Fettuccine Alfredo (dinner por tion: 1,220 calories; 75 grams fat)
Better choice: Capellini Pomodoro with Grilled Shrimp (dinner por tion: 540 calories; 10.5 grams fat)
Pizza Hut Pizza Slices
Don't order: Meat Lover's Pizza (one slice: 320 calories; 18 grams fat)
Better choice: Cheese-only Pizza (one slice: 240 calories; 10 grams fat)
Even better: Veggie Lover's Pizza (one slice: 220 calories; 9 grams fat)
Sources: applebees.com, wendys.com, subway.com, olivegarden.com, pizzahut.com