Dining On The Edge
Bergen County's restaurant scene will survive the pandemic, but it will be different—probably forever.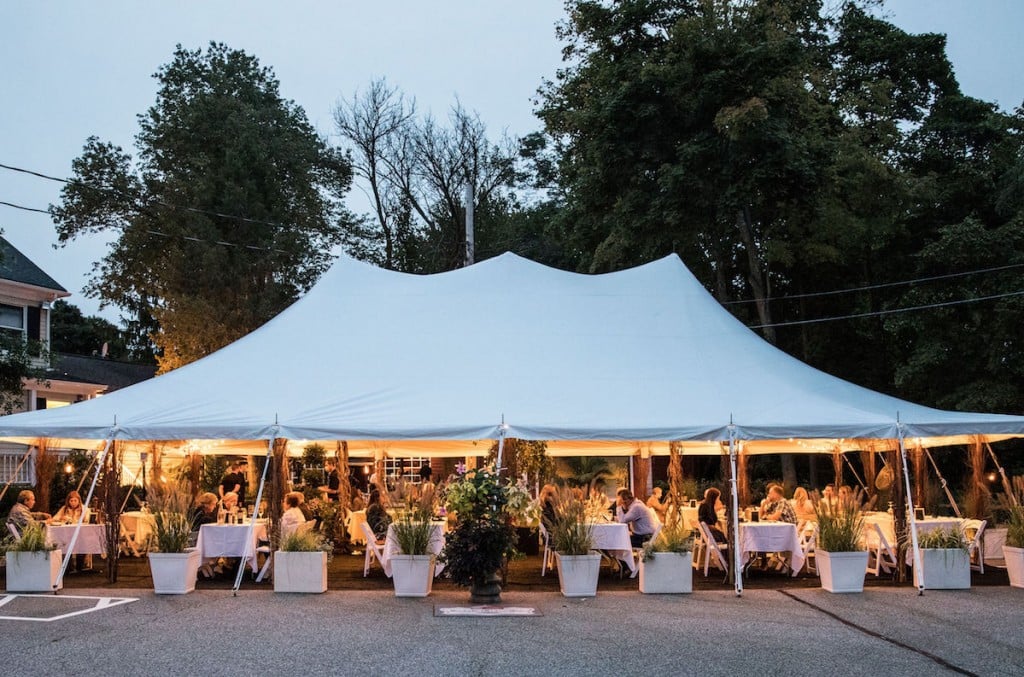 Strolling down East Ridgewood Avenue this summer, you could be excused for thinking you'd been transported to an Italian piazza. In an effort to help shore up Ridgewood's restaurants, struggling during the pandemic even after the governor gave the nod to outdoor dining on June 15, the town closed portions of the street on weekends to increase the number of diners that restaurants in the area could accommodate. Other towns in Bergen and around the state—including Dumont and Hoboken—have taken similar steps. But even where outdoor dining is flourishing, it hasn't allowed the county's restaurants to bounce back to pre-COVID-19 revenues. Nor has the state's decision to permit indoor dining at 25 percent of capacity as of Sept. 4.
With the temporary shutdown in March of New Jersey's movie theaters, performing arts centers, gyms, racetracks, casinos and restaurants (with the exception of takeout and delivery), COVID-19 has hit the county's service industries particularly hard. As of this writing, at least four Bergen restaurants have closed permanently due to the strictures of the pandemic: Paolo's Gourmet and Technique in Westwood and
Le Bon Choix and Sensible Fork in Ridgewood. But Anthony Bucco, chef and co-owner of Ridgewood's Felina and a member of the board of the New Jersey Restaurant and Hospitality Association, believes we're unlikely to see the real effects of the pandemic on the county's restaurants until early spring. Small-business loans and the ability to refinance mortgages and/or renegotiate leases are keeping many restaurants afloat for the time being, he notes. But the protective effects of those measures won't last forever. How much attrition the industry experiences, Bucco says, "will be dependent on what happens in November, with the potential for a second wave of COVID and a hard flu season." Few observers believe that the county's restaurant scene will emerge from the pandemic unscathed. But that hasn't stopped Bergen's restaurateurs from coming up with creative responses to an economic blow many are saying is considerably worse than those dealt by the recessions of 1987 and 2008 and the 9/11 World Trade Center attacks.
TAKING TO TAKEOUT
As the county's coronavirus numbers dropped, residents wearying of their own home cooking began tentatively testing the takeout waters, and takeout (including no-contact curbside pickup) has become one of the restaurant industry's unqualified successes during the pandemic. High-end eateries that never deigned to offer carry-out options in the past discovered that it was a way to keep themselves and their staff afloat, at least temporarily. Jamie Knott, chef of the Saddle River Inn and Saddle River Café (and Cellar335 in Jersey City), says takeout continues to be a vital part of business at the Café, and "though takeout has never been a huge part of our business at the Inn, we're doing 70 percent more now than we ever have."
Traditional takeout—moderately priced food that can be prepared quickly and won't lose its luster during the trip home—is in large part bucking the downward trend experienced by restaurants that rely heavily on seated dining. Pizza, New Jersey's ultimate comfort food, has been in high demand during the pandemic. Michael Ghinelli and Hadi Parhizkaran, college dropouts who opened the successful Pizza Club in Edgewater, decided to open a second Pizza Club, in Garfield, during the pandemic. Though they were able to acquire an existing business at a reduced price, they experienced more than a few qualms before opening. "We could actually see the numbers fall in our first pizzeria, and I was really terrified by that," says Ghinelli. But the county's insatiable appetite for the cheesy dish, coupled with a business model that elevates customer service, has kept their business, and the Pizza Clubs' ovens, hot.
It's not surprising that, among the new places opening their doors during the pandemic, the majority are takeout-based. In September, Martin James and two partners opened Marty's Burgers in Fort Lee. "We thought it would work because it was a takeout-centered business plan," he says. "So far, we've been happy with our sales."
THE ALFRESCO RESCUE
Outdoor dining has been a boon to the county's restaurant industry, but it's not without its challenges, particularly space, or the lack thereof. Even venues that had established patio dining before the pandemic saw those spaces shrink thanks to the state-mandated requirement to keep tables at least 6 feet from one another. And most restaurants in the county had no outdoor spaces to begin with, a situation that pushed owners to create sidewalk cafes that are literally on the sidewalk, as Jim Lulani of Dumont's Il Mulino did. Other restaurants, such as Blue Moon Mexican Cafe in Wyckoff and Lefkes in Englewood Cliffs, expanded into parking lots.
But alfresco dining has its costs, especially for restaurants moving outside for the first time this year. A large tent is expensive, Knott observes, as are the space heaters necessary to keep outdoor dining an option as the mercury drops.
Until indoor dining opens up beyond 25 percent, many restaurateurs are cutting their dining hours to keep down operating costs—particularly wages. For instance, Felina, which was traditionally open every day but Monday, opted to close Tuesday and Wednesday as well. And as of this writing, Hillsdale's Rockin' Roots, which began offering indoor lunch in September, hasn't yet reopened for dinner—other than takeout—because, says its owner, Michael Merida, "at 25 percent, you can't make ends meet." Some restaurateurs, Bucco included, are now charging no-shows. "There's a cost associated with every chair," he says.
CAN THE GOVERNMENT DO MORE?
It's clear that few restaurants in the county, with the exception of those with a heavy takeout business, can survive at 25 percent capacity, and many owners have been pleading with the governor to move to 50 percent or higher. "Twenty-five percent," says Craig Kunisch, co-owner, with his brother and sister, of Mahwah Bar & Grill and Allendale Bar & Grill, "is a step in the right direction, but it's not sustainable." Of course, if COVID numbers rise significantly during the fall and winter, increasing capacity may not be possible; in fact, it's not inconceivable that indoor dining could once again be shut down. And even if that doesn't happen, says Bucco, a second wave or a steep increase in cases could undermine consumer confidence in indoor dining.
Many diners, in fact, are still leery of eating indoors. Carole Stewart, a councilwoman and resident of Dumont, says she's been eating outdoors fairly frequently at hometown favorites such as Grant Street Café and Nazca, but "I have not eaten inside, and I'm not sure I will." Others are moving gingerly toward indoor dining. Carlstadt resident Heather Markowski began dining out outdoors in September and had her first indoor restaurant meal, at Pier 115 in Edgewater, later that month.
In addition to increasing capacity, some in the industry have called for a change in the state's liquor license law to allow more restaurants to serve alcohol, which would be an additional source of revenue. Others, like Bucco, would like to see an additional stimulus for those still on unemployment, which he believes could help get people into restaurant seats again.
AN UNCERTAIN FUTURE
Though the New Jersey Restaurant & Hospitality Association has estimated that close to a quarter of the state's eateries are likely to close because of the pandemic, no one knows for sure what that final number will be. What almost everyone agrees on is that there will be significant attrition and a number of notable changes. Takeout is likely here to stay, even at top-shelf restaurants. "I think people have fallen in love with the ease of use of things like delivery and curbside pickup," says Kunisch. And we'll probably see an expansion in alfresco dining. "One thing we truly learned during the pandemic is that people love to eat outside," says Knott. Those changes, at least, may be all to the good.
And if there's a county in New Jersey that can bounce back, it's Bergen. Not only is it one of the state's wealthiest areas, it's also likely to benefit from its proximity to New York City. "I look at the towns that surround Manhattan as immense opportunities," says Bucco, "because a lot of suburban residents won't be ready to go back to the city. People who used to dine at Le Bernardin for a special occasion are going to stay in New Jersey and maybe go to Saddle River Inn instead." Ask the Inn's owner, Jamie Knott, if he'll be around to accommodate them, and he doesn't equivocate. "In my mind," he says, "there's no other option."