Donatella Ristorante
This Harrington Park eatery offers all the comforts of an Italian kitchen.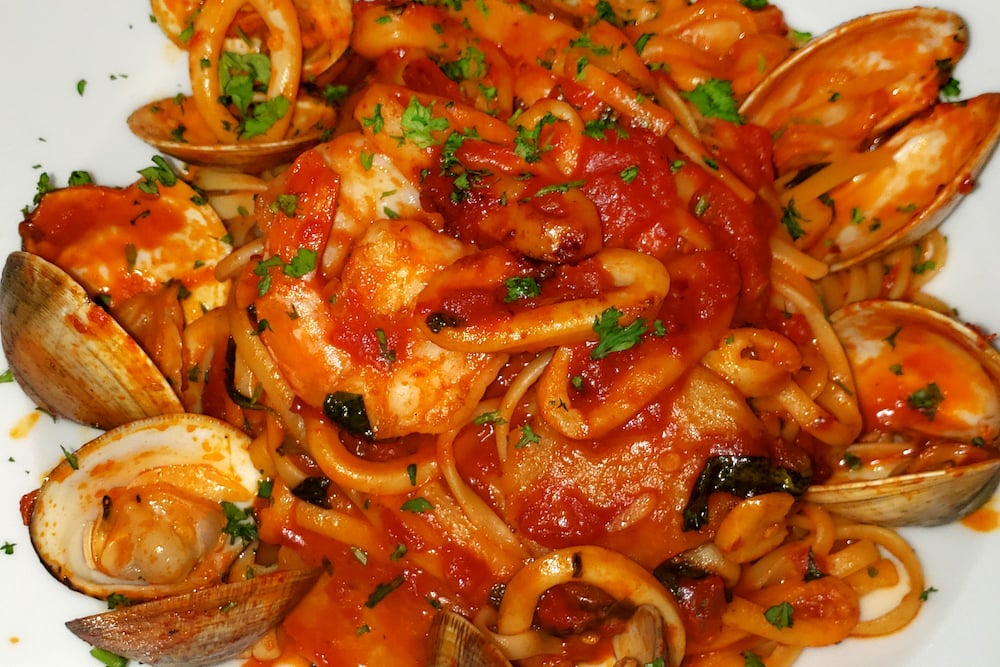 Feed a cold, so the saying goes, and that's what I tried to do when illness sidelined me and my appetite shortly after New Year's Day. Because of my lack of appetite during that spell, I mostly ate instant oatmeal and Chinese takeout soup—not exactly foods that feed the soul. But once I was on the mend, I craved a dose of comfort food: a heaping bowl of pasta, to be exact.
It was the perfect opportunity to grab a table for two at Donatella Ristorante, which recently opened at one of Harrington Park's most picturesque and neatly manicured properties. The space boasts a rustic yet modern vibe similar to its previous tenant, Dino's, a 30-year fixture known for hearty traditional Italian plates.
While the new restaurant offers plenty of comforts, its menu goes way beyond simple spaghetti. Appetizers, for instance, include favorites like crispy fried calamari and clams in white wine sauce, but our tastebuds wanted something different. Our first starter was grilled pulpo (octopus), a single cephalopod arm complete with suckers that's prepared using "an old family recipe"—slow-cooked in lemon then finished in
a 1,400-degree broiler. Unlike the chewy texture of octopus sashimi and sushi, Donatella's version was delightfully soft and tender with just the right amount of charring to heighten the dish's flavor. We ordered our second app, layered eggplant and zucchini, from the evening specials. This plate was com-fort food at its finest: The mult-itiered veggies were covered in melted mozzarella and a housemade pomodoro sauce. Both appetizers were perfect for two, leaving both of us satisfied with plenty of room for the main course.
For those who get overwhelmed by food options, Donatella's menu categories make ordering easy: salad, chicken, seafood, veal, grilled meat and pasta. To feed my pasta fix, I had the pasta fruitti d'mare, a generous serving of linguine topped with shrimp, scallops, calamari, clams and a home-made tomato sauce. I wasn't bowled over by anything specific on my plate, but all the ingredients worked together to thoroughly please my palate. My friend thought the same of her black squid pasta with lobster and a creamy tomato sauce. Though flavors were on point, she grumbled about the dispro-portionate amount of lobster meat to the generous portion of ink-dyed pasta.
Donatella, however, didn't skimp on desserts. My friend had a traditional tiramisu, while I fed my sweet tooth with an oversized Napoleon. (I know, it's not Italian!) Both dishes, like the rest of the dinner, warmed the heart and put me back on track to feeling better.
Donatella Ristorante, 12 Tappan Rd., Harrington Park, 201.767.4245, donatellasitalian.restaurant