Don't Suffer in Vein
Today, less invasive surgery helps those with venous disease in the legs.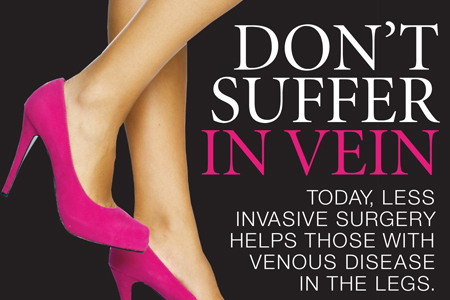 Officially they're forms of superficial venous reflux disease, but anyone who suffers from varicose veins, spider veins or other types of leg-vein damage wouldn't call them superficial at all. This disease, which affects about 25 million Americans, causes pain, swelling, leg "heaviness," restless leg syndrome and general lifedisrupting discomfort. It can also be, let's face it, unsightly.
Until not so long ago, people diagnosed with superficial venous reflux needed invasive and often uncomfortable vein-stripping surgery. But these days, doctors at the Vein Center at Saint Barnabas Medical Center can treat the disease with minimally invasive vein closure procedures, usually performed on an outpatient basis.
In vein stripping, the surgeon cuts incisions in the groin and calf, and a stripper tool is threaded through the diseased vein to pull the vein out of the leg. With minimally invasive procedures, only one small incision is made right at the diseased vein site and the vein is then closed with various surgical tools, including lasers and radiofrequency instruments. This minimally invasive approach eliminates the pain and bruising associated with vein-stripping surgery.
"We need nothing more than a Band- Aid to close the incision," says Michael Kaplan, M.D., an interventional radiologist at the Vein Center. "Most patients go home the same day and back to work the next."
The Saint Barnabas Vein Center also treats what's called deep-vein disease— partial or total blockages in the veins of the upper and lower extremities and in the pelvic areas of both men and women, says Robert Kamieniecki, M.D., an interventional radiologist and Dr. Kaplan's partner in the center. "We treat the full spectrum of venous disease," he says. And if superficial venous disease is for some reason not amenable to minimally invasive treatment, patients can have open surgery in the hospital.
Some people—and the doctors stress that both women and men suffer from the disease—may avoid surgery by wearing compression stockings. "These used to be ugly things, but now they look as if they come from the stocking department at Saks Fifth Avenue," Dr. Kaplan says. The Vein Center carries compression stockings for sale and can ensure that they fit properly, he says.
Many of us have felt tired legs when we've been on our feet too long, so how do you know if the problem is serious enough to require treatment? "If you are at the point where you want to ask to see a doctor, that's the time to see a doctor," Dr. Kamieniecki says. "Don't let it get to the stage of significant swelling or big, bulging veins. Come see us. We can do a comprehensive exam in 45 minutes." And that can help you get back on your feet in no time.
—D.L.