Dressed for Success
An on-campus boutique is helping Bergen Community College students make a polished first impression—for free.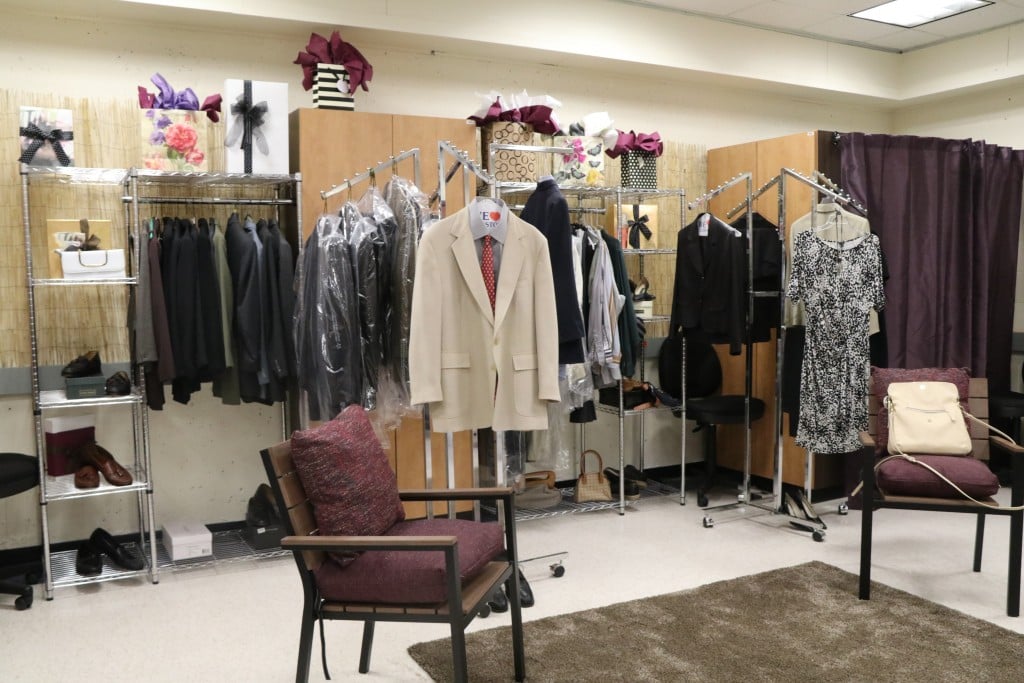 When Cindy Myer, president and owner of Ridgewood Moving Services, needed a social media intern for her company, she weeded through a slew of students sent to her by Bergen Community College (BCC) before finding the perfect candidate: He was articulate, he'd done his homework about the moving company, and he was dressed for success in a suit and tie. And that gave Myer an idea.
The Ridgewood native, who was working with BCC through the Women Presidents' Organization (comprised of female business owners), realized that not all students had the tools needed to make a solid first impression—especially when it came to wardrobe.
Cindy Myer with BCC students
"I thought, 'Let's not make that a stumbling block for them,'" she recalls. "I realized that, with my moving company working with families who are looking to get rid of things and downsizing every day, we could start collecting clothes."
Fast-forward to Sept. 13, when all of the items Myer had amassed made their way to BCC, and the institution's Move for Success program—featuring an on-campus boutique— opened. The concept: Students preparing for a job interview can visit the shop and walk out with a ready-to-impress outfit (accessories included) at no charge.
Myer speaking at the grand opening
Myer had more than enough donations to fill the boutique— "We were receiving clothing by the droves," she remembers— but Ursula Parrish Daniels, executive assistant to the BCC president, says contributions have been pouring in from just about everywhere.
"We have had an overwhelming response from local donors who are giving directly to the college," she reports. "The Paramus and outlying communities, and our community college staff, are a very giving group of people. We have received donations that are just unbelievable."
A sampling of the shop's available accessories
Among the high-end fashion pieces on offer at the boutique's opening: a pair of Vince Camuto leather ankle boots, Ralph Lauren black high heels, an Ann Taylor blackand- white wrap dress, a Chanel leather cross-body bag, Polo and Chaps suits for men, plus much more. The classroomhoused shop—operated by the Student Exchange—is even arranged like an actual boutique, with dressing rooms and a seating area for trying on shoes.
So what did the BCC students think of all the designer apparel and the program itself?
From left to right: Aretha McMillan, BCC Educational Outreach; Alicia D'Amico, executive assistant to Myer; Laura Montenegro, BCC Office of Multicultural Affairs; Ursula Parrish Daniels, executive assistant to the BCC president; Myer; and Beverly Thompson, BCC Coalition for Student Success
"I love how the boutique is for guys and girls of any size, so everyone can come get what they need," says freshman Andres Sierra. "The major part of success is how you see yourself, and that can be influenced by the way you look and dress. It's easy to feel discouraged if you don't look your best."
Adds freshman Eric Leyton: "I can see myself definitely coming to the boutique in the future. Sure, you could rent a suit, but nothing beats getting one for free."
More students at the boutique's debut