Dutch Revival
What do you get when a French designer remodels an American Dutch colonial? Quite simply, the perfect blend of traditional and modern.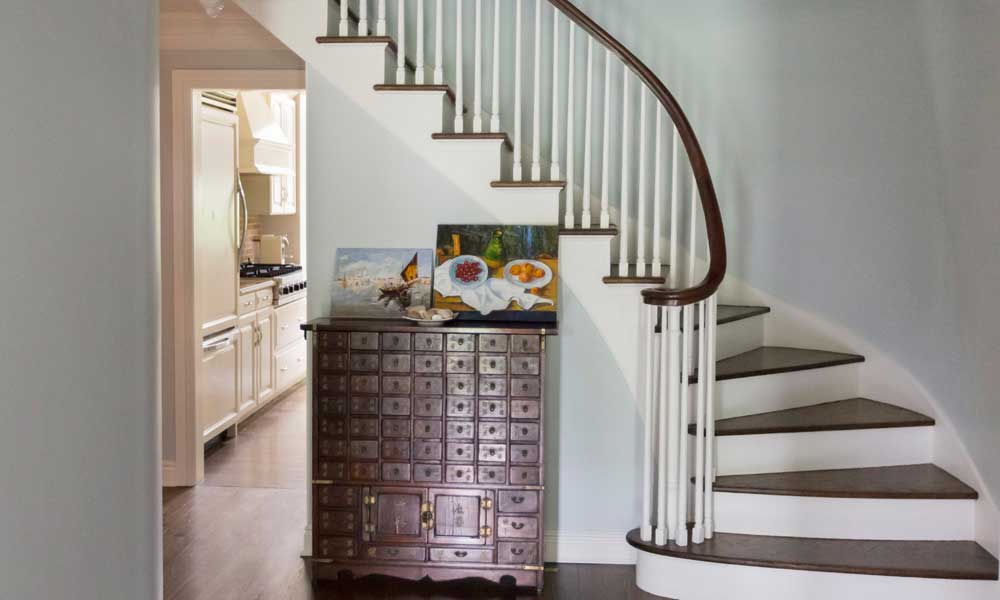 When interior designer Laurence Carr and her husband Paul decided to add 1,000 square feet to their 1930s dutch colonial home in Ridgewood, they had one goal in mind: to create a peaceful sanctuary where their family could reconnect in a calming environment. "We wanted to make the house more functional while modernizing the look and feel of the interior," says Carr. "It had to be cozy, but it also had to have enough room for when our extended family come to visit. My husband is Australian and I'm French, so when our relatives come to the states they tend to hang around for a while!" Carr also hoped to create a place where her three children would feel comfortable bringing their friends home. "It's really important for everyone to have their space," she adds.
First stop: the entrance hall. when it came to accessorizing the foyer (left), Carr chose the rectangular lines of a Chinese medicine cabinet—where the family stores everything from keys to jewelry to toys—as a contrast to the foyer's original curved wall, staircase and handrail. "a stunning antique or piece of art [the paintings are by French artist Louise Franoux] can have a strong effect on a space that's stripped of clutter, fabric or color," says Carr. The dark chestnut-stained floor plays off the foyer's pale blue walls.
Next stop: the kitchen, the command center of the house. "Everything happens here — cooking, meals, parties," notes Carr, "so it was important to create a large, open space for all of these activities." A champion of lightcolored kitchens, Carr chose to keep a monochromatic color palette: soft gray walls, ivory cabinets, sand-colored granite countertops and a neutral-colored brick backsplash. There are French country counter stools along with a loveseat in front of a gas fireplace and a table that seats six. To achieve a kitchen that's light and airy, Carr created a bunch of skylights as well as 10 large windows that look out into the backyard.
When it came to the master bath renovation, the homeowner wanted the look and feel of a modern spa. Large greenish/gray porcelain tiles on the walls and floor, vanities with curved faucets and frameless mirrors, and polished chrome faucets and light fixtures work together to create a calming environment. The window treatment's geometric leafy design is her nod to the green outdoors.
"My dream was to create a place where my family could connect, a respite from our frenetic lifestyle," says Carr. "To accomplish that, it was important to maintain a minimalist and uncluttered style, fashioning an inviting space where friends and family could gather. I think we've done that plus a whole lot more."