Eastern Promises
A local couple teams up with a Rutherford planner to mesh South Asian customs with personal touches. The result—a picture-perfect Indian wedding.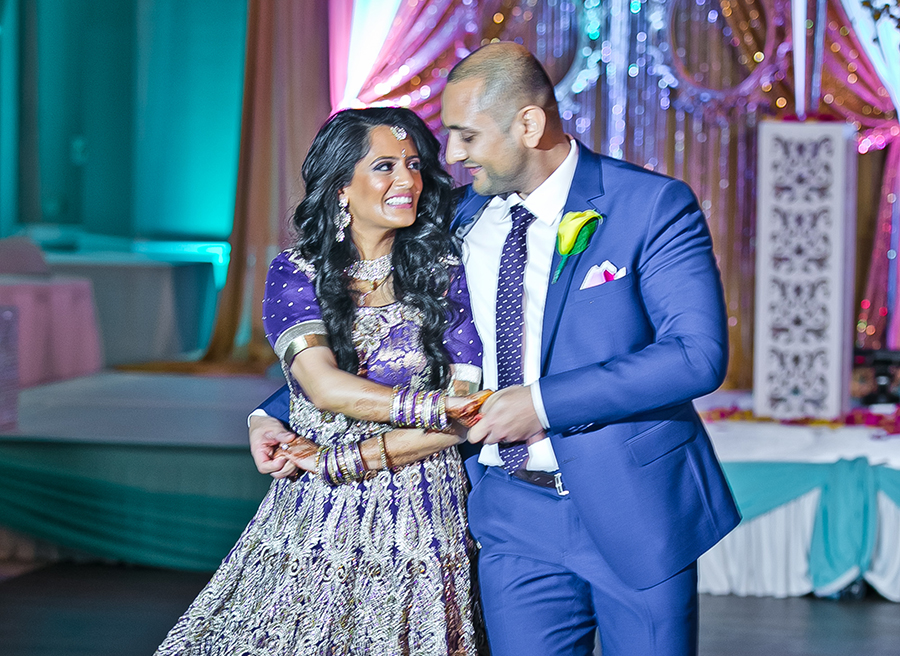 Photography by Glenn Maningas at MPW Media
When an Indian dating site brought together a North Jersey couple, their very first date almost got off to a rocky start because of a Kit Kat bar, Dina Raval's favorite candy. Raval feared that her date might have ditched her, but Sanket Patel had disappeared for just a minute to retrieve the Kit Kat he had forgotten. (He knew she loved them and wanted to surprise her!)
Fast forward several years: Inside the beautiful box Patel had made as a gift for—you guessed it—their wedding was a Kit Kat bar.
From such a thoughtful couple, you'd expect a memorable wedding, and last May's ceremony at the Sheraton Mahwah didn't disappoint. Though many Indian weddings are steeped in ritual and tradition—outdoor ceremonies with sacred fires; parties decked out in bold red attire; brides adorned with elaborate henna art—Raval and Patel wanted their special day to have their own personal touches.
For instance, Raval followed Indian custom by having her mother's brother escort her down the aisle—but she also had her twin brother, Dev, on her other arm. "Every major step my brother and I have taken, we've taken together," she explains, "so I really wanted him to walk me in too."
And while Patel arrived at the ceremony on horseback, another cultural tradition, his walk down the aisle was all his own— Nadja, his trusted dog, was at his side. "He and Nadja are inseparable, so I wanted her included," says Raval. "We had a little dress made for her, so she was part of the bridal party. I couldn't imagine him walking in with anyone other than her."
The entire day, which was planned by Meghna Trivedi of Rutherford-based Bells N Rings Events, started with the wedding ceremony in the morning followed by a luncheon, then a cocktail reception and dinner and dancing in the evening. Everything was supposed to take place outdoors (as is the case with many Indian weddings), but Mother Nature had other plans—a nor'easter blew through the area. "But everything turned out so great," Raval recalls. "When they opened the doors to the Sheraton and I saw everything, I was just like, 'Wow!' It was even better than I expected."
The venue was decorated with turquoise and yellow, Raval's favorite colors. She also wanted to incorporate purple, which she did by wearing a purple dress to the reception. "I'm shocked I was able to get all the colors I wanted, and they worked so well together," she says.
Another personal touch was the liquidnitrogen- chilled ice cream served at the reception. "We both like to have fun, and I love ice cream," explains Raval. "It was something different that I'd never seen before at a wedding." They offered guests a choice between Baileys coffee with toffee bites and a peach sorbet.
"Everything went seamlessly, and it was beautiful," says Trivedi of the 15-hour day. "Dina said afterward that she had heard that with everything going on, she wouldn't be able to eat her wedding cake that day.
"But she told me, 'We had the cake, and we ate it too!'"
Newlyweds Dina Raval and Sanket Patel dance the night away at the Sheraton Mahwah. Raval specifically selected her reception dress for the color—purple is one of her favorite hues.
The bride and groom incorporated many customs of an Indian wedding, including the use of yellow and white flower petals, traditional formal attire and symbolic ceremonies.
Raval's hands were adorned with henna art, a custom for the bride.
More than 300 guests helped the happy couple celebrate their big day, which included a four-tier cake from A Little Cake in Park Ridge, elegant decor by Wedding Design and catering by Chand Palace.
The groom shows off a novelty ring, one of many personal tokens featured at the wedding ceremony.