Easy Elegance
At 10,000 square feet, this large Saddle River home still manages to be warm and welcoming.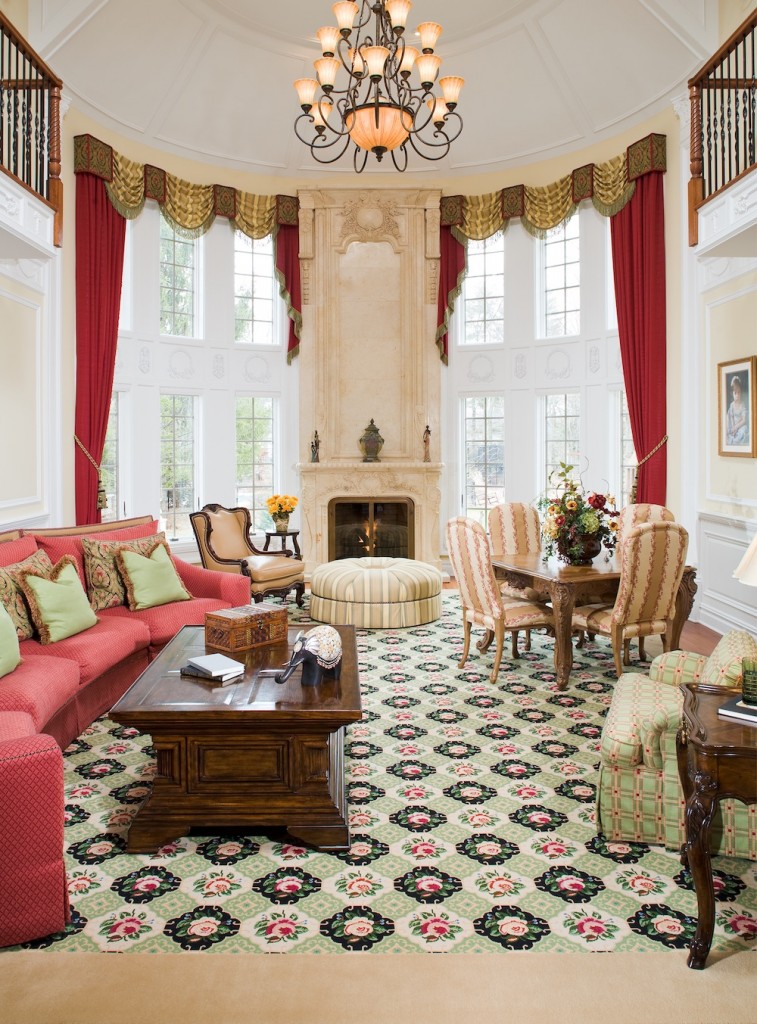 An Oriental rug provided the color palette for the dining room, which is bathed in natural light.
The most imposing part of designing this 10,000-square-foot Saddle River home? The sheer size of its great room, says Ron Nathan of Ron Nathan Interiors in Wyckoff. "It was huge and totally empty, so the challenge was to make it feel warm and comfortable," he recalls.
Nathan met that challenge by creating multiple seating areas, adding decorative molding and wainscot, and using lots of color and pattern. "Most people are afraid to make a commitment to color, and I think that's why they are content to do a neutral palette," he says. "It takes a certain amount of talent and experience to use color so that it doesn't smack you in the face but feels interesting and organic."
A piano, set into a bow window in the living room, sits above a large medallion on the floor.
Nathan varied the palette throughout the large home, giving each room its own personality. "These homes have a lot of rooms, so it's nice to be able to change the feel of the spaces," he says. "Although the rooms are different, the fabrics and the colors relate to each other."
The homeowners, two professionals with three young children, like a traditional look, which worked well with the architecture of the home, which is in the style of a French manor house. The dining room features 18th-century mahogany furniture, dramatic silk window treatments and an elegant Baccarat crystal chandelier. The walls and ceiling were faux painted to add interest.
Elegant lighting was chosen for the kitchen in keeping with the traditional feel of a French chateau.
Nathan carried the home's traditional, French-chateau feel into the kitchen with a custom-designed mosaic of a pastoral scene above the cook top. "It's almost like you're looking out of a window onto the fields," he says. Custom cherry cabinets with a glazed finish hang above granite countertops and a limestone backsplash. To incorporate even more of a traditional feel, Nathan used corbels to hold up the breakfast bar and the hood above the Wolf stove.
Despite the home's ample size, Nathan decorated it from top to bottom in a swift four months. The homeowners loved the end result, and it was a labor of love for the designer as well. Says Nathan: "I've always enjoyed the challenge of taking these large spaces and making them cozy and comfortable—and seeing a happy client."