Easy Like Sunday Morning
Hosting weekend brunch? Don't stress! When you try the following recipes and heed the advice of BERGEN's expert planners, your party will be a breeze. Go ahead and enjoy your mimosa!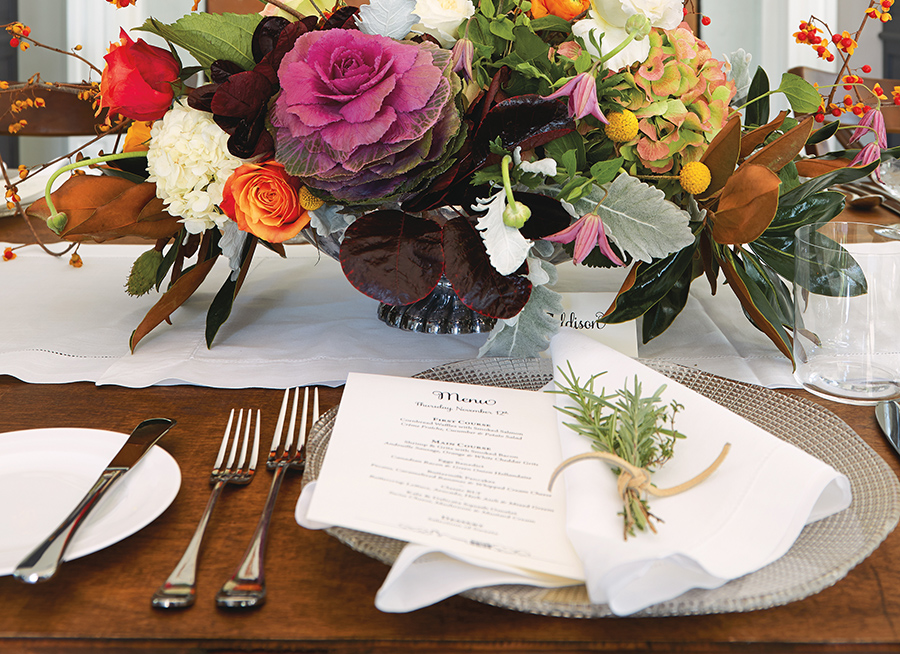 Few things are finer than sitting down to brunch on a sunny afternoon. English journalist Guy Beringer described the tried-andtrue Sunday tradition as a way to "sweep away the worries and cobwebs of the week," as noted in The Art of Entertaining (Rizzoli New York). But if you're playing host instead of dining out, it can feel anything but worry-free. Luckily, the book's author Jessica Kerwin Jenkins and BERGEN compiled a few recipes and tricks to make your next brunch—as Beringer would say—the "cheerful, inticing and sociable" occasion it's meant to be. So sit back, relax and get brunching!
Shrimp and Grits
Yields: 4 servings
Ingredients
For the Parmesan Sauce
2 large onions, sliced
4 garlic cloves, minced
2 to 3 Tbs. vegetable oil
3 cups dry white wine
4 cups heavy cream
1 cup grated Parmesan cheese
kosher salt and freshly ground pepper
grated zest of one orange
For the Grits
1 cup vegetable stock
2 cups whole milk
½ large onion, finely diced
2 garlic cloves, minced
2 to 3 Tbs. vegetable oil
1 cup grits n kosher salt
For the Shrimp
½ cup red onion, finely diced
1 cup mixed red, yellow and green bell peppers, diced
2 to 3 Tbs. vegetable oil
8 slices bacon, cooked and chopped
1 cup cooked andouille sausage, diced
½ cup heavy cream
24 large shrimp, peeled and deveined with tails removed
¼ cup chopped fresh parsley
For the Garnish
½ cup finely diced tomato
8 scallions, thinly sliced
½ cup grated Parmesan cheese
Directions
For the Parmesan sauce: In a saucepan over medium heat, sweat the onions and garlic in the vegetable oil until soft and translucent but not browned. Add the white wine, turn the heat to high and cook until reduced by half. Add the cream and Parmesan and continue to cook until reduced to 4 cups. Puree the sauce in a blender or food processor, working in batches if necessary.
(Do not fill the blender or food processor more than halfway, and be sure the lid is firmly in place to prevent hot liquid from erupting.)
Pass the sauce through a fine sieve, adjust the seasoning with salt and pepper, and stir in the orange zest. Keep warm until ready to serve; or chill, then gently rewarm before serving.
For the grits: Bring the stock and milk to a simmer in a saucepan over medium heat. In a large heavy-bottomed pot (a Dutch oven works well), sweat the onions and garlic in the vegetable oil over medium heat until soft but not browned. Add 2⁄3 of the hot milk mixture, then whisk in the grits. Lower the heat slightly and cook until the grits are tender (time can vary widely, from 5 minutes for "quick" grits to 40 minutes for stone-ground). If the grits begin to get too thick while cooking, add some of the remaining milk mixture as necessary. Season with salt and keep warm.
For the shrimp: In a saucepan over medium heat, sweat the red onion and bell peppers in the vegetable oil until soft. Add the chopped bacon, andouille, cream and 3 cups of the Parmesan sauce. Add the shrimp, reduce the heat and cook just until the shrimp turn pink, about 3 minutes. Stir in the chopped parsley.
To plate: Divide the grits among 4 serving bowls. Spoon the shrimp and bacon cream sauce over the grits, making sure each bowl gets 6 shrimp. Top with the remaining 1 cup Parmesan sauce. Garnish with diced tomato, scallions and grated Parmesan. Serve immediately.
For a party at home, I like to keep the décor and color scheme simple. I recommend using white linen tablecloths, since they can easily be repurposed, and tea light candles, which are inexpensive and help set the mood. You can add some color with well-placed bowls of fruit and flower arrangements." —Xin Huang, event planner at Le Petite Privé, Fort Lee
Last Word Cocktail
Yields: 1 cocktail
Ingredients
½ oz. gin
½ oz. fresh lime juice
½ oz. maraschino liqueur
½ oz. yellow chartreuse
lime slice, to garnish
Directions
In a cocktail shaker with ice, combine the gin, lime juice, maraschino liqueur and chartreuse. Strain into a champagne coupe and garnish with a lime slice.
Make a large batch of this cocktail in a pitcher beforehand, to save time and so that guests can serve themselves. Set another pitcher aside for water flavored with lemon and cucumber—it's a tasty and refreshing drink, and cuts down on the use of water bottles! To avoid broken glass and additional cleanup, swap out glass champagne coupes for cute plastic ones from a home goods store. " —Kerri-Ann Sweeten, managing partner at Haven, Edgewater