Eat Your Veggies
...and enjoy them too with these scrumptious sides inspired by the diverse flavors of the Middle East.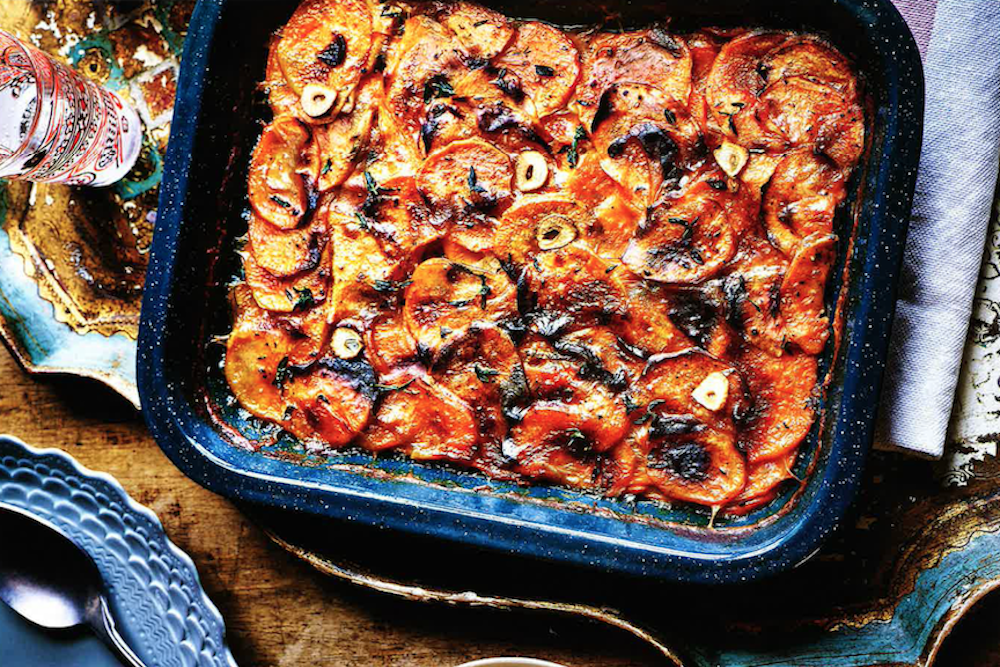 BAKED SWEET POTATO WITH COCONUT & THYME
Yields: 6 to 8 servings
INGREDIENTS
1 lb. 10 oz. sweet potatoes, peeled
2 fat garlic cloves, thinly sliced
4 to 5 sprigs of thyme, leaves picked and coarsely chopped, reserving some for garnish
14 oz. can full-fat coconut milk
Maldon sea salt flakes and freshly ground black pepper, to taste
DIRECTIONS
Preheat the oven to 425°F. Select a large baking pan or ovenproof dish about 10½ x 8 inches in size. Thinly slice the sweet potatoes using a mandoline slicer or a food processor with the slicing attachment set to a medium thickness. Alternatively, thinly slice them with a knife.
Use one-quarter of the sweet potatoes to create an overlapping layer in the bottom of the baking pan or dish.
Distribute one-third of the garlic and thyme over the potato layer and season generously with salt and pepper. Repeat this layering process, finishing with a layer of sweet potato slices. Pour the coconut milk evenly over the potatoes, then gently press down on the contents of the dish with a spatula to compress. Season with salt and pepper and sprinkle with the reserved thyme.
Bake for 20 minutes, then press down on the potato slices with the spatula to submerge them in the coconut milk. Return the dish to the oven and bake for another 20 to 25 minutes. Serve immediately.
"Substitute fresh cilantro for thyme in this recipe and sprinkle it over the sweet potatoes after taking them out of the oven. Coconut milk and cilantro are a classic combination, and it'll turn this into a Thai-inspired dish."
—Lisa Pattman, personal chef and caterer, Lisa Pattman Catering, Midland Park

TEMPURA SCALLIONS WITH HARISSA KETCHUP
Yields: 4 to 6 servings
INGREDIENTS
vegetable oil, for frying
12 scallions
FOR THE TEMPURA BATTER:
1 large egg
1 cup all-purpose flour
1 cup ice-cold water
ice cubes
FOR THE HARISSA KETCHUP:
½ cup tomato ketchu
2 Tbs. rose harissa
DIRECTIONS
Pour enough vegetable oil into a large, deep skillet or saucepan to fill to a depth of about 2 inches. Heat the oil over medium-high flame and bring to a frying temperature (add a tsp. of batter; if it sizzles immediately, the oil is hot enough). Line a plate with a double layer of paper towels.
To make the harissa ketchup, combine the ketchup and harissa in a bowl. Set aside.
Crack the egg into a large mixing bowl and add the flour, but do not mix together. Have your iced water ready (add ice cubes to help keep it cold, but make sure they don't end up in the batter).
When the oil is ready for frying, pour the iced water into the bowl with the egg and flour and, using chopsticks or the handle of a wooden spoon (not a whisk), mix the flour, egg and water together quickly, until most of the flour is dissolved. Ensure you don't overbeat the mixture. Dip the scallions, one at a time, into the batter to coat them well, then immediately (and carefully) transfer to the hot oil. Fry in batches for 2 to 4 minutes, until the batter is crisp (it won't turn brown). Using a slotted spoon or long-handled tongs, remove the scallions, shake off the excess oil and transfer to the prepared plate to drain. Sprinkle with salt flakes and serve immediately with the harissa ketchup.
"Scallions, a green onion, are an excellent source of vitamin K and a good source of vitamins C and A. You can enjoy this dish as an appetizer or as part of a balanced meal paired with a plant protein like soy, beans or legumes and a grain or starchy vegetable." —Fay Cesarano-Caputo, nutrition therapist, FCRD Nutrition, Ridgewood

BAKED CELERY ROOT & HARISSA
Yields: 6 to 8 servings
INGREDIENTS
1 lb. 10 oz. celery root, peeled
2 Tbs. honey
2 Tbs. good-quality vegetable stock powder
2 Tbs. harissa n approximately
2 cups boiling water
DIRECTIONS
Preheat the oven to 425°F. Select a round ovenproof dish approximately eight inches in diameter.
Slice the celery root into three equally thick disks, then cut each disk in half. Thinly slice each piece. Arrange the sliced celery root in the dish.
Put the honey, stock and harissa into a large measuring cup and add enough boiling water to bring the liquid level up to 14 oz. (1. cups). Stir well, then pour the mixture evenly over the celery root. Bake for 40 to 45 minutes, or until the celery root is cooked through. Halfway through the cooking time, use a spoon to baste the celery root and push it down into the sauce, then return the dish to the oven to finish cooking. Serve immediately.
"Celery root is a wonderful vegetable that is rich in antioxidants and nutrients, and harissa is the perfect foil to this vegetable with its robust flavors of garlic, caraway and coriander. For added flavor, sub in vegetable broth or stock for the powder." —Lisa Pattman, personal chef and caterer, Lisa Pattman Catering, Midland Park