Editor's Pick: May is Project Ladybug Month
Visit a participating salon May 1st through June 7th, make a donation of $10 to The Project Ladybug Fund, and receive a free red hair extension.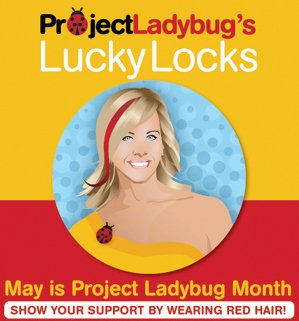 You've heard about Project Ladybug, Dina Manzo's charity, which has been enriching the lives of seriously ill pediatric patients and their families since 2007.
But did you know that May is Project Ladybug Month? Log onto luckylocks.org to donate $10 to Project Ladybug's Lucky Locks national campaign, and receive a red hair extension courtesy of SHE Hair Extensions by SO.CAP.USA. Then head to your local participating hair salon (through June 7) to have it applied. Proceeds will improve the quality of life for seriously ill pediatric patients.

Ladybug Month and The Lucky Locks Initiative will conclude on Monday, June 7th with the annual Ladies Night Out event at The Brownstone (351 West Broadway, Paterson). The 4th Annual Event will feature dinner, dancing, celebrity appearances and a spectacular "tricky tray." Tickets are available for $100 until May 14th and for $125 thereafter.
Follow the link for additional information or to purchase tickets. And please join us in supporting this great cause!