Emergency Care-Emergency?
Bergen's ambulance services aren't yet on life support, but an EMT shortage threatens to undermine patient care.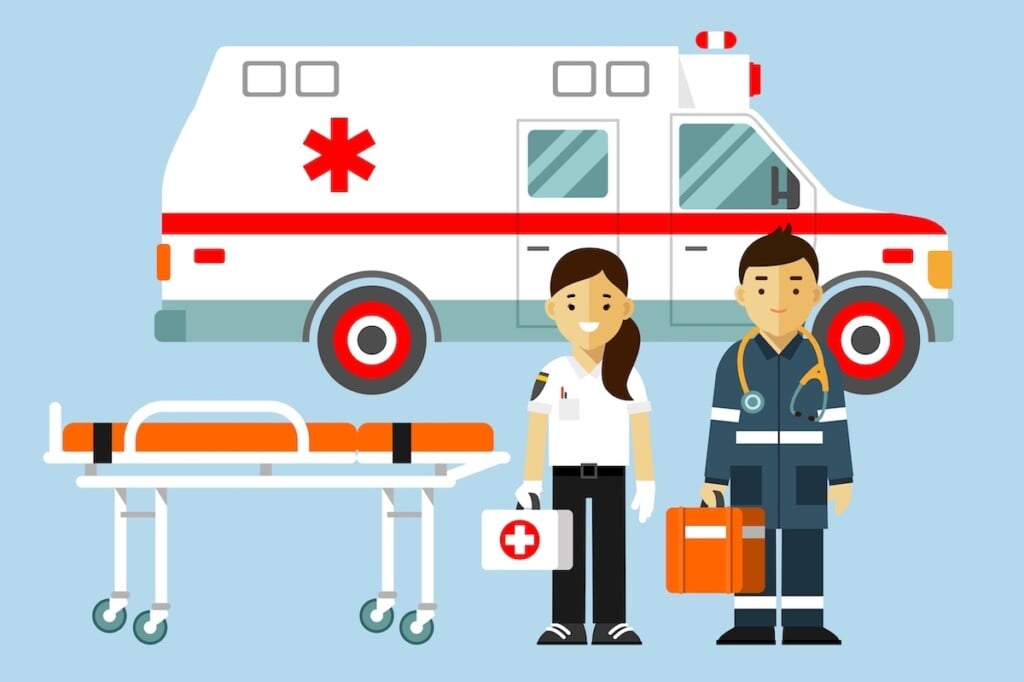 Imagine suffering or witnessing a critical medical emergency—a heart attack, say, or an overdose—then dialing 911 and waiting 45 minutes for an ambulance. That was happening all too often in Bergen County during the past decade, finally prompting the county executive's office, this year, to invest in a squad of four used ambulances to try to shorten response times. At the root of the problem is a shortage of EMTs, the emergency medical technicians who staff most ambulances. And that shortage means fewer ambulances and longer wait times for emergency medical assistance and transportation to hospital emergency departments.
There was a time, not too long ago, when virtually every Bergen municipality had its own volunteer ambulance service, but they're less prevalent today. Like so many other problems, that attrition was aggravated by the COVID-19 pandemic. "Emergency medical services stepped up to the demand of COVID, but when it was done, we literally just went right back to what we were doing—there was never any decompression, and as a result, the industry had a hard time bouncing back," says James Fox, director of emergency medical services at Teaneck's Holy Name Medical Center. COVID burnout dramatically thinned the ranks of EMTs, not just in the county but across the country.
But the problem was evident even before COVID. At least three Bergen towns disbanded their ambulance services—Bogota in 2016, Maywood in 2018 and Elmwood Park in 2019— and others merged their ambulance squads with those in neighboring towns. A decline in volunteers was imperiling local ambulance squads, as well as volunteer fire departments and a whole range of nonprofit organizations.
Explanations range from increasing demands at work to a lack of civics education in our schools. Yet "in general," says Milton Kohlmann, chief of Paramus Emergency Medical Services, "there's been difficulty finding both volunteers and paid EMTs for all emergency medical service agencies since COVID."
The county hopes its new squad will help. Its ambulances are staffed by 26 paid EMTs, four of them full time, the others hired on a per-diem basis. The county squad began responding to calls this Feb. 9, and there are plans to expand the service. "We are going to utilize some American Rescue Act funds," says County Executive Jim Tedesco, referring to the federal law providing financial assistance to address the pandemic's impact, "to purchase four more ambulances and the equipment to outfit them, and to start to prepare for a more global response from Bergen County to provide emergency medical services."
That should help ease the ambulance shortage, but it won't, by itself, solve the problem—at the heart of which, not surprisingly, is money. EMTs in New Jersey earn an annual salary between $36,000 and $45,000, while the average salary for all jobs in the state is nearly $58,000. To help bridge that gap, Governor Phil Murphy signed a law last year that would increase funding to local ambulance squads. And to potentially expand the number of volunteer EMTs, legislation was introduced in Trenton in 2020 that would grant those volunteers a $5,000 property-tax credit. Although the original bill was never passed, the legislation was reintroduced in 2022 and is still pending.
Meanwhile, the hospitals and the public and private emergency medical services that provide the county's ambulances struggle to keep what is one of our most vital public services running in a timely and efficient manner. To sustain that effort going forward, they're clearly going to need additional help. Says Holy Name's Fox: "It's just been a very arduous task keeping the service running, 24 hours a day, seven days a week."
The 411 on 911
What happens when you call 911 in a medical emergency? It's something most of us take for granted: If we need medical assistance, fast, a simple call to 911 should send an ambulance rushing to our aid. But surprisingly few of us have a complete understanding of how that lifesaving system actually works.
• Making the call. The 911 service should only be used in a genuine emergency—an especially important consideration when ambulances and EMTs are in short supply. According to Milton Kohlmann, chief of emergency medical services in Paramus, "People should generally call 911 for an ambulance for serious injuries and medical emergencies. Examples would include, but not be limited to, an injury from a fall or a motor vehicle accident, chest pain, difficulty breathing, stroke symptoms, cardiac arrest, allergic reactions, altered mental status, burns, diabetic emergencies, overdoses and seizures."
If you suspect that your condition, or someone else's, might be serious, though, it's better to call 911 first than waste time weighing your options. "It's always safer, because what you may think is nothing could be something very critical," says James Fox, EMS director at Teaneck's Holy Name Medical Center. "Our ability to assess in an emergency is very valuable." You could drive yourself to the hospital (or have someone drive you), but that's likely to delay care. Ambulances carry basic lifesaving equipment such as defibrillators, oxygen, tourniquets, epinephrine (for anaphylaxis) and Narcan (for opiate overdoses) and are staffed by professionals, so that medical treatment can begin as soon as the ambulance arrives on the scene.
• Responding to the call. In Bergen County, a call to 911 will put you in communication with either your local police department or the Bergen County Public Safety Operations Center, a 911 call center that contracts with 21 of the county's municipalities and serves as a backup to other municipalities when a police dispatcher can't take the call. In either case, a trained dispatcher will ask you a series of questions to determine whether you need an ambulance.
• Dispatching the ambulance. Any municipality with an ambulance squad will dispatch one of its own ambulances first, unless none are available. If, in addition to its own squad, the town has a contract with a private ambulance company, it will likely turn to that private service when its own ambulances are out on calls. If a private ambulance isn't available, the dispatcher will contact a central communications center—for instance, Bergen County's MICCOM (mobile intensive care communications), a consortium of private, volunteer and hospital ambulance squads, including the new county squad.
In addition to the basic life support (BLS) equipment that all ambulances carry, most hospital squads include ambulances that can provide advanced life support (ALS). (An ambulance equipped for ALS is also known as a mobile intensive care unit, a MICU.) These higher-level ambulances are manned by paramedics who've gone through a more stringent training program than EMTs, and, says Fox, they carry "everything short of surgical in terms of critical care."
• Billing for services. Many patients are surprised to receive a bill for ambulance services. Whether or not you're billed depends on which squad sent its ambulance to you and what services you received en route to the hospital. Also, "it literally varies from town to town," says Fox. You're not likely to be billed, for instance, if you were transported in a town's own ambulance manned by an all-volunteer squad, but you'll probably receive a bill if you were taken to the hospital by a private ambulance service. If the ambulance you were in originated from a hospital, you may or may not be billed depending on whether your town has an agreement with the hospital. If it does, you'll either be billed nothing or charged a portion of the fee, depending on the nature of the agreement. If the dispatcher deemed the emergency sufficiently serious to require paramedics instead of EMTs, you'll almost certainly receive a bill for the paramedics' services. You may also be billed if you're treated by EMTs but not transported to a hospital.
Potential cost is secondary, of course, when it's a matter of saving a life, and that worry shouldn't deter quick action. But it is a fact that the billing system is mind-bogglingly convoluted. Help may be in the offing. In 2022, Congress passed the so-called No Surprises Act, which protects patients from receiving surprise medical bills.
One surprise that wasn't covered by the initial act was a bill for ground ambulance transport (as opposed to air transport). Last year, though, the federal government established an advisory committee "for the purpose of reviewing options to improve the disclosure of charges and fees for ground ambulance services, better inform consumers of insurance options for such services, and protect consumers from balance billing." Like the ambulances we depend on to get us care, stat, those improvements can't come too soon.