Emotional Rescue
When a family gives a home to a shelter dog, the question sometimes becomes: Just who saved whom?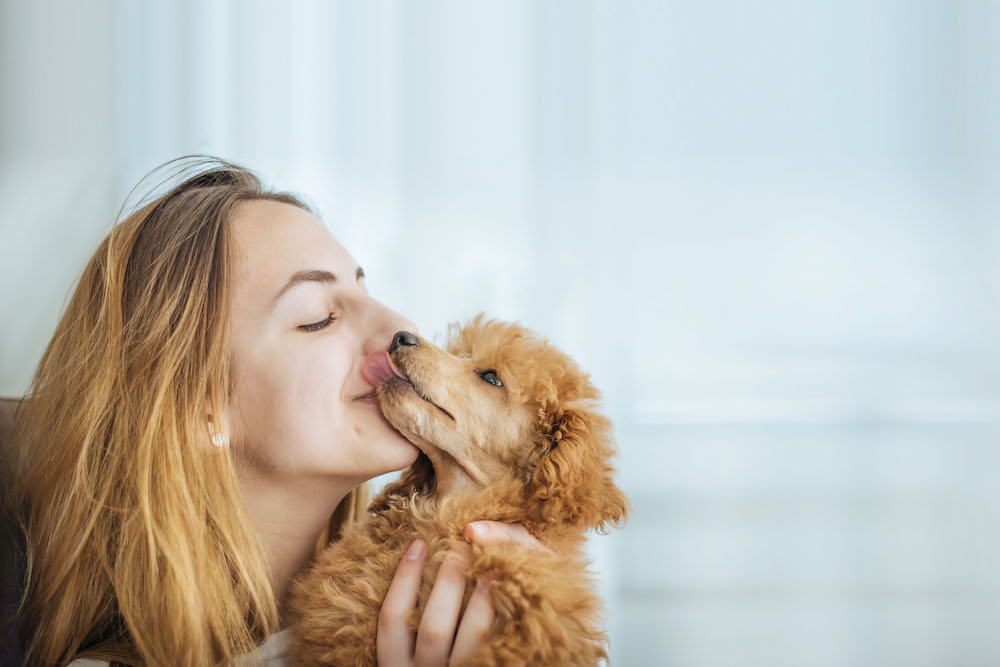 Dog owners choose their pets for many reasons—affection, protection, companionship. When the five Bergen families here opened their doors and their hearts to pets, they believed they were doing so to rescue dogs in need. But the love and energy these pooches bring their adoptive families make it clear that "rescuing" actually works both ways.

PARKER
Hometown: Moonachie
Owner: Nicole Cvelich
Age and breed: Approximately 1½-year-old Labrador retriever and golden retriever mix
Personality: Parker is a little dog in a big dog's body. He's a large lap dog at heart.
Favorite pastimes: This precious pup is happiest when he is eating, and he's never met a food he didn't love. He's also frequently found snuggling up to anyone close by and palling around with his canine sibling, Simba, a bossy Pomeranian. Parker, who has his own Instagram profile, also enjoys mugging for the camera.
How Parker found his family: Cvelich and her boyfriend were looking to adopt another pup. She had her heart set on a husky but her boyfriend wanted a Lab. Cvelich decided to do some research on Labradors and came across Parker. He was found next to a dumpster in Texas and brought to New Jersey by a local Bergen County shelter. Says his owner: "I knew he would fit right in with our wacky family, which includes a Pomeranian and a cat."
How Parker makes a difference: Cvelich adopted Parker in February 2018. A month later she received the happy news that she was pregnant. But in June, Cvelich suffered a miscarriage. She says she has no idea how she would have made it through that difficult time without Parker. "I was home for a couple of weeks after the miscarriage and I spent all day with Parker," she says. "He was so loving and such a great distraction. Parker got me out of bed, and I focused on feeding, walking and playing with him. He was the best thing for me, and when I was pregnant again with my now 1-month-old baby, Parker was by my side, resting his head on my belly."

WILLY
Hometown: Rochelle Park Owners: Evans and Susan Lazzaro and their daughter Teresa (age 11)( Age and breed: Approximately 1.-year-old dachshund, Staffordshire bull terrier and Chihuahua mix
Personality: Willy is endlessly loving and extremely friendly to all people and dogs he meets. He is best described as happy-go-lucky and has tons of energy.
Favorite pastimes: He loves going on walks, staring out the window at his "domain," chewing on bones and toys and running around with the neighbors' dogs.
How Willy found his family: After researching and discussing many different breeds, the Lazzaros found no clear choice. They thought of going to a shelter but didn't know which one to approach. That's when Evans' darts team, the Knights of Columbus Council #2842, made a donation to Pawsitively Furever Dog Rescue in Hackensack, and the family learned of an adoption event. Susan, Evans' wife, had a feeling that if they went to the event, they would fall in love—and that's exactly what happened.
How Willy makes a difference: Over the years, Evans and Susan had lost pets to illness or old age, and they didn't know if they ever wanted to experience that sorrow again. When their daughter Teresa begged them for a dog, the couple made excuses and said they were too busy to care for one. But when Teresa's stepbrothers' dog passed away in April 2018, the couple knew it was time. "Willy has shown us that the memories we are making with him are worth the potential loss down the road," says Susan. "Every single day he wakes us up with his silly antics and genuine love. We know that having a pet was the way to make our family whole. He makes us slow down a bit in our very busy lives and take time for what matters— the ones we love."

BARLEY
Hometown: Garfield
Owner: Harry Peck
Age and breed: 2-year-old mutt. While his pedigree is a mystery, Barley's owner suspects he is a terrier mix.
Personality: Barley is a happy, very active, loyal guy who spreads love to everyone. He is a fast learner and always wants to please his people.
Favorite pastimes: Barley loves to help his owner brew beer (hence his name). Peck plans to open Xbeerimental Brewing Co. soon, and Barley is the official "brew dog" and constant brewer's companion.
How Barley found his family: Peck's parents adopted a dog in need, and Peck found that pup to be "grateful and wise." "It is as if he knows he was rescued," Peck says. With so many other dogs in need of a home, Peck knew he would go the same route to find his own four-legged buddy. A family friend connected Peck with the Humane Society of Bergen County. Peck was sent a picture of Barley, and when he finally met the dog, he was instantly taken with his personality, energy and quirkiness.
How Barley makes a difference: "No matter what happened during the day and regardless of my mood, when I come home he puts a smile on my face," Peck says.

SCOOTER
Hometown: River Edge Owner: Amy O'Leary
Age and breed: 1-year-old Jack Russell terrier mix
Personality: Scooter is hyper but playful by day and very loving and snuggly by night. This pup was easy to train, and he loves everyone he meets.
Favorite pastimes: Scooter likes to make new friends, whether of the two- or four-legged variety. He also is always down to play a game of fetch with his favorite ball.
How Scooter found his family: O'Leary was browsing the Pawsitively Furever Dog Rescue site and spotted Scooter. The 4-month-old mutt was picked up by the organization after the founders saw him on a "free dog" post on Facebook. Scooter was scheduled to be at an adoption event O'Leary was unable to attend. She was sure someone would scoop up the adorable pup, but to her surprise, Scooter was still listed on the site as available after the event. O'Leary knew it was meant to be.
How Scooter makes a difference: O'Leary is the mom of two young boys, but didn't feel her family was quite complete. "Scooter is my other baby," she says. "I just melt when he looks at me. He knows I'm his mom."

ELVIS
Hometown: Wood-Ridge
Owners: Kelli and Thomas Miller and their two children, Austin (age 4) and Julianna (age 1)
Age and breed: 10-year-old beagle mix
Personality: Elvis is a very laid-back, easygoing dog. The Yonkers, N.Y., shelter where the Millers adopted Elvis called him "Moo" because of his black and white coloring. However, this rock star prefers the moniker the Millers gave him.
Favorite pastimes: Elvis loves to chase birds and likes it when his humans pet him, especially on the belly. When he isn't going on long walks or running around his backyard with Austin, Elvis can be found relaxing on the couch.
How Elvis found his family: Sadly, Moo/Elvis was abandoned in an apartment and sent to a shelter where the Millers found him. "We decided to rescue a dog because there are so many dogs out there that need a loving home, which we knew we could provide for him."
How Elvis makes a difference: This sweet doggie prepared the Millers for parenthood. "Elvis was our first baby and is now a big brother to our human babies," Kelli says. "Our kids love Elvis as much as we do. Austin nicknamed him "E" and says he's his doggy. Elvis is part of our family and we can't imagine our life without him."