Enjoy Kimchi—And Korean Delicacies—At These Bergen Locales
With a large Korean-American population, Bergen is home to an abundance of restaurants and grocers inspired by the Asian country.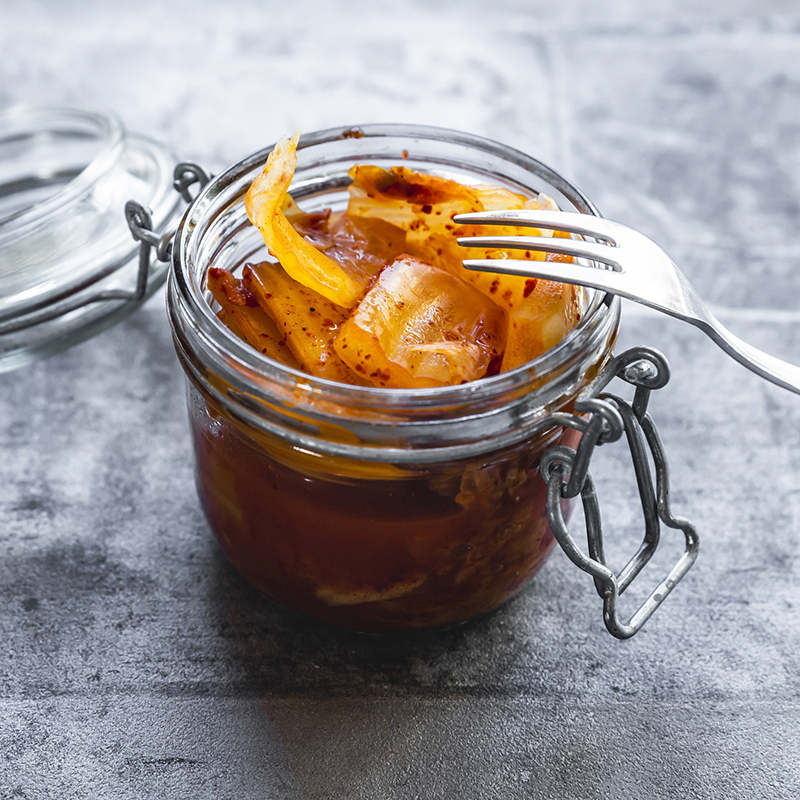 It's no secret that Bergen County is one of the most diverse areas in the state. But did you know that more than 60,000 residents are of Korean descent, and towns like Palisades Park and Fort Lee have some of the highest Korean-American population densities in the U.S.? In fact, other than English and Spanish, Korean is the most common language spoken here. With stats like these, it seems only natural that Bergenites join the rest of the country in commemorating Korean American Day on Jan. 13.
One of the easiest ways (and perhaps our favorite) to celebrate Korean American Day in Bergen County is through food. You can't mention Korean cuisine without talking about kimchi, the country's culinary staple that many consider the cream of the crop of fermented vegetables. There's been push to officially declare Nov. 22 as Kimchi Day, but the probiotic- and antioxidant-rich dish is popular this time of year as people search for healthful foods to incorporate into their new diets. In Bergen, you can find jars of fresh kimchi—and so many other delectable foods, Asian produce and more—at one of the many Korean or Asian grocery stores in the county. Here are three worth visiting:
Anna's Market, Closter. Hungry diners come for the restaurant, but many shoppers enjoy the offerings in the grocery section too. A variety of freshly made kimchi as well as meat, seafood, produce and canned goods are available.
*136 Oakland Ave., Closter, 201.767.0800
H-Mart, Fort Lee, Leonia, Little Ferry, Paramus, Ridgefield. Fresh kimchi is just one of the many Korean staples you'll find at this popular Asian grocery chain. If you're not into cooking at home, fix yourself a dish at the hot food counter.
*112 Linwood Plaza, Fort Lee, 201.947.7800; 315 Broad Ave., Leonia, 201.720.7005; 260 Bergen Tpke., Little Ferry, 201.426.2060; 60 Rte. 17 N., Paramus, 201.708.2820; 321 Broad Ave., Ridgefield, 201.943.9600
Woo-Ri Mart, Northvale. An aisle just outside of the produce section in this neighborhood market is dedicated to kimchi, but you'll also find plenty of Korean fried chicken, baked goods, meats and seafood here.
*206 Pegasus Ave., Northvale, 201.750.1203
Rather make a night out of Korean American Day? You and a few friends can reserve a grill-top dining table at a traditional Korean barbecue restaurant, where fine cuts of meats are seared right in front of you. (Ask staff to grill for you or do it yourself!) The meals include an assortment of side dishes (known as banchan) that can include rice, fish, egg rolls, fresh veggie salads and, of course, kimchi. We've tried the following four restaurants and can't wait to go back!
Dong Bang Grill, Fort Lee. There will be no elbows on the table here as a seemingly endless number of plates will be delivered to you and your party.
*1616 Palisade Ave., Fort Lee, 201.242.4485
Golmok, Palisades Park. You can't go wrong dining at any eatery in this borough's Koreatown, but many Bergenites flock to this eatery that specializes in Korean comforts. Choose from a selection of marinated meats—but don't forget to try their kimchi pancakes and spicy grilled octopus.
*314 Commercial Ave., Palisades Park, 201.461.5042
Seoul Galbi, Paramus. Can't decide between bulgogi and prime rib? You can order both (as well as many other combinations) from their barbecue menu. If grilling meats isn't your thing, seafood, steak and pork entrées also await.
*123 Paramus Rd., Paramus, 201.843.8885
So Good, Closter. This hip restaurant has tasty apps like japchae (glass noodles with veggies) and stir-fried entrées, but don't fill up without diving into their bulgogi and galbi!
*190 Closter Dock Rd., Closter, 201.750.5190