Etched In Stone
After a stunning makeover with a firepit, a grilling area and a bar, a Paramus patio rocks.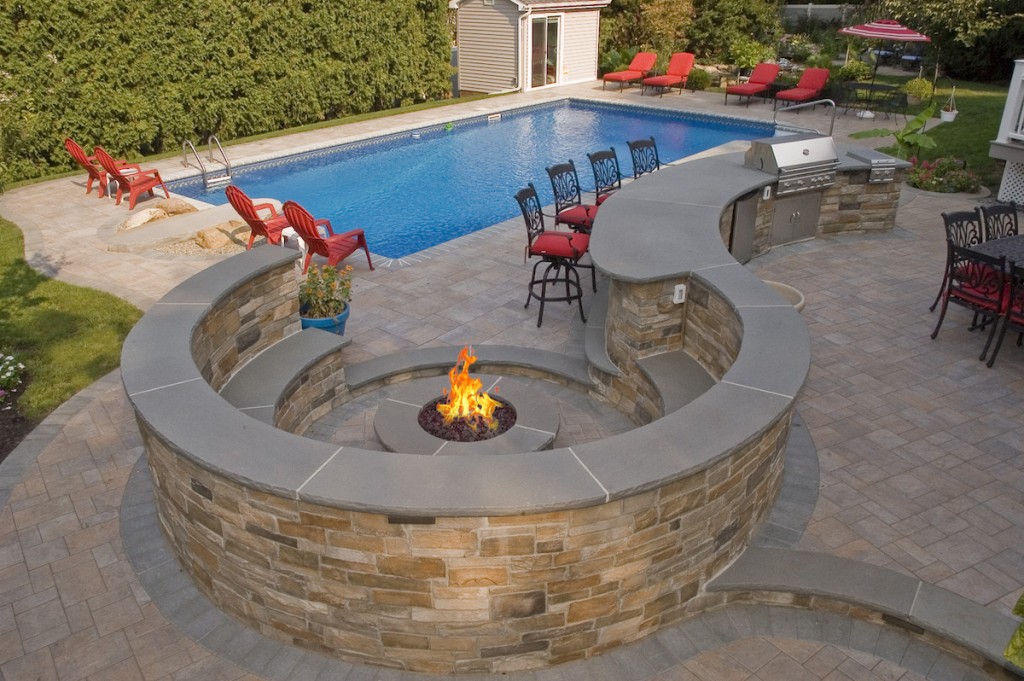 A backyard with an ordinary concrete patio and a pool was just fine for a pair of Paramus empty-nesters, but why settle for fine when you can have fantastic? They hired Richard Andreu of Exclusive Stoneworks in Lyndhurst to give them the outdoor living space they had always envisioned, one that was perfect for mingling and entertaining.
"They wanted to have everything encapsulated into one structure," Andreu says, "so you could be sitting around the firepit but interacting with people at the bar and with people cooking." So Andreu got to work on the conceptual design aspect of the project, and figured out a way to give his clients a built-in firepit, a grilling area and a four-seater bar that would all flow into each other seamlessly. The structure itself is made
of cultured stone veneer, a man-made product designed to resemble natural stone, and the countertop is two-inch bluestone that the team fabricated on-site. "We bought raw slabs of stones and hand-chiseled the edges," he says.
The Exclusive Stoneworks team also made from scratch a diving board—aka a "dive rock"—to give the existing pool parallel to the entertaining area some character. "It was definitely the most challenging feature that we had to build; matching all the radiuses and keep- ing within the setback of the pool and the side yard," the designer says. "I hadn't done something like that before, and it's definitely my favorite feature."
Though a lot of work went into the design and execution of this two-month-long project, maintaining these hardscapes will be a walk in the park for the homeowners. "I don't want to say it's maintenance-free, but it's minimal," the pro says. "Just wash down the pavers and the stone."
An essential feature of this design is the firepit, which Andreu says is a must-have when upgrading or reconfiguring one's outdoor space. "A firepit sets the mood if you go out there at nighttime," he says. "If you have a gas firepit, you won't ever want to leave."
By Haley Longman
Design by Richard Andreu