Faces of St. Peter's: David E. Jacob, M.D.
Meet the chief of cardiology at St. Peter's Hospital.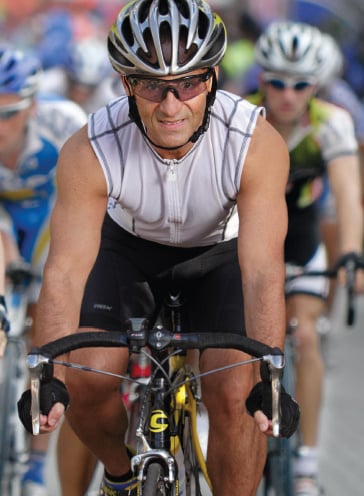 The chief of cardiology at Saint Peter's University Hospital practices what he preaches. An avid long-distance runner and triathlete, David E. Jacob, M.D., has combined exercise with prudent eating to achieve a 55-pound weight loss—and become a great example for his patients who want to lead healthier lives. The Highland Park native, 53, followed an internal medicine residency at Saint Peter's with a cardiology fellowship at Deborah Heart and Lung Center in Browns Mills, where he specialized in echocardiography and nuclear medicine. He and his wife, Evy, who runs a custom stationery company, live in Highland Park and have two children, Samantha, 22, and Max, 20.
What motivated you to lose so much weight?
I went to a Saint Peter's University Hospital health fair and had my blood pressure tested. It was very high, which was embarrassing to me. I had gotten up to 205 pounds, and I decided then and there to change my lifestyle. That was eight years ago.
What changes did you make?
I decided to eat 50 percent of what I used to eat and cut out salt and fats. I'd always been a very good athlete as a kid, but at first I could only run two laps at the high school track. As I lost weight, I could exercise more. Now exercise is a big part of my life. I do half-marathons, and I did the New York City triathlon in August.
Has it improved your health?
For sure. My blood pressure is normal now, with no medication. Do you tell your patients about your experience? I use my story just about every day to give my patients confidence that they can do it too. I have a "before" picture in my office and sometimes pull it out to show that I am now the "after." They are amazed. I've become recognized in my town. People see me walking home from work every day and exercising, and they know what I have done. I enjoy that persona. It gives me a lot of pride and satisfaction.