Faces On The Frontlines
Four nurses tell what it's like to work in a hospital during the COVID-19 pandemic.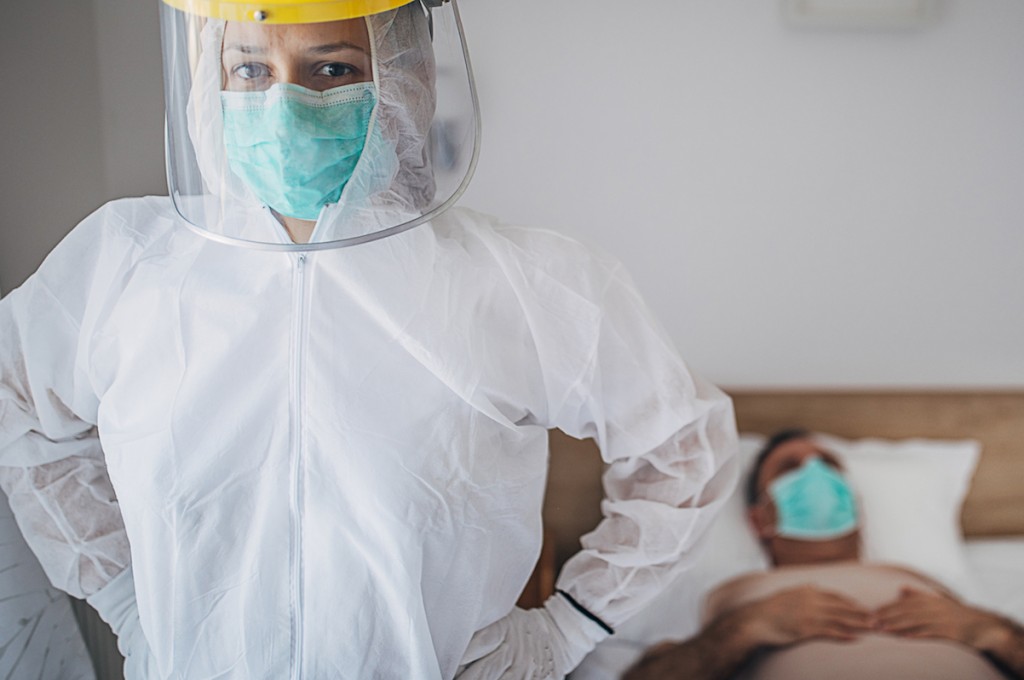 Many of us, including the BERGEN staff, are working from home these days because of the COVID-19 pandemic. But not everyone has that luxury. Still trooping off to workplaces daily are employees of "essential businesses" such as grocery stores and package delivery services. Most critically, many of Bergen County's healthcare workers have been reporting for onsite duty for at least their normal hours—sometimes many more. Battling to save the lives of an influx of patients, they inevitably put their own lives at some degree of risk. BERGEN interviewed four nurses who are on the front lines of the coronavirus pandemic, each working in a different department at one of our local hospitals. We wanted to find out not just what they're doing, but also how they're coping. Here's what they had to say:
Geraldine Bowe, A.P.N. Nurse practitioner, Critical Care Holy Name Medical Center, Teaneck
BERGEN: How has your job in the intensive care unit changed since the pandemic began?
Bowe: "Before COVID, I was stationed in the 19-bed mixed ICU. As a nurse practitioner, my role is to assess patients, write orders, put in central lines and intubate, all in collaboration with our critical care doctors. Now it's basically the same role other than that NPs don't intubate; the anesthesiologists are intubating because they have special isolation gear. But now it's also just a constant flow of patients—now we could be managing more than 30 patients per nurse practitioner in collaboration with the critical care doctors. And we are constantly moving patients to and from other units. Obviously, there are more patients with COVID than our unit can handle, so we sometimes have to assess them in the ER as well. Other critical care patients are now housed in the PACU [post-anesthesia care unit]."
What time is your shift?
"I work four days a week, 10 a.m. to 8 p.m., but during this crisis I've come in an extra day or come in later or earlier."
What's an average day like now?
"We come in, speak with the critical care doctors, decide who's going to see which patient, get a quick rundown on what went down overnight and then proceed to see the patients in the ICU. We typically have two different groups of three to four critical care doctors, but right now they're all coming in in the morning and splitting up: one to the ER, one to the floors, one to the ICU. I stay in the ICU, do rounds on everybody, write orders, keep up with changes, put lines in patients. Usually the doctor sees the patient, so my role is to follow up. It's ongoing follow-up with repeat labs to see how patients are doing, and calls to the families if needed."
Right, because visitation has been suspended during the pandemic. How has that changed things?
"Somebody takes on the role of making the calls. Sometimes doctors call the families of their patients, and after that I provide updates if there are any changes."
Set the scene for us visually. Is the hospital completely overcrowded?
"There are critical patients everywhere. We have patients hanging out in the PACU, and the patients who are crashing [deteriorating rapidly] on the regular floors have to be moved to the ICU or the ER. I've been in this ICU 30 years and I've seen a lot, but I have never ever gone home scared to death like I go home now. It's very frightening. I go home now and try not to have a panic attack. You're seeing young people come in doing fine for a couple days and then suddenly they're literally crashing. You're not seeing a lot of patients do really well. The younger ones are the sicker ones. Our very first three COVID patients were all young patients with no history; they were obese, but with no real medical history. It's mind-boggling why the young are getting so sick."
You sound OK on the phone, though—like you're keeping it all together.
"I'm fine at work. I'm totally fine. It's when I go home. I think the fact that I live alone and don't have anyone to talk to when I go home [makes it worse]. You start thinking about what you saw all day and, like, it could be me tomorrow. In our department nobody has been diagnosed, but throughout the hospital we've had a couple of cases. When you see that there's an employee with COVID-19 it makes it real. None of us is immune to this. I think if I didn't have my two little cats I wouldn't be able to turn things off. I go home and my one cat jumps on my lap and de-stresses me."
Do you have any family here for moral support?
"I'm from Ireland. My mom and dad have passed, but I have two sisters and one is a nurse's aide in Ireland. They have their own situation with COVID there, so we worry about each other. We try to check on each other on the phone but there is a five-hour time difference so I usually only talk to her on my days off. But my colleagues and I support each other; we take time to just talk and ask "How are you doing?" and "Are you OK?" It's a camaraderie supporting each other. That helps."
We know area hospitals have limited supplies of masks and safety gear for staff. How has this affected Holy Name?
"Luckily, the hospital has been good in getting us supplies and making sure we are protected, but we're trying to do our best to help out. We all carry what we call a 'doggy bag' pinned onto us and reuse the mask and one pair of goggles throughout the day and discard them at the end of the day. We clean them with bleach and wash them in between patients. It's making the best of what we have."
What do you wear during your shift?
"We are given scrubs that we take off at night and discard here at the hospital. We wear an isolation gown over that, as well as masks, gloves, a hat, booties and face shields. We only have a couple of shields each so we're pretty diligent about bleaching them in between patients and keeping them clean. We don't have the whole hazmat gear; those are reserved for the anesthesiologists when they're intubating."
Do you get a break for lunch?
"It is nonstop, but we run back to the break room whenever we have five, 10 minutes to take a bite in between patients. We spread out our breaks so that there are always enough people with patients."
What do you want Bergen County residents to know during this scary time?
"The public needs to understand the importance of social distancing and staying inside. Sometimes young people think they're safe, but we're seeing a lot of young patients with COVID-19. Just stay inside and do all the things you're being told to do; wash your hands, don't hang out in big groups."
Shada Ricafort, R.N. Administrative Supervisor, Emergency Trauma Center Hackensack University Medical Center, Hackensack
BERGEN: How has your role in the hospital changed since the pandemic began?
Ricafort: "I supervise the daily operations of the Emergency Trauma Center (ETC) and ensure that our team has the resources necessary to provide the quality of care that is expected of Hackensack University Medical Center. I provide administrative or clinical support to our physicians. If a nurse is needed to fill a critical role, we fill that position to support the needs of the department, but I have remained in the ETC during the pandemic."
How long have you been a nurse, and how long have you worked at Hackensack?
"I've been a nurse for 13 years, and I have been working in Hackensack's ETC for more than eight."
What are the biggest changes HUMC has made in the past few weeks in response to COVID-19?
"We now place masks on 100 percent of our patients in the ETC. We have instituted a rapid assessment process to quickly triage, evaluate and treat our patients presenting with symptoms of COVID-19. And the organization has deployed nurses to different areas of the hospital to support the COVID-19 units. We have also added more designated multiple patient care units as COVID units to meet the increased volume of these patients."
When a patient tests positive, how does HUMC handle his/her treatment?
"Once a patient presents with symptoms related to COVID-19, we immediately place that patient in isolation. Team members must put on proper personal protective equipment (PPE) to enter the isolation rooms. We plan the patients' care and anticipate their needs prior to entering the room so that we can perform our tasks efficiently [once we're in the room]."
How is your hospital handling the limited supply of PPE?
"We have team huddles multiple times a day where we discuss the importance of conserving our resources. We ensure that we follow instructions provided by the infection control team on proper usage of the appropriate PPE for every type of setting. Our PPEs are located in a locked cart in the nurses' station, and we store the rest in the ETC administrative office."
What is another one of the biggest challenges you're facing?
"Ensuring that we have adequate resources for the influx of patients, whether it is appropriate staffing, sufficient PPE and equipment or even sufficient rooms to isolate COVID-19 patients."
Can you describe the range of emotions you feel in any given day?
"I am first and foremost proud to be working on the front lines alongside some of the most dedicated, skilled and passionate healthcare workers in the field. But mostly I feel worry. I worry for our patients who come in very sick, many of them requiring critical care shortly after arriving at our ER. I feel sad for their families who cannot be with them through this scary and isolating experience. I worry about how much worse it will get and how we can meet the demands of the pandemic when our resources are already spread thin as it is. I worry about my coworkers, some of whom have become ill themselves. They are truly heroes. Even when they are sick, all they can think about is how soon they can come back so they can continue fighting beside us."
Are you taking any precautions when you get home to ensure that people you live with aren't at risk?
"Upon arriving home—I live in Bogota with my mom and my shih tzu, Elvis—I make sure to remove my shoes and leave them outside the house. I then go directly to the laundry room and wash my clothes immediately. Then I'm off to take a shower. I have avoided hugging or kissing my family, and I make sure that I always keep a safe distance from them. My mom and I make it a point to be in different rooms in the house as much as possible. Most importantly, we are constantly washing our hands!"
How are you balancing your work life with your personal life right now?
"In the days prior to the pandemic, I would continue to work even on my days off. Now I make it a point to take advantage of my days off. I find that doing chores around the house helps take my mind off the stress related to work. My house has never been so organized! I also stay connected with friends and family by phone and FaceTime."
What else should readers know about healthcare workers in the time of COVID-19?
"Healthcare workers are no different from everybody else; they have the same concerns and fear. What sets them apart is the sense of duty that they have to the community. This is what gets them out of bed to put on their scrubs and head out the door, ready to care for the patients who need them the most. They voluntarily leave their homes and families to take care of others. They work in the most stressful and challenging environments, but they keep coming back every day with a smile on their face, ready to do it all over again."
Kathy Kaminsky, R.N. Senior Vice President, Patient Care Services; Chief Nursing Officer Englewood Health, Englewood
BERGEN: How long have you been a nurse, and how long have you worked at Englewood?
Kaminsky: "I was born at Englewood Hospital, as were my mother and my daughter, so it's a long history. I grew up in Englewood, and I started here as a unit secretary in 1985 while I was obtaining my bachelor's degree in nursing at William Paterson. I've worked my way up over the course of 35 years."
What's an average day at work like right now?
"From the management perspective, we start with seeing the activity in the hospital. Then we have calls with our leadership team, addressing things like staffing concerns, making sure operationally we have the supplies needed, collaborating with other team members, making rounds and getting out to a couple of units each day to talk to the staff and ask how they and their families are doing."
What big changes has Englewood made internally in response to the pandemic?
"We have been meeting since January to respond to this COVID-19 situation. We have redeployed staff from units that have had procedures and surgeries [rescheduled] to educate them to take care of patients on inpatient units. Our staff is stepping up and learning new skills. I am rounding each day and checking in on the staff and making sure they're trained and well-protected. The No. 1 priority is the safety of the staff."
Where are most of your critical patients stationed right now?
"These folks are in our critical care unit, and we've expanded the number of beds in the critical care unit to meet the need. We also have specific clinical multidisciplinary teams and, as I said, staff members who are receiving critical care training."
Once a patient tests positive, how is the hospital handling his/her treatment?
"First, not every patient who [tests] positive winds up in the hospital. We have a lot of people who are showing symptoms who come in through the ER or through our practices. Once they have symptoms we treat them as though they're positive. We provide them with a mask and they are given private rooms. We also educate the folks who are recovering from COVID-19 on self-quarantine for themselves and their family."
Do you work a typical nurse's shift?
"I'm in management, so I work from probably before 8 a.m. until 6 or 7 at night, depending on the day. Sometimes I could be working 16 hours a day. Hospitals are 365, 24/7."
How is your hospital handling the limited supply of PPE?
"It's a fluid situation. We're looking to conserve supplies. We have donations, we have our purchasing team working on things, and we're working with the other Bergen County hospitals. We have a daily call with the other hospitals; if Valley needs something, we're going to loan it to them and vice versa. We're also working with the New Jersey Hospital Association and the Department of Health. We're holding our own right now."
Can you talk about the range of emotions you feel in any given day?
"One thing is that our staff are lighting the way for the community. They certainly are heroes. On a daily basis folks are anxious, but at the same time they've stepped it up in unimaginable ways. I can tell you that I have a dear friend who I've known since childhood who was one of the early cases that was diagnosed with COVID-19, so I've been talking with him, supporting him. His daughter subsequently was ill too, but they're both recovering and doing well, so there are definitely positive stories. We want people to know that there are a lot of folks that are recovering. When you're on that front line, it's hard to see that. I think that's an important message for our team."
How are you keeping your team sane and motivated during this time?
"That's a great question. We've been talking about how this is a marathon; it's not a sprint. We all need to take care of ourselves physically and emotionally, so our integrative medicine team has been offering meditation, diet and overall mental health support. We're letting our team members have one-on-one emotional conversations with members of our behavioral health staff."
Since visitors are restricted, who in the hospital is in charge of communicating with the patients' families?
"We developed a patient advocacy program very early on with our first patient, and we have a team member call the patients daily; they work to meet their individual needs. They make sure they can FaceTime or connect with their family members. Maybe they have certain cultural dietary needs or want magazines, books, things to occupy their time. We also have folks calling someone who was seen in the Emergency Department and tested positive, as well as clinical providers."
Speaking of families, how are you balancing your work life with your personal life right now?
"It's harder than usual. There's a lot going on, and I'm working later in the evening on certain days, but we do what we have to do to take care. I have a daughter who's homeschooling and a husband who's working remotely, so we're adapting to this new normal. Well, new normal for now. It's certainly challenging. These are unprecedented times that none of us have ever faced, but everybody is rising to do the best that we can and to adapt and look out for each other. I try to find the bright spot in every day."
What are some bright spots?
"Getting to meet with the staff, hearing how they're doing, seeing discharges and knowing people are going home. And of course, seeing my family."
Nancy Barrett-Fajardo, R.N. Director, Medical-Surgical Services The Valley Hospital, Ridgewood
BERGEN: How long have you been a nurse, and for how long at Valley?
Barrett-Fajardo: "I've been a nurse for 28 years, and I've been at Valley for 10."
How has your role changed amid the COVID-19 pandemic?
"I'm still director. I am guiding the staff in another pop-up unit [for critical patients], but essentially my role has stayed the same."
Have your shifts stayed the same too?
"I typically work five eight-hour shifts, Monday through Friday, but now I'm doing 10-hour days—I partner with another director and we cover the weekend. So, we're shifting it so we're there for the front line staff."
What changes has Valley made in the past few weeks in response to COVID-19?
"We opened a new unit and put all the positive COVID patients there. We also created an area where the nurses were trained to bring the family members in if they needed to say goodbye to patients if they were going to pass away. We've cross-trained a ton of our staff—such as our OR nurses, our perioperative nurses and the ones whose areas aren't in full operation—and reallocated them to help the frontline staff and to treat patients at the bedside. I have to say our staff has been amazing. They've stepped up and picked up that extra shift and volunteered to rotate to different shifts that they don't normally work to give us more support in the off hours."
How is your hospital handling the limited supply of PPE?
"Our infection prevention director works closely with us and gives us guidance. She told us that we can wear our personal protective equipment (PPE) up to five times, or eight hours if we're with one patient for that long. That's our standard. The nurses are wearing surgical masks when they're not in with COVID patients, and N95 masks when they are. A lot of community donations have really helped us maintain our supplies, but we're being extremely frugal. We're doing close checks and balances."
What is another one of your biggest challenges?
"Probably staffing. With changing [clothes] and putting on the PPE and how acute these patients are, we really want a better staffing ratio in nursing. Well, that and the PPE. We're nowhere near hitting the peak, so we need to make sure we still have the supplies we need."
Can you talk about the range of emotions you feel in any given day?
"It's hard. You're having difficult conversations with patients, and families can't be there. We've always been very patient- and family-centric, so now all of a sudden the families aren't here and we're giving them information about their loved ones on the phone. It's challenging. But what I've seen that is amazing is the dedication and camaraderie of the staff. It's been humbling to watch how nurses, patient care assistants, environmental services workers, respiratory specialists and others have come together to help us through this horrible ordeal."
How do you keep your team motivated during such a difficult time?
"One thing we started doing we saw Lenox Hill Hospital do, and it's called the Hope Huddle [a quick meeting between arriving and departing nurses at shift changes to assure a smooth transition of care for all patients]. We're adding positive affirmations and feedback to the staff and giving them positive messaging at the beginning of shifts to boost morale and encourage them. For example: 'Hey, six patients got discharged!' They're scared because they're here and their family members are home. We're trying to keep it positive and upbeat and address their needs. There has also been a lot of pastoral care on the floors supporting the teams too."
How is Valley helping out the other hospitals in Bergen County, and vice versa?
"Our vice president is on calls with the other hospitals. We are working very closely together to see what they have, what we have and how we can work together—and providing feedback on what's been working. We've borrowed ventilators from each other and have been trying to reallocate resources when we can."
Is it harder than usual now to balance your work life with your personal life?
"It is. At home I find myself checking emails and jumping on the computer just to tie up stuff I couldn't get done because I was up on the floor trying to facilitate something. But I also watch TV, exercise in my room and just try to decompress as much as possible. As a director it's more challenging because I have that 24/7 responsibility."
What else is important for Bergen County residents to know?
"I want people to understand that we're in this for a bit now. And people don't understand that you really can't get together in groups of five or six because you just never know if you might be carrying [the virus]. Just utilize the technology we have and FaceTime with people [instead]. I Zoom with my sister, whom I haven't seen in a few weeks. You can still get that face-to-face interaction, and it's still talking and seeing each other. But we will be able to hug each other again at some point! People miss that."
—as told to Haley Longman